Cowley Stadium, Sandy Lane, Cowley, Oxford, Oxfordshire.
POSTCODE———————————-OX4 6LJ
LOCATED————————————Roughly two and a half miles south west of Oxford city centre in the district of Cowley.
ORIGINAL SITE—————————–A greyhound flapping track built on farmland which lay in a north to south direction.
DATE CONSTRUCTED——————–1938-39.
DATE VENUE OPENED——————-April 1939.
Meaning other sports may have taken place prior to the arrival of Greyhound Racing.
FIRST MEETING—————————-March 31st 1939 for first spell. Closed December 29th 2012. Second spell started September 2nd 2022.
Greyhound Racing only.
LICENSED OR INDEPENDENT———-NGRC.
All venues covered would have to be licensed with the government, licensed suggested in this section would refer to tracks operating under NGRC Rules.
INSIDE OR OUTSIDE HARE TYPE——Outside Sumner.
Please note that the Electric Hare suggested is only a guidance and would have been in operation for a certain amount of time at this venue. Although it is not necessarily guaranteed that it was operational all the time, as other types of lure may have been used and updated as time progressed.
DISTANCES———————————–250, 450, 595, 645, 845 and 1045 metres.
Please note that most racing venues distances had become varied throughout the years, the ones given above were at once point set and offers only a guidance to the track size.
CIRCUMFERENCE—————————345 metres.
Please note that alterations at most racing venues throughout its existence would see that the circumference of the track would vary, the one shown above offers only a guidance to the track size.
BIG RACE NAMES—————————The Cesarewitch and The Pall Mall.
STADIUM SHARED WITH——————Speedway from 1949 until 2007.
LAST MEETING——————————First spell closed: December 29th 2012, Moortown Mystiq won the last race.
Greyhound Racing only.
STADIUM CLOSURE DATE—————-Still in use for Go-Karting.
Meaning other sports may have taken place after Greyhound Racing had ceased.
STADIUM DEMOLITION——————–Still there.
BUILT ON SITE———————————N/A
In some cases, structure's that originally covered the venue after the stadium had been demolished, may have been themselves demolished too, so the one described is more likely to be the one which now presently covers the site.
EVIDENCE LEFT TODAY——————-The greyhound circuit is still there but was badly infested with unwanted vegetation before the whole stadium was refurbished.
FURTHER COMMENTS——————–Due to war hostilities Oxford stage The English Greyhound Derby in 1940.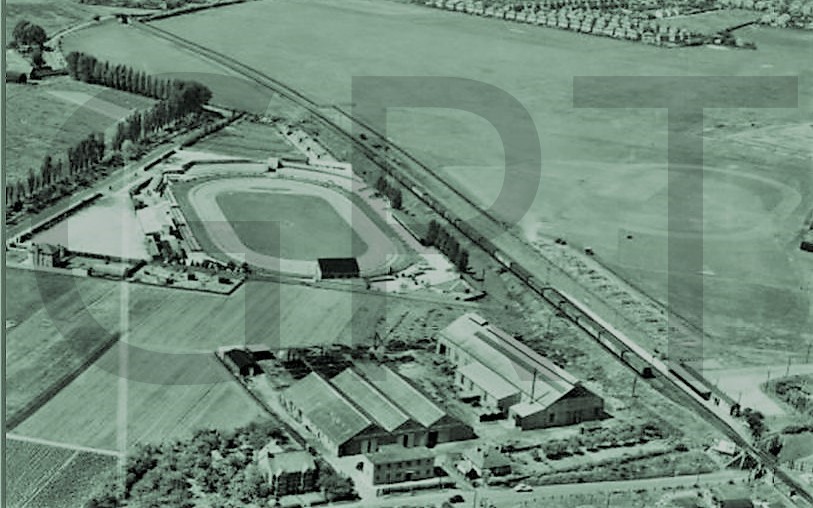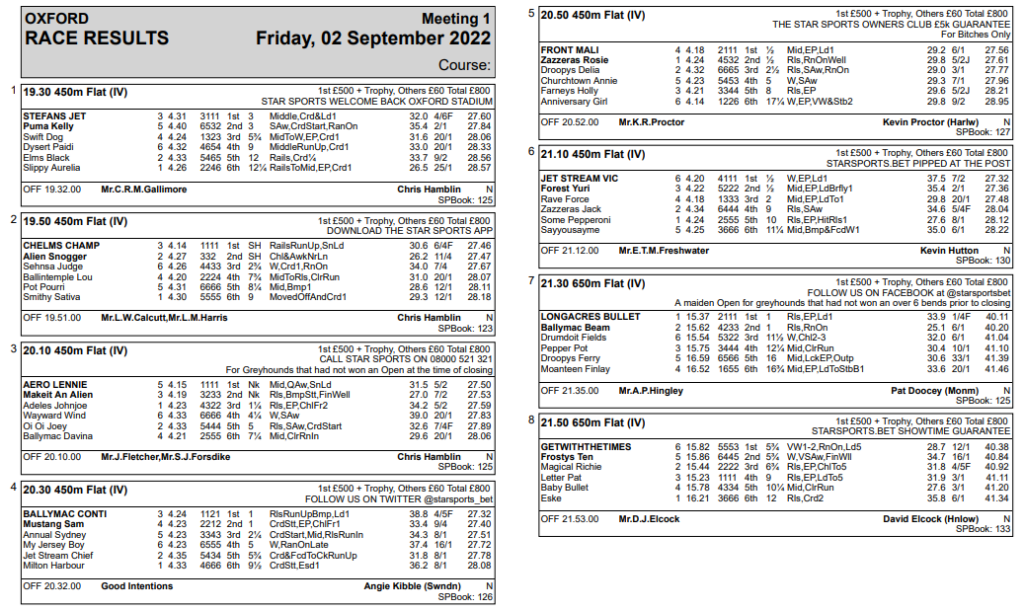 Oxford Greyhound Stadium remains situated on Sandy Lane in the district of Cowley, two and a half miles south of Oxford city centre. The stadium began life in the 1930s, on the site of an earlier flapping track which had closed in 1938, with the difference being that a new circuit had been re-laid in a ninety-degree direction compared to the old one. Oxford's first meeting came on the 31st of March 1939, and immediately staged meetings under NGRC rules.
Like all tracks, racing at Oxford had seen a temporary closure due to the declaration of the Second World War, yet the early war time period had also seen Oxfords most successful time. With this in mind, and with the capital suffering heavy bombing raids, the GRA began to look elsewhere to stage the 1940 Greyhound Derby. Their concerns had been that holding the event at a packed London's White City would create a serious risk of an attack from enemy aircraft, which meant they could not take that chance.
The GRA began to search for a venue elsewhere to stage the English Classic, and of course with Oxford being newly equipped and just 40 miles northwest off the capital, its graphical location seemed to be ideal. But what was so disappointing for the Oxford faithful is that the 1940 event was only time the event was staged throughout war time hostilities. In 1944 the main stand at the stadium was destroyed by a fire, and due to the shortage of building materials around that time, it took almost ten years before another one took its place.
After hostilities had ceased, Greyhound Racing at Oxford prospered, and by 1948 the stadium was hosting Speedway Racing also. Due to a change of management, the stadium closed temporarily in 1950, but Greyhound Racing returned the following year. The year of 1967 witnessed huge changes at Oxford, firstly when it accepted an invitation to join the BAGS service, along with four other invited tracks, and also witnessed the relaying of new sanded track which replaced the old turfed one. More changes came during 1975 after Oxford City Council had purchased the stadium for an estimated £230,000. In July 1986, a brand new 1.7 million dual purpose grandstand was unveiled, which included a glass fronted restaurant capable of accommodating 200 diners, along with extra viewing space for regular punters. Further improvements were made to the restaurant during 2000, seeing its dining capacity increased to 350.
Six dog race events were staged over distances of 250, 450, 595, 645, 845 and 1045 metres, with the hounds chasing an outside Sumner type hare. Its big race attractions included The Cesarewitch, run over a distance of 645 metres, having first staged the event in 2001. It also hosted The Pall Mall Gold Cup, The Trafalgar Cup and The Oxfordshire Stakes all run over the 450 metres trip.
By 2012 news was circulating regarding its closure, explaining that the stadium had been sold by the council to developers. This news came official with Oxford staging its final meeting on the 29th of December 2012, with a greyhound called Moortown Mystiq, winning the very last event.
Since its closure unsuccessful attempts have been made to re-open the venue for Greyhound Racing once more, as most of the stadium's facilities still remains intact, with a Go-Karting Club still using a track on the infield regularly. Disappointingly every year passes with the hope of the greyhounds returning, with the once sanded greyhound track reverted back to almost a green surface, with weeds now engulfing a once picturesque scene.
Following support from the council and hard work from Kevin Boothby (who had already re-opened Towcester on June 14th 2022 – and Suffolk Downs (aka Mildenhall) – on February 2nd 2022) greyhound racing returned to the Cowley Stadium on Friday 2nd September 2022.