Ladbrokes Stadium, Sutherland Avenue, Monmore Green, Wolverhampton, West Midlands.
POSTCODE———————————WV2 2JJ
LOCATED————————————About one mile south east of Wolverhampton town centre just off the A41 Bilston Road.
ORIGINAL SITE—————————–Built on undeveloped land next door to East Park.
DATE CONSTRUCTED——————–Began in 1927.
DATE VENUE OPENED——————-January 1928.
Meaning other sports may have taken place prior to the arrival of Greyhound Racing.
FIRST MEETING—————————-January 11th 1928 first race won by Arrow Traney.
Greyhound Racing only.
LICENSED OR INDEPENDENT———NGRC owned by The Ladbrokes Group.
All venues covered would have to be licensed with the government, licensed suggested in this section would refer to tracks operating under NGRC Rules.
INSIDE OR OUTSIDE HARE TYPE——Outside Swaffham.
Please note that the Electric Hare suggested is only a guidance and would have been in operation for a certain amount of time at this venue. Although it is not necessarily guaranteed that it was operational all the time, as other types of lure may have been used and updated as time progressed.
DISTANCES———————————–264, 480, 630, 684 and 835 metres.
Please note that most racing venues distances had become varied throughout the years, the ones given above were at once point set and offers only a guidance to the track size.
CIRCUMFERENCE—————————Don't know.
Please note that alterations at most racing venues throughout its existence would see that the circumference of the track would vary, the one shown above offers only a guidance to the track size.
BIG RACE NAMES—————————The Ladbrokes Midland Puppy Cup, The Midland Gold Cup and The Stayers Summer Classic.
STADIUM SHARED WITH——————Speedway first introduced during 1928 but has had a more constant relationship since the 1950's up to the present day.
LAST MEETING——————————-N/A
Greyhound Racing only.
STADIUM CLOSURE DATE—————-N/A
Meaning other sports may have taken place after Greyhound Racing had ceased.
STADIUM DEMOLITION——————–N/A
BUILT ON SITE——————————–N/A
In some cases, structure's that originally covered the venue after the stadium had been demolished, may have been themselves demolished too, so the one described is more likely to be the one which now presently covers the site.
EVIDENCE LEFT TODAY——————–N/A
FURTHER COMMENTS——————–None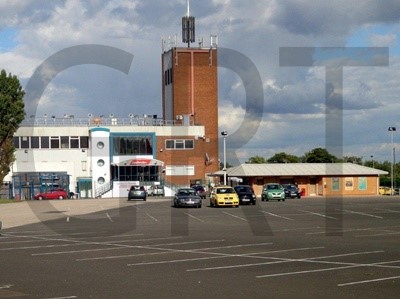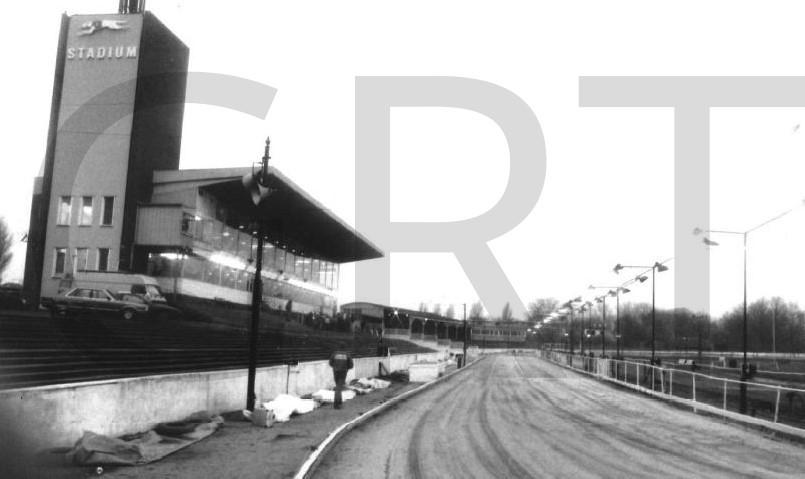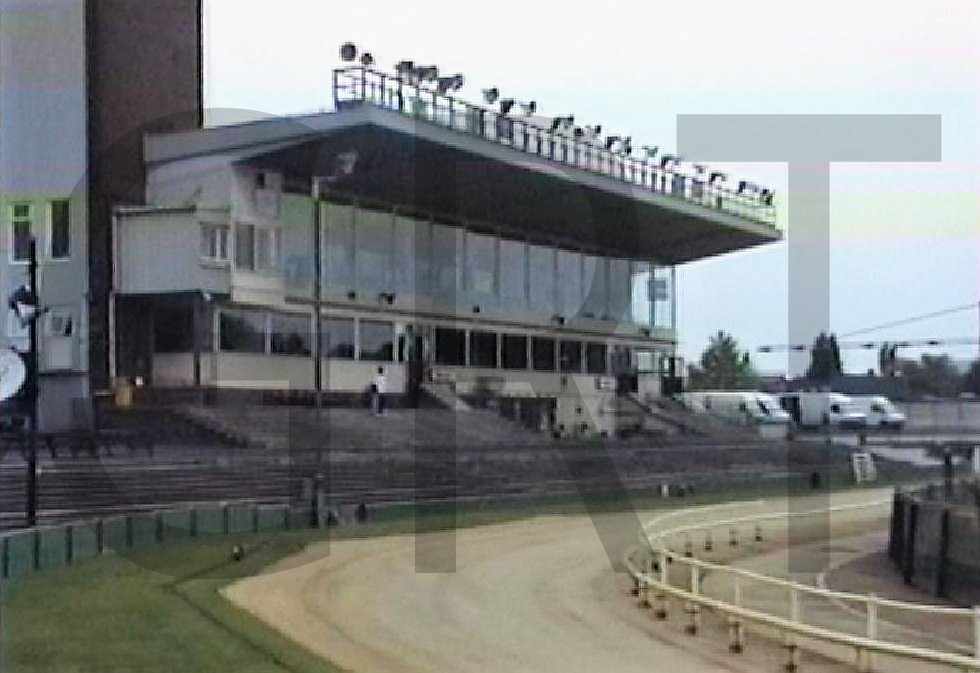 Another of the active West Midlands Greyhound Racing venue's is The Ladbrokes Stadium or the sometimes-known Monmore Green Stadium, located in the boundaries of Wolverhampton. The venue is situated one mile southeast of Wolverhampton's city centre, just set back off the A41 Bilston Road.
It was a company called The Midland Greyhound Racing Association whose idea it was to construct the stadium in 1927, on a section of undeveloped land that lay adjacent to a huge recreation area known as East Park. Monmore's first meeting came on the 11th of January 1928, with a greyhound called Arrow Traney, winning the first of the evenings 500-yard events. Approximately ten thousand racegoers witnessed the seven-race gathering, which also accommodated two hurdle races, with all races being staged under rules similar to those of the NGRC.
The following June witnessed the introduction of another sport at the venue, that of Dirt Track Speedway, with a track being marked out within the infield of the greyhound circuit. The new sport would last for just two seasons only, before returning virtually ever present from 1950 onwards. In 1932 the stadium was purchased by The Midland Greyhound Company, a name not to be confused with its original owners, and during 1935, the same company purchased a sister track at Willenhall four miles away.
Due to the outbreak of the Second World War, the Willenhall venue suspended all race meetings, yet events seemed uninterrupted at Monmore, although due to War Regulations, meetings were held during daylight hours only. Early events consisted of five greyhounds, normally with trap three vacant, challenging over distances of 300, 525 and 700 yards, with the hounds chasing an outside Sumner type hare. In 1963 the Monmore Stadium closed for a few months after a serious fire had virtually destroyed the main stand, but the venue eventually reopened after considerable safety repairs had been achieved.
In 1970 The Midland Greyhound Company sold the stadium to TGH Holdings, who in 1974 sold it on to Ladbrokes the Bookmakers. The following year Ladbrokes invested heavily on new facilities, seeing the construction of a brand-new glass fronted main grandstand, complete with restaurant.
In March 1980, its partnership with Willenhall Greyhound Stadium came to an end after almost 45 years of racing, due to the track having been sold to developers. Atrocious weather conditions during the Winter of 1981, accounted for numerous Horse Racing meetings being cancelled, yet it was a period that Greyhound Racing saved the day for the Bookmakers shops, with extra meetings being staged from additional tracks, with Monmore being one of a handful that was offered temporary BAGS contracts.
In 1987 eight dog racing was introduced, the newness of the idea becoming an instant success with racegoers, but the revelation eventually lost its popularity and had gone by the early 1990's. In 2004 a new kennel block was unveiled, although it had cost almost £700,000 to construct, it could now accommodate 124 greyhounds, and had modern technology installed, such as temperature-controlled air conditioning, 17 CCTV cameras and was soundproof also.
Monmore has always established itself as a recognised NGRC licensed venue throughout its existence, and still stages some very attractive events throughout the annual calendar, such as The Ladbrokes Midland Puppy Cup, The Midland Gold Cup, and The Stayers Summer Classic plus many more. For many years up to present it has accommodated six dog race events contested over distances of 264. 480. 630 684 and 835 metres, with the hounds chasing an outside Swaffham type hare. It has a present-day crowd capacity certificate for 1150 people and can accommodate 170 diners in its panoramic air conditioned all seated restaurant, with enough car parking spaces for 400 vehicles.
Memorabilia for this track is required for this page, if you can help please contact me.