Boghead Park, Dumbarton, Dumbartonshire, Scotland.
POSTCODE———————————–G82 2JE
LOCATED————————————-The town of Dumbarton is located oughly 15 miles west of Glasgow on the northern banks of the Clyde Estuary. About one mile east of Dumbarton Centeral Station.
ORIGINAL SITE——————————Farm grazing land before coming a football stadium.
DATE CONSTRUCTED———————1879 for football.
DATE VENUE OPENED——————–1879 for football.
Meaning other sports may have taken place prior to the arrival of Greyhound Racing.
FIRST MEETING——————————October 7th 1932.
Greyhound Racing only.
LICENSED OR INDEPENDENT———–Independent.
All venues covered would have to be licensed with the government, licensed suggested in this section would refer to tracks operating under NGRC Rules.
INSIDE OR OUTSIDE HARE TYPE——-A trackless lure.
Please note that the Electric Hare suggested is only a guidance and would have been in operation for a certain amount of time at this venue. Although it is not necessarily guaranteed that it was operational all the time, as other types of lure may have been used and updated as time progressed.
DISTANCES———————————–290 and 490 yards.
Please note that most racing venues distances had become varied throughout the years, the ones given above were at once point set and offers only a guidance to the track size.
CIRCUMFERENCE—————————Don't know.
Please note that alterations at most racing venues throughout its existence would see that the circumference of the track would vary, the one shown above offers only a guidance to the track size.
BIG RACE NAMES—————————Don't know.
STADIUM SHARED WITH——————Football
LAST MEETING——————————-Early 1940's.
Greyhound Racing only.
STADIUM CLOSURE DATE—————-November 2000 having been the oldest football stadium in use throughout Scotland at the time of closure.
Meaning other sports may have taken place after Greyhound Racing had ceased.
STADIUM DEMOLITION——————–2001
BUILT ON SITE——————————–Houses on the continuation of Miller Street now cover the site.
In some cases, structure's that originally covered the venue after the stadium had been demolished, may have been themselves demolished too, so the one described is more likely to be the one which now presently covers the site.
EVIDENCE LEFT TODAY——————–Nothing known of.
FURTHER COMMENTS——————–None.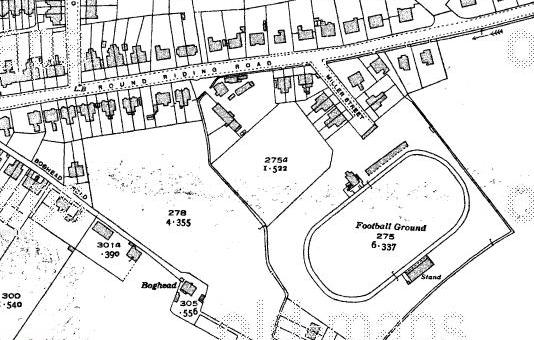 Another brief spell of greyhound racing that featured at a Scottish Football League ground, was in the town of Dumbarton, a town which lies fifteen miles west of Glasgow city centre, on the northern banks of the River Clyde.
Although Dumbarton Football Club began life in 1872, it wasn't until 1879, that they moved to a new venue called Boghead Park . A new pitch was marked out on a section of farmland north east of its town centre, but in 1913 it was turned 90 degrees, and from then on it developed into a more recognised football stadium. The development of the ground had seen a small stand erected on one side, which became known as The Postage Box, along with a covered section of wooden terracing opposite. The Postage Box was small indeed, as it was only 25 feet in length, yet enough room to seat just 80 people. The only access to the ground was down Miller Street, which would bring you out to an entrance at the north west corner of the ground.
Although success on the football field had been brief, the most successful period was when Dumbarton won the Scottish League Title in 1891, but yet like many other football clubs, the early 1930's had seen Dumbarton Football Club on the verge of bankruptcy. But an approach from The Clydebank Greyhound Racing Syndicate to introduce greyhound racing, would hope to be the answer to bring the financial rewards to save the football club. After a five year lease had been agreed, a wooden shelter was constructed to the left of the seated stand, its purpose was to house the tracks bookmakers.
Boghead Park began life as an independent track with its first meeting being staged on the 7th of October 1932. It ran distances of 290 and 490 yards with the greyhounds chasing a trackless type lure. A serious incident saw the stand opposite being destroyed by fire during a first team fixture, after a stray cigarette end had ignited straw bales that had been stored beneath the wooden terracing. Incidentally the straw bales had been stored there for a reason, to cover the greyhound track during winter.
Racing ceased during the early 1940's, after a five year lease had expired, leaving football to be continuously staged for the next sixty years or so, before the ground was sold for development. Although the bookies stand remained until the very end, The Old Postage Box stand was demolished in 1979, and replaced by a much larger stand. The 1999-2000 season became the last season that Boghead Park staged Scottish League football, its crowd capacity had by then, been drastically cut to just 3,000, at a venue that once held 20,000, although attendances rarely peaked above the one thousand mark during Dumbarton's latter seasons.
Prior to its closure, Boghead Park happened to be the oldest Scottish Football League ground in use, having hosted more than 120 years of football. The site is now covered by housing on an extended section of Miller Street, which lies about one mile east of Dumbarton Central Station.
A programme, photograph or even memorabilia for this track is required for this page, if you can help please contact me.