TAFF VALE GREYHOUND STADIUM SUMMARY
ADDRESS———————————–
Taff Vale Park
Treforest
Pontypridd
Mid-Glamorgan
South Wales.
POSTCODE———————————-CF37 1BS
LOCATED————————————-Just half a mile outh east of Pontypridd Railway Station.
ORIGINAL SITE——————————Originally wasteland at the rear of the Forest Iron Works, the acquire by Pontypridd Rugby Union Club around 1890, which was then leased to an athletics club.
DATE CONSTRUCTED———————Developed as an Athletics and Rugby Union groun during the early 1890's.
DATE VENUE OPENED——————–Purchased by the Greyhound Racing Association. during 1927.
Meaning other sports may have taken place prior to the arrival of Greyhound Racing.
FIRST MEETING—————————–September 24th 1927.
Greyhound Racing only.
LICENSED OR INDEPENDENT———–NGRC.
All venues covered would have to be licensed with the government, licensed suggested in this section would refer to tracks operating under NGRC Rules.
INSIDE OR OUTSIDE HARE TYPE——-Trackless hare system.
Please note that the Electric Hare suggested is only a guidance, and would have been in operation for a certain amount of time at this venue. Although it is not necessarily guaranteed that it was operational all the time, as other types of lure may have been used and updated as time progressed.
DISTANCES————————————Dont know.
Please note that most racing venues distances had become varied throughout the years, the ones given above were at once point set and offers only a guidance to the track size.
CIRCUMFERENCE—————————-440 yards.
Please note that alterations at most racing venues throughout its existence would see that the circumference of the track would vary, the one shown above offers only a guidance to the track size.
BIG RACE NAMES—————————-Nothing known of.
STADIUM SHARED WITH——————Rugby Union, Athletics, Cycling, Boxing, Baseball, Speedway and Local School Sports Events.
LAST MEETING——————————-1932
Greyhound Racing only.
STADIUM CLOSURE DATE—————-Not known.
Meaning other sports may have taken place after Greyhound Racing had ceased.
STADIUM DEMOLITION——————–Not known.
BUILT ON SITE——————————–There is a sports pitch still remaining used by Pontypridd Schools Rugby Union Club.
In some cases, structure's that originally covered the venue after the stadium had been demolished, may have been themselves demolished too, so the one described is more likely to be the one which now presently covers the site.
EVIDENCE LEFT TODAY——————–There is evidence of mounds of earth, still visible on satellite views, which once acted as spectator viewing during those early years.
FURTHER COMMENTS———————The venue, incidentally still known as the old dog track to locals, once had an estimiated crowd capacity of 30 to 40,000.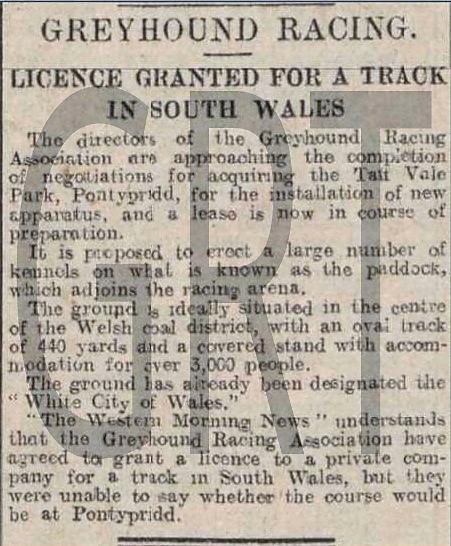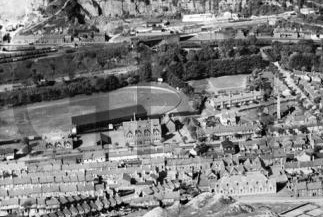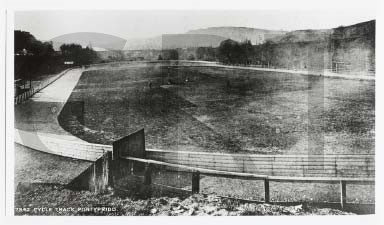 With around twenty greyhound racing venues ever known to have existed in South Wales, at least the Glamorgan town of Pontypridd could boast that it hosted two of them. One of the tracks was known as the Hawthorn Stadium just south of the town, but the one described in this section was one that became its first, known as Taff Vale Park. Taff Vale Park had originally been nothing more than abandoned wasteland at the rear of the Forest Iron Works, and would eventually become the acquisition of the Pontypridd Rugby Union Club during the 1890's, before leasing the venue out to an athletics club. It had picked its own name due to its location, being located on the south banks of the River Taff. The stadium soon developed into a respectable venue, with a huge grandstand situated on one side, flanked by a man-made cinder based viewing banks, that continued all the way around both ends of the pitch, giving a ground capacity of around 30-40,000. 1928 had been the pioneering time for Greyhound Racing, with the sport becoming increasingly popular in South Wales, having seen the success at the two existing Cardiff venues. It also became the year that a greyhound company, who happened to be backed financially by the GRA, made an approach to promote the new sport in Pontypridd. £25,000 was spent on a 440 yard circumference grass circuit, along with a new trackless hare system, new kennel blocks, and also improvements to the main grandstand, which raised its seating capacity to over three thousand. Also known locally as the New White City, Taff Vale's first meeting came on the 24th September 1927, with all events run under rules similar to those set by of the NGRC the following year. Unfortunately, the sport flourished only briefly, with a downward trend becoming more evident during the great depression of the early 1930's. It was a period that certainly made an alarming impact on the Welsh valley towns, and may have been its main contributing factor why Greyhound Racing ceased at Taff Vale Park by 1932. Although Greyhound Racing had gone, Taff Vale Park continued as a multi-purpose venue, hosting sports such as Rugby, Athletics, Football, Boxing, Grass Track Speedway, Cycling and Baseball, but also acting as host to local school sports events. Over the years, the main structures such as the grandstand disappeared, leaving behind a sports venue still surrounded by grassy mounds of earth, which are still clearly visible on satellite views. Today, Vale Park is found in a district called Treforest, and is still regularly used by the Pontypridd Schools Rugby Union Club, yet surprisingly enough it is still known to the older generation living close by as The Old Greyhound Racecourse.