Sealand Road, Chester, Cheshire.
POSTCODE———————————–CH1 4QG
LOCATED————————————–Roughly one mile west of Chester city centre along the A548 on the Sealand Road Estate, with today's location found between Greyhound Park Road and the A5480 Deva Link Road.
ORIGINAL SITE——————————-Farm grazing land next door to the old Sealand Road football stadium, home of Chester City which was built in 1906.
DATE CONSTRUCTED———————1935
DATE VENUE OPENED——————–1935
Meaning other sports may have taken place prior to the arrival of Greyhound Racing.
FIRST MEETING—————————–August 3rd 1935.
Greyhound Racing only.
LICENSED OR INDEPENDENT———-Independent
All venues covered would have to be licensed with the government, licensed suggested in this section would refer to tracks operating under NGRC Rules.
INSIDE OR OUTSIDE HARE TYPE——Inside Sumner.
Please note that the Electric Hare suggested is only a guidance and would have been in operation for a certain amount of time at this venue. Although it is not necessarily guaranteed that it was operational all the time, as other types of lure may have been used and updated as time progressed.
DISTANCES————————————292, 489 and 684 metres.
Please note that most racing venues distances had become varied throughout the years, the ones given above were at once point set and offers only a guidance to the track size.
CIRCUMFERENCE—————————392 metres.
Please note that alterations at most racing venues throughout its existence would see that the circumference of the track would vary, the one shown above offers only a guidance to the track size.
BIG RACE NAMES—————————Chester Spring Cup.
STADIUM SHARED WITH——————Nothing found.
LAST MEETING——————————-January 10th 1987.
Greyhound Racing only.
STADIUM CLOSURE DATE—————-January 1987.
Meaning other sports may have taken place after Greyhound Racing had ceased.
STADIUM DEMOLITION——————–1987
BUILT ON SITE——————————–Argos Showroom and its car park situated on the Greyhound Retail Park.
In some cases, structure's that originally covered the venue after the stadium had been demolished, may have been themselves demolished too, so the one described is more likely to be the one which now presently covers the site.
EVIDENCE LEFT TODAY——————–Nothing known of.
FURTHER COMMENTS———————None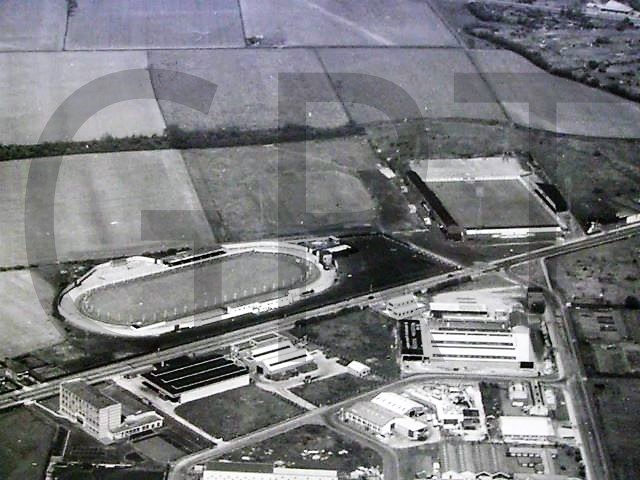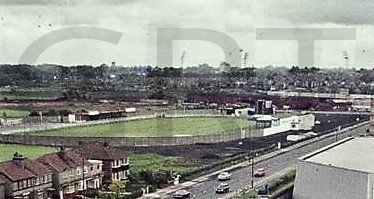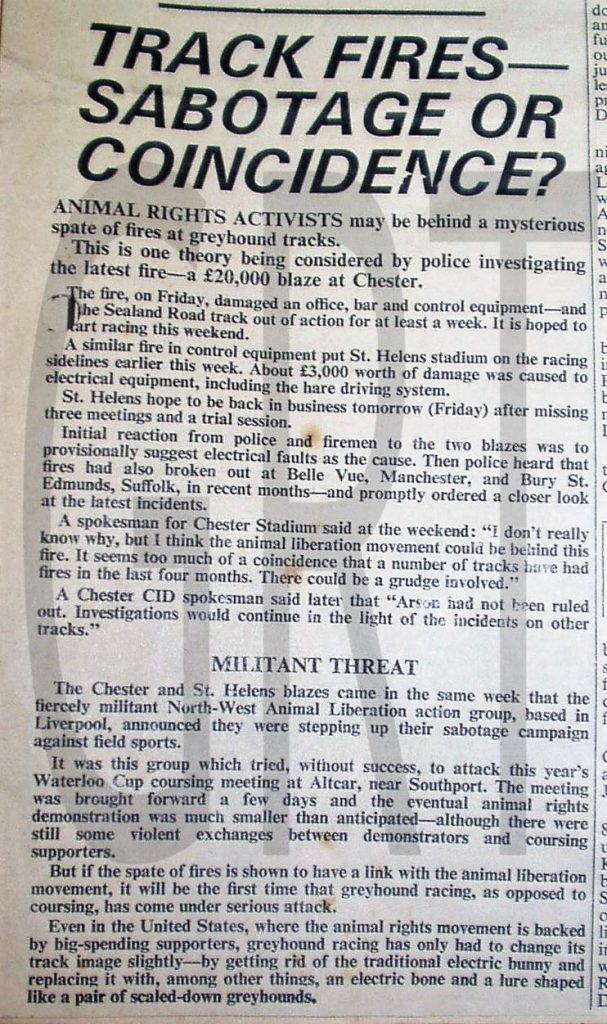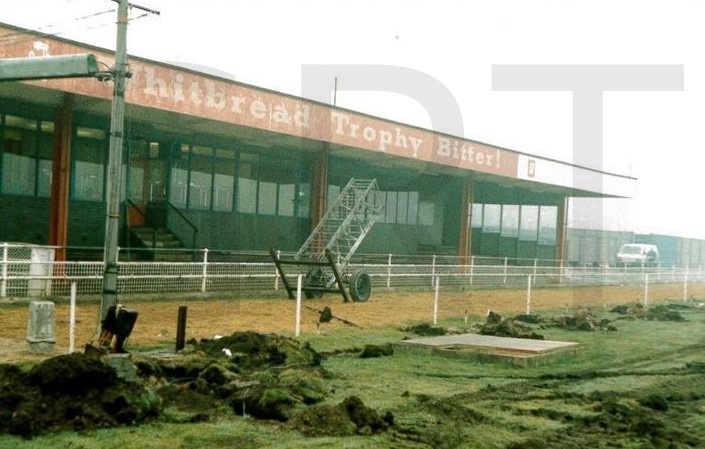 One of the more impressive independent greyhound stadiums that ever existed was the one at Chester, a venue situated one mile west of Chester city centre, set back just off the A548 Sealand Road. Construction began during the mid 1930's on land that had been originally identified as marshland but had been constantly drained over the years to be reclaimed as grazing land.
The stadium had seen itself develop in the shadows of the close by Chester City Football Club, who themselves had been residents of their Sealand Road Ground Since 1906. The two stadiums were separated by a large cinder car park, which served both parties when required, with an agreement suggesting that both sports must not feature at the same time. Opening up as an independent track, Chester staged its first meeting on the 3rd of August 1935, seeing the hounds chase a trackless type hare system during those early days.
In its prime, regulars may have classed Chester as possibly the best independent greyhound stadium, even overshadowing most people's choice Bolton's Raikes Park. But me who had visited both, and of course not trying to be bias, would surely give my vote to Bolton, certainly when it comes to the numbers through the turnstiles, as Bolton would be well ahead in this case.
Chester offered five dog handicapped events, with the greyhounds chasing an inside Sumner type hare, over distances of 292, 489 and 684 metres. It had an excellent betting market with as many as thirteen regular Bookmakers standing at each meeting, along with a totalisator system complete with a large black results board situated at the football ground's end, two licensed bars and also refreshment buffets. One of its big race attraction's, was The Chester Spring Cup, run annually in April over the 489-metre trip. Another one of its attractions was The Chester Champion Open Sweepstakes, again run over 489 Metres, this time during the month of August, with impressive prize money on offer too.
Sadly, by the mid 1980's, Chester Greyhound Stadium had become a target, for not just the developers, but also animal right activist's, who police suspected were behind a series of arson attacks on greyhound stadiums across the UK during that period. The stadium suffered extensive fire damage to an office, its bar and the hare control system, costing the track management £20,000 to repair, forcing the track to cease operating for at least one week. More bad news was to follow as the whole of the Sealand Road surroundings had been purchased under a council development scheme, who had drawn up plans to construct a large Retail Park across the area, leaving the greyhound stadium facing the inevitable closure.
Chester Greyhound Stadium staged their final meeting on the 10th of January 1987, and within months, the stadium had been bulldozed to make way for the newly named Greyhound Retail Park. Today the majority of the site were the stadium once lay is covered by an Argos Showroom situated between Greyhound Park Road and the A5480 Deva Link Road, with the positioning of the Tote board and the main stand, which if around today would stand on the car park between Comet's entrance and Sealand Road.