Scarletts Park, Wallyford, Nr Edinburgh, East Lothian, Scotland.
POSTCODE———————————-EH21 8BH
LOCATED————————————The town of Wallyford lies about seven miles east of Edinburgh and just two miles from the horse racing venue at Musselburgh.The venue was situated west of Wallyford adjacent to a bust railway line.
ORIGINAL SITE—————————–Originally a junior football ground.
DATE CONSTRUCTED——————–Around 1936.
DATE VENUE OPENED——————-September 1936.
Meaning other sports may have taken place prior to the arrival of Greyhound Racing.
FIRST MEETING—————————–September 28th 1936.
Greyhound Racing only.
LICENSED OR INDEPENDENT———-Independent
All venues covered would have to be licensed with the government, licensed suggested in this section would refer to tracks operating under NGRC Rules.
INSIDE OR OUTSIDE HARE TYPE——Inside Sumner.
Please note that the Electric Hare suggested is only a guidance and would have been in operation for a certain amount of time at this venue. Although it is not necessarily guaranteed that it was operational all the time, as other types of lure may have been used and updated as time progressed.
DISTANCES———————————–285, 460 and 700 yards.
Please note that most racing venues distances had become varied throughout the years, the ones given above were at once point set and offers only a guidance to the track size.
CIRCUMFERENCE————————–Don't know.
Please note that alterations at most racing venues throughout its existence would see that the circumference of the track would vary, the one shown above offers only a guidance to the track size.
BIG RACE NAMES————————–East Lothian Derby.
STADIUM SHARED WITH—————–Nothing known of.
LAST MEETING——————————April 1996.
Greyhound Racing only.
STADIUM CLOSURE DATE—————1996
Meaning other sports may have taken place after Greyhound Racing had ceased.
STADIUM DEMOLITION——————-Late 1990's.
BUILT ON SITE——————————-Housing on Scarlett Park Estate.
In some cases, structure's that originally covered the venue after the stadium had been demolished, may have been themselves demolished too, so the one described is more likely to be the one which now presently covers the site.
EVIDENCE LEFT TODAY——————-Nothing known of.
FURTHER COMMENTS——————–None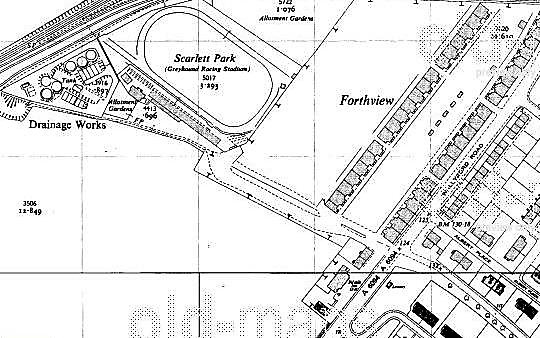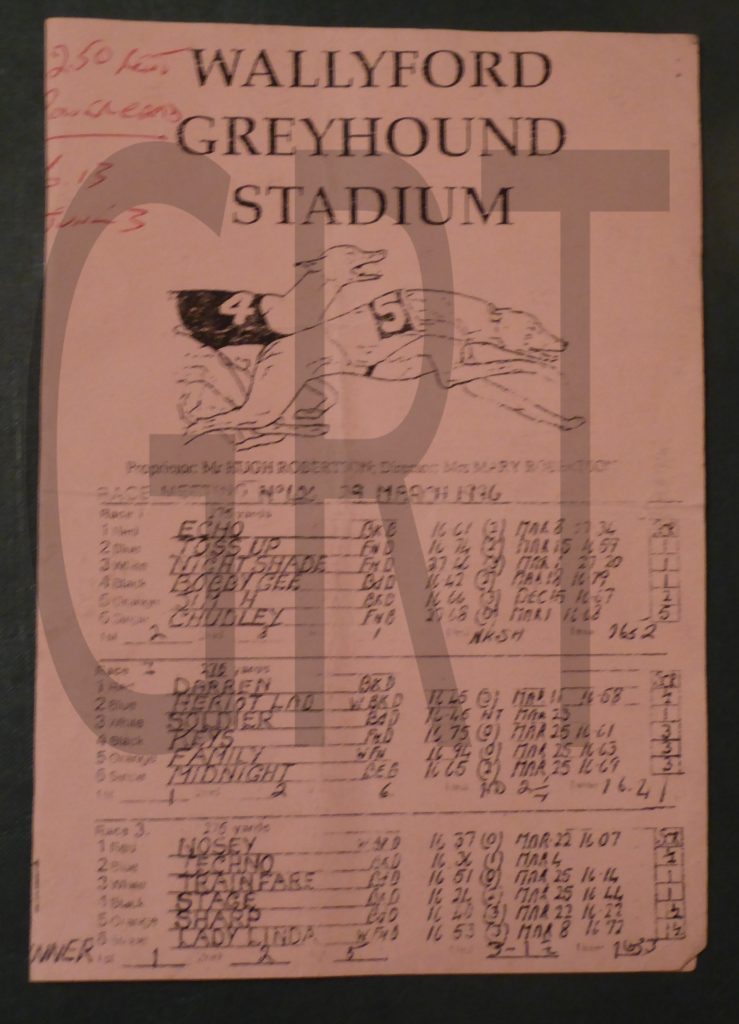 The Scottish city of Edinburgh brings to mind the NGRC tracks of Powderhall and Stenhouse, but on the flapping side of things should you ask the local greyhound racing fanatic and the name Wallyford will come to mind immediately. Wallyford is a town located in East Lothian and could be more linked with the town of Mussleburgh nearby and lies roughly seven miles east of the city of Edinburgh.
The greyhound track became known as Scarlett Park, and over the years had proved itself a well-attended venue indeed. The early 1930's seems to be proving a boom time for greyhound racing around Edinburgh, as four NGRC tracks had already been in operation during this period. Yet the arrival of the Wallyford venue arose due to the temporary folding of a junior football club known as Wallyford Bluebells. Their folding had seen their ground Scarlett Park unoccupied, which in turn gave the opportunity for a greyhound company to sign up a lease agreement worth a thousand pound per year to use it for their sport.
Once the track had been laid around the football pitch, Wallyford staged its first meeting on the 28th of September 1936. No doubt the boom time for greyhound racing around this time helped establish the sport in the area, yet the early months of the Second World War proved testing times at Wallyford which led to a temporary closure. The restrictions on fuel use and also war regulations at sporting venues halted things temporarily, yet Wallyford, like so many other greyhound tracks reverted to afternoon meetings from then on.
It regular featured six dog racing over distances of 285, 460 and 700 yards, with the greyhounds chasing an inside Sumner type hare. Its big race attractions were the East Lothian Derby run over the 460-yard trip, and also the Christmas Handicap, both when advertised, offered impressive prize money. The grass running surface that was part of the scene for so many years but became replaced during the late 1980's by the more modern idea of an all-sanded surface.
Rumours of an uncertain future was triggered during 1989, after the word was out that the stadium had been sold to developers. Another announcement in June 1990 reported that plans had been passed for the construction of new housing on the site, this unfortunate news had certainly sparked the end of Scarlett Park.
Racing continued even though meetings were well attended and after the closure of nearby Powderhall in 1995, there were enough greyhounds to stage sixteen race meetings twice a week. After almost sixty years in the business Wallyford staged its final meeting during April 1996, and by the turn of the millennium any remnants left over from the stadium had gone.
The site of the Scarlett Park is now covered by modern housing west of the town, close to the main East Coast Railway Line on a road not surprisingly called Scarlett Park.
A programme, photograph or even memorabilia for this track is required for this page, if you can help please contact me.