Netherton Stadium, Wishaw, North Lanarkshire, Scotland.
POSTCODE———————————–ML2 0GS
LOCATED————————————-The town of Wishaw lies three and a half miles south east of Motherwell in South Lanarkshire. The entrance to the stadium was along Netherton Street opposite a Gasometer were Beltonfoot way is now, a road which runs parallel to a railway line situated about one mile south west of Wishaw town centre.
ORIGINAL SITE——————————Belhaven Park football ground which was the home to Wishaw Juniors who had played there since the 1890's.

DATE CONSTRUCTED———————Developed from 1890's onwards.
DATE VENUE OPENED——————–1890's for amateur football.
Meaning other sports may have taken place prior to the arrival of Greyhound Racing.
FIRST MEETING——————————January 26th 1934.
Greyhound Racing only.
LICENSED OR INDEPENDENT———–Independent
All venues covered would have to be licensed with the government, licensed suggested in this section would refer to tracks operating under NGRC Rules.
INSIDE OR OUTSIDE HARE TYPE——-Inside Sumner.
Please note that the Electric Hare suggested is only a guidance and would have been in operation for a certain amount of time at this venue. Although it is not necessarily guaranteed that it was operational all the time, as other types of lure may have been used and updated as time progressed.
DISTANCES———————————–300, 500 and 700 yards.
Please note that most racing venues distances had become varied throughout the years, the ones given above were at once point set and offers only a guidance to the track size.
CIRCUMFERENCE—————————Don't know
Please note that alterations at most racing venues throughout its existence would see that the circumference of the track would vary, the one shown above offers only a guidance to the track size.
BIG RACE NAMES—————————Pitman's Derby, Wishaw Gold Cup, The Wishaw St Leger and The Wishaw Spring Cup.
STADIUM SHARED WITH——————Nothing known of.
LAST MEETING——————————-September 1st 2001.
Greyhound Racing only.
STADIUM CLOSURE DATE—————-September 2001.
Meaning other sports may have taken place after Greyhound Racing had ceased.
STADIUM DEMOLITION——————–2001-02.
BUILT ON SITE———————————Housing built on Beltonfoot Way and also houses on the east side of Guns Mews.
In some cases, structure's that originally covered the venue after the stadium had been demolished, may have been themselves demolished too, so the one described is more likely to be the one which now presently covers the site.
EVIDENCE LEFT TODAY——————–Nothing known of.
FURTHER COMMENTS———————In 1991 Springwood Mickey attracts a record crowd then goes on to win the Pitman's Derby.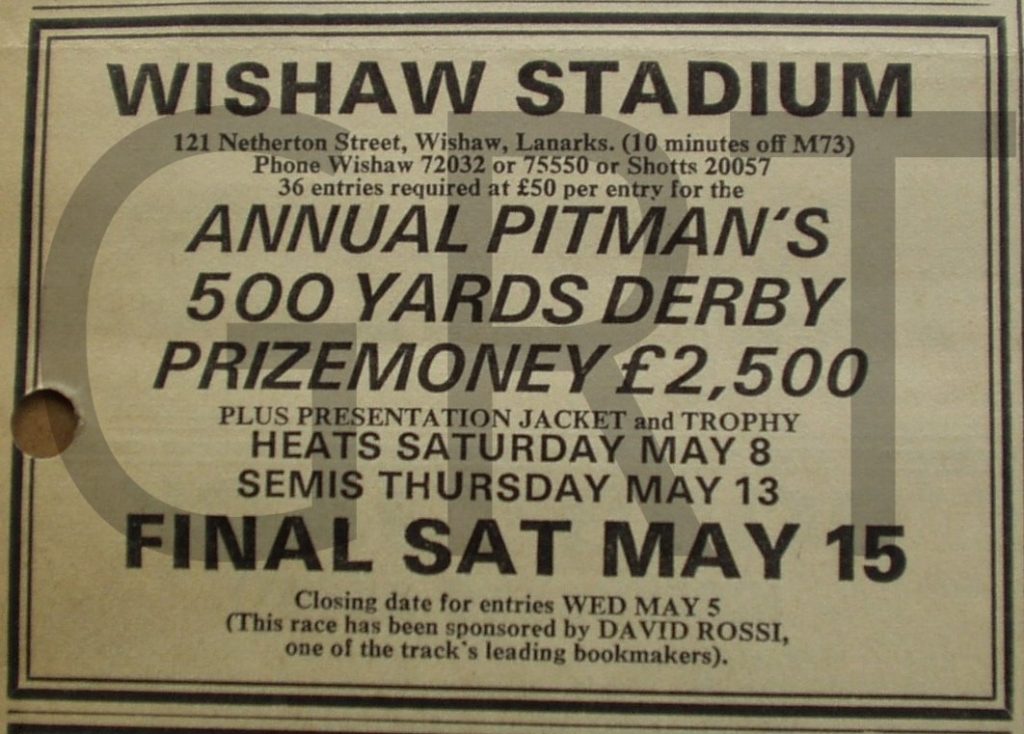 Roughly ninety miles north of the Scottish border and fifteen miles south of Glasgow, lies the North Lanarkshire town of Wishaw. It was during the early 1930's that a greyhound company approached the owners of Belhaven Park to stage their sport. Belhaven Park had originally been the home to a number of local Junior Football Club and had begun to develop throughout the 1890's, and into the early part of the twentieth century.
It wasn't until the late months of 1933 that the track was laid around the perimeter of the football pitch, and soon became known as The Belhaven Greyhound Track. Access to the venue was just off Netherton Street, its entrance overshadowed by a large gasometer, with the direction of the stadium running parallel to a railway embankment on its southwest border.
It began operations as an independent flapping track, with its first meeting coming on the 26th of January 1934. Races mainly consisted of six greyhounds contesting over distances of 300, 500 and 700 yards, with the hounds chasing an inside hare. Its main open events had been the well promoted Pitmans Derby, and also The Spring Cup which ran in April, with both competitions attracting top class greyhounds.
In June 1991 the Wishaw venue hosted its record crowd, as the top flapping greyhound Springwood Mickey made a memorable appearance by winning The Pitmans Derby. Sadly, Wishaw failed in clocking up 70 years of operation, before it was announced that racing was to cease, with its final meeting coming on the 1st of September 2001.
The stadium soon became bulldozed, and within twelve months new housing had been constructed on the site. Sadly, all evidence of the stadium has now gone, but the site is found about one mile southwest of Wishaw town centre, covered by housing on Beltonfoot Way and dwellings on the East side of Gun Mews. Incidentally the site is still overshadowed by the railway embankment and the rusting old gasometer close by.
A programme, photograph or even memorabilia for this track is required for this page, if you can help please contact me.