Skimpot Lane, Off Dunstable Road, Luton, Bedfordshire.
POSTCODE———————————LU4 0JF
LOCATED————————————More nearer Dunstable than Luton, just west of junction 11 off the M1 along the A505 before turning left on first big roundabout with an industrial estate on the left.
ORIGINAL SITE—————————–Farm grazing land.
DATE CONSTRUCTED——————–1930-31
DATE VENUE OPENED——————-February 1931
Meaning other sports may have taken place prior to the arrival of Greyhound Racing.
FIRST MEETING—————————–February 25th 1931.
Greyhound Racing only.
LICENSED OR INDEPENDENT———-Independent
All venues covered would have to be licensed with the government, licensed suggested in this section would refer to tracks operating under NGRC Rules.
INSIDE OR OUTSIDE HARE TYPE——Inside Sumner.
Please note that the Electric Hare suggested is only a guidance and would have been in operation for a certain amount of time at this venue. Although it is not necessarily guaranteed that it was operational all the time, as other types of lure may have been used and updated as time progressed.
DISTANCES———————————–275, 410, 470 and 675 yards.
Please note that most racing venues distances had become varied throughout the years, the ones given above were at once point set and offers only a guidance to the track size.
CIRCUMFERENCE————————–Don't know.
Please note that alterations at most racing venues throughout its existence would see that the circumference of the track would vary, the one shown above offers only a guidance to the track size.
BIG RACE NAMES————————–Bedfordshire Derby and Bedfordshire St Leger.
STADIUM SHARED WITH—————-Speedway between 1934 and 1936.
LAST MEETING——————————November 17th 1973.
Greyhound Racing only.
STADIUM CLOSURE DATE—————November 1973.
Meaning other sports may have taken place after Greyhound Racing had ceased.
STADIUM DEMOLITION——————-1974
BUILT ON SITE——————————-The Stadium Industrial Estate north of Craddock Road and east of Harmonies Fitness Club and buildings west of Kendale Road now occupies the site.
In some cases, structure's that originally covered the venue after the stadium had been demolished, may have been themselves demolished too, so the one described is more likely to be the one which now presently covers the site.
EVIDENCE LEFT TODAY——————-Nothing known of, but the industrial estate is named after it.
FURTHER COMMENTS———————None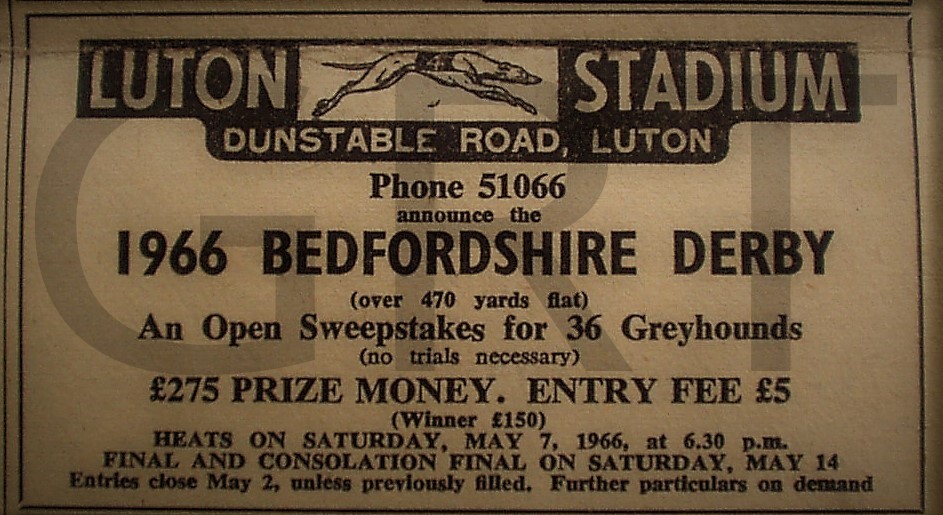 Luton Greyhound Stadium was known more to its regulars as Skimpot Lane, possibly one reason is that it was more situated nearer Dunstable than Luton. Although first efforts to stage greyhounds racing nearer Luton came to nothing during 1928, the reason due to the refusal of planning permission, and also objections from the local community. But it was not until 1930 that the Skimpot Lane venue was given the go ahead to construct a flapping track ready for its official opening during 1931. Recent research shows there were a second and rival independent track operating in the Luton area.
In 1934 a Speedway track was constructed on the infield of the greyhound track, but it was used only for reserve fixtures and training purposes, and by the end of 1936 the Speedway had gone, its brief spell halted due to noise complaints from nearby residents. Early Greyhound Racing events were staged over distances of 375 and 500 yards, with six sometimes seven hounds in a race chasing a MacWhirter type hare system. Distances would change over the years, but in the Spring of 1967, the Luton track installed a new Sumner inside hare, which replaced the old Macwhirter type, which had served the greyhounds for many years previous. Six dog races were now being run over distances of 275, 410, 470 and 675 yards. The venue also staged big race attractions, such as The Bedfordshire Derby, which was run during the early Summer over the 470-yard trip, and also The Bedfordshire St Leger which was staged during September over the 675 trip.
The early 1970's had seen the stadium being run by new owners after The Ladbrokes Bookmakers Group had bought the venue with a view of constructing a new casino nearby. But not surprisingly development plans fell through, and the stadium was sold again this time to developers. Sadly, Skimpot Lane's final meeting came at the end of November 1973, with its demolition following soon after, and the stadiums 10-acre foundations disappearing beneath the Stadium Industrial Estate.
Today, this location is found roughly half a mile west of junction 11 on the M1, and north of Craddock Road, with Harmonies Fitness Club and warehousing north of Poets Green more or less pinpointing was the venue once lay. It remains to be seen whether remnants of the venue are still around, as according to satellite images the north and east boundaries back on to nearby houses back gardens, until when it is possible to visit the site, there is a slight chance that there may be some evidence of its once boundary wall.
A programme, photograph or even memorabilia for this track is required for this page, if you can help please contact me.