TREDEGAR GREYHOUND STADIUM SUMMARY
ADDRESS———————————–
Recreation Ground
Tredegar
Gwent
South Wales.
POSTCODE———————————NP22 3NN
LOCATED————————————About one mile south of Tredegar town centre.
ORIGINAL SITE—————————–Farm grazing land.
DATE CONSTRUCTED——————-Around 1899 for Rugby purposes.
DATE VENUE OPENED——————1929 for Speedway.
Meaning other sports may have taken place prior to the arrival of Greyhound Racing.
FIRST MEETING—————————-July 10th 1931.
Greyhound Racing only.
LICENSED OR INDEPENDENT———Independent
All venues covered would have to be licensed with the government, licensed suggested in this section would refer to tracks operating under NGRC Rules.
INSIDE OR OUTSIDE HARE TYPE—–A drag hare pulled bu a jacked up motor car.
Please note that the Electric Hare suggested is only a guidance, and would have been in operation for a certain amount of time at this venue. Although it is not necessarily guaranteed that it was operational all the time, as other types of lure may have been used and updated as time progressed.
DISTANCES———————————Not known.
Please note that most racing venues distances had become varied throughout the years, the ones given above were at once point set and offers only a guidance to the track size.
CIRCUMFERENCE————————-Dont know.
Please note that alterations at most racing venues throughout its existence would see that the circumference of the track would vary, the one shown above offers only a guidance to the track size.
BIG RACE NAMES————————-None known of.
STADIUM SHARED WITH—————Mainly Rugby Union along with other various sports.
LAST MEETING—————————–Not known but certainly early 1930's.
Greyhound Racing only.
STADIUM CLOSURE DATE————–Dont know.
Meaning other sports may have taken place after Greyhound Racing had ceased.
STADIUM DEMOLITION—————–Dont know
BUILT ON SITE—————————–Still a sporting recreation ground.
In some cases, structure's that originally covered the venue after the stadium had been demolished, may have been themselves demolished too, so the one described is more likely to be the one which now presently covers the site.
EVIDENCE LEFT TODAY——————Nothing known of.
FURTHER COMMENTS——————-None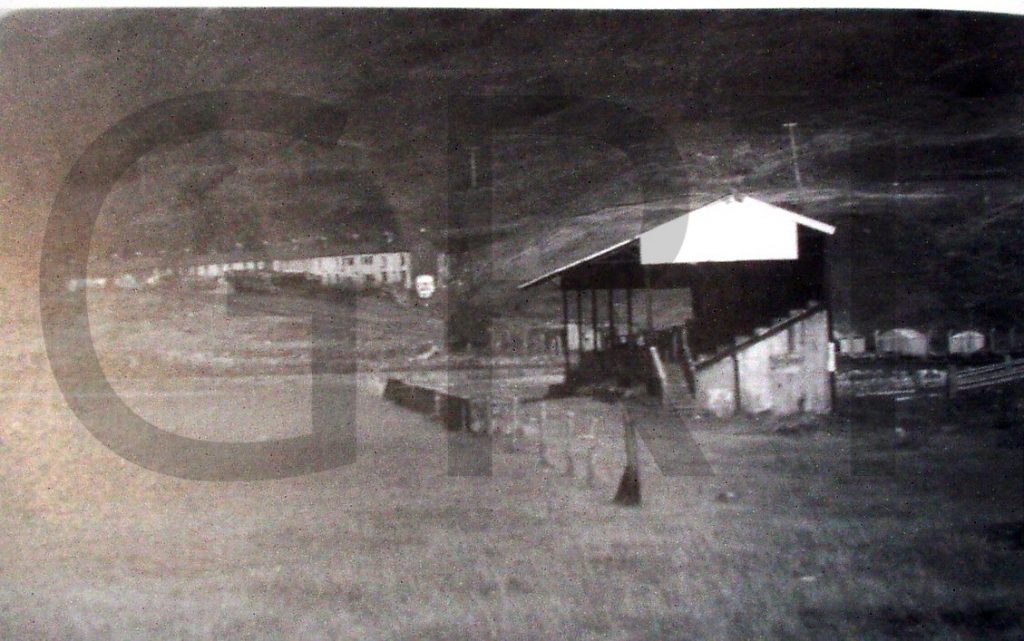 The South Wales town of Tredegar, is another town that could be proud to say that it accommodated more than one greyhound track. Tredegar, once famous for its ironworks and coal mining industries, is situated amongst the hills and valleys that flow Northwards away from the busy city life of Cardiff, with its nearest large town being Merthyr Tydfil, situated just six miles to the west. It is almost sixty years since the last greyhound track at Jesmond Dene operated, but the one described in this section goes back even further to more than 80 years ago. The first venue was known as Recreation Park, a sporting venue that had developed on a section of land that had become available due to the closure of two coal mining pits, with Lord Tredegar the land owner, allowing the land to be developed as a welfare ground for the local mining community. It was during 1899 that the site became levelled by local volunteers who had raised £1700 by donations, to help them transform the neglected site into a much needed sports field. The venue became used for a number of sports during the early days of the twentieth century, such as Athletics, Football and Cycling. But it was the Tredegar Rugby Union Club who eventually made it their home, after investing large amounts of cash transforming the venue in to a more recognised enclosed ground, that consisted of a small grandstand as its main feature. In August 1929 Dirt Track Speedway was introduced, but the damage caused by the machines to the rugby pitch created concern, and by June the following year the sport had gone. The next sport to feature at the Rec was that of Greyhound Racing, opening up with its first meeting on the 10th of July 1931. Little is known regarding activities of the sport as it lasted for a brief spell only. Distances are unaccountable, but at least we know that the mechanical hare was driven by an old car, and that the venue operated as an independent flapping track. Sadly, the sport failed possibly due to the introduction of betting legislation in 1934, a law that closed so many other tracks around that period. Rugby Union continued to be its main attraction during the years before and after the Second World War, before the ground was eventually sold to the council in 1951. Today, Recreation Park is located along Stable Lane, found roughly about one mile south of Tredegar town centre, and still offers itself as a venue for Amateur Football and Rugby. Nothing remains evident from its Greyhound Racing days, even the old small wooden grandstand has gone, whose foundations now support a more modern structure.