Old Road, Clacton-on-Sea, Essex, Somerset.
POSTCODE———————————CO15 1HX
LOCATED————————————About half a mile south west of Clacton-on-Sea Railway Station and half a mile north west of Clacton Pier.
ORIGINAL SITE—————————-Cricket pitch then became honme to Clacton Town football Club in 1906.
DATE CONSTRUCTED——————–The positioning of the football pitch was finally laid in 1935, having been moved twice previous.
DATE VENUE OPENED——————-1906
Meaning other sports may have taken place prior to the arrival of Greyhound Racing.
FIRST MEETING—————————–July 5th 1967.
Greyhound Racing only.
LICENSED OR INDEPENDENT———-Independent but switched to Permit racing in 1984, then reverted back to independent in February 1986.
All venues covered would have to be licensed with the government, licensed suggested in this section would refer to tracks operating under NGRC Rules.
INSIDE OR OUTSIDE HARE TYPE——Outside Sumner.
Please note that the Electric Hare suggested is only a guidance and would have been in operation for a certain amount of time at this venue. Although it is not necessarily guaranteed that it was operational all the time, as other types of lure may have been used and updated as time progressed.
DISTANCES———————————–213, 240, 404, 570, 600, 760 and 925 Metres.
Please note that most racing venues distances had become varied throughout the years, the ones given above were at once point set and offers only a guidance to the track size.
CIRCUMFERENCE————————–360 metres.
Please note that alterations at most racing venues throughout its existence would see that the circumference of the track would vary, the one shown above offers only a guidance to the track size.
BIG RACE NAMES————————–Essex Greyhound Derby and the Clacton Collar.
STADIUM SHARED WITH—————–Clacton Town Football Club.
LAST MEETING——————————27th February 1987.
Greyhound Racing only.
STADIUM CLOSURE DATE—————February 1987.
Meaning other sports may have taken place after Greyhound Racing had ceased.
STADIUM DEMOLITION——————–1987
BUILT ON SITE——————————-Site of the Water Glade Retail Park, eg Safeways, Iceland, Harveys, Halfords and Texas.
In some cases, structure's that originally covered the venue after the stadium had been demolished, may have been themselves demolished too, so the one described is more likely to be the one which now presently covers the site.
EVIDENCE LEFT TODAY——————-Nothing known of.
FURTHER COMMENTS——————–None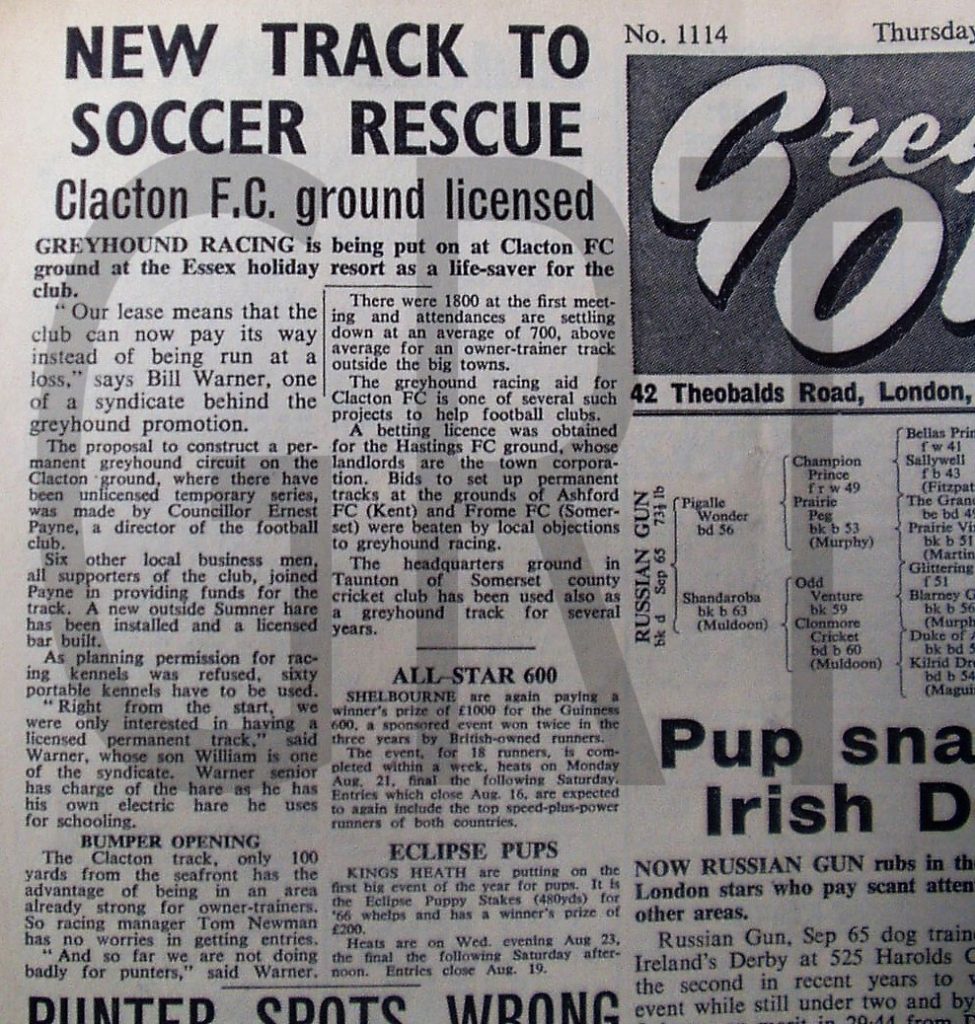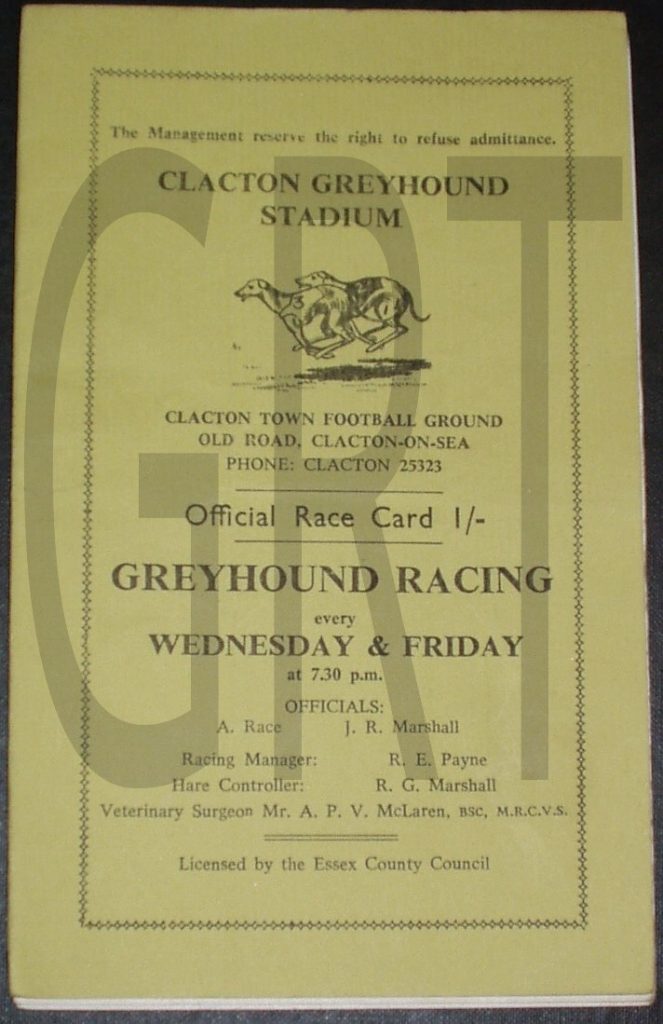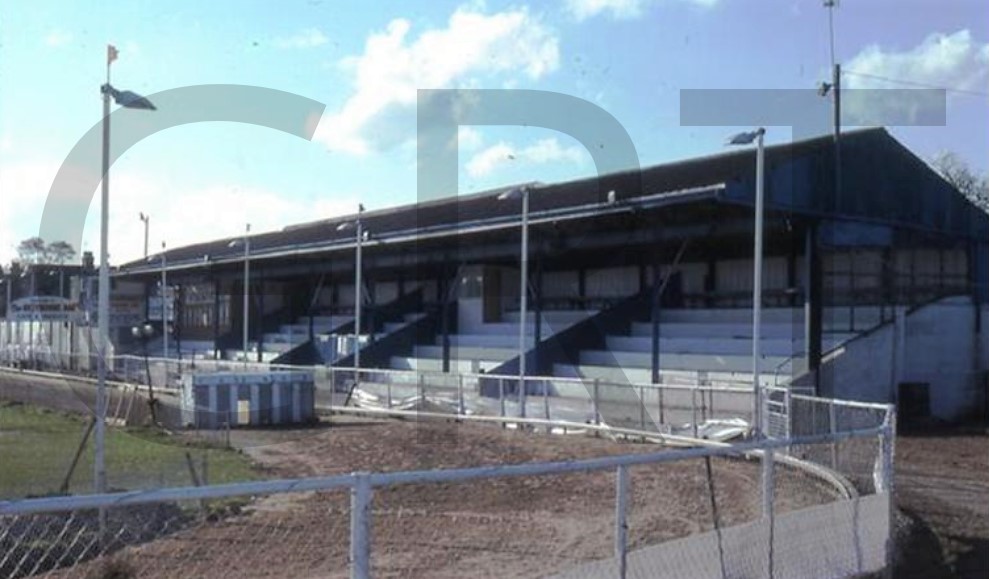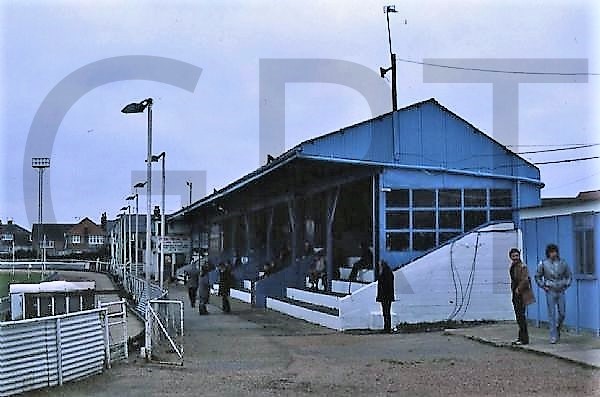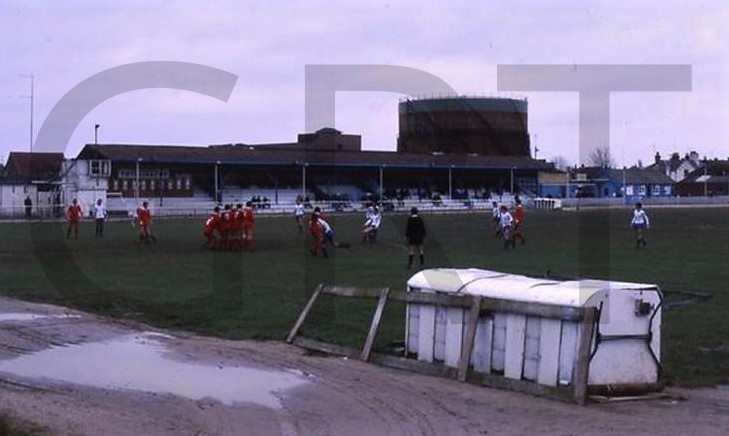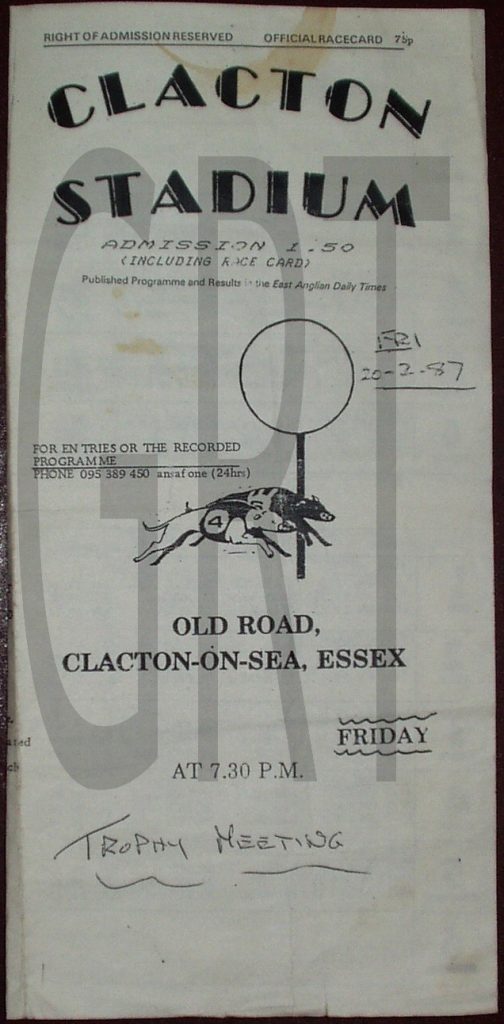 There is only a handful of greyhound tracks that have found themselves situated very close to the sea, the one described in this chapter is one of those, that being of the Clacton Greyhound Stadium, which lay within 100 yards of the North Sea. Clacton-on-Sea is a very popular seaside holiday resort in Essex, attracting many holiday makers from the South East of England and London too.
The actual venue lay on Old Road, a site situated just north of the town, and at around the turn of the 20th century the venue was being used for cricket, but soon it was to switch sports, when Clacton Football Club made it their home in 1906. As time gathered the Old Road Ground began to expand and develop, with the actual playing pitch being repositioned on more than one occasion. It had been at the council's request to move the pitch, mainly to accommodate the space needed for the towns Seaside Coach Park, but no further upheavals took place after 1935.
In 1944 the football club attracted its record attendance, when 7,000 fans attended a friendly match against Clapton Orient, although it was a good crowd, it was still way short of capacity. By 1950 the capacity had been vastly reduced to just 5,000, a figure adequate enough to cope with all crowds at the time. The nine-acre site was council owned, with football mainly filling the annual sporting calendar, but in 1967 The Old Road Ground witnessed something of a change. It was the intervening of a group of Greyhound Racing enthusiasts, who persuaded the football clubs committee to lay a track around the perimeter of the football pitch.
Hoping that Greyhound Racing would become financially beneficial to the club, the offer was accepted, only to the dismay of the club's football supporters, claiming that a good deal of the terracing would be lost behind each goal mouth, to compensate for the track's bends. The new circuit had been designed as a wide galloping track, and was illuminated with modern Tungsten type track lighting, with seventy portable kennels made available, plus the installation of an outside Sumner type hare.
Although unofficial meetings had taken place previously, Clacton's inaugural meeting came on the 5th of July 1967, when 1800 racegoers attended an evening meeting. It opened up as a flapping track, and ran six dog races over distances of 240, 450, 600 and 800 metres. Its big race attractions were The Essex Greyhound Derby along with The Clacton Collar, run annually in October. Although originally a grass covered circuit, in time Clacton did switch to an all-silicon sanded track. In 1984 The Greyhound Company accepted an invitation to stage events under NGRC rules, by operating under the permit license scheme, but by February 1986 decided to switch back to flapping, due to a substantial fall in attendances and also complaints from local owners.
Disappointingly, attendances continued to fall, not just at Greyhound Racing but at football matches too, and with little spare cash available, the condition of the stadium began to dwindle. In 1985 the council made a decision to sell the stadium, its large site and car park had become a target for the developers, mainly due to its close proximity not just the sea, but to the town centre also. One sad feature was that dismantling of the main stand began before the stadium actually closed, and after 81 years of football at The Old Road Ground, Clacton Football Club played their final match against Lowestoft on the 21st of February 1987.
Six days later it was the turn of Greyhound Racing, who finally brought down the curtain at the stadium, with Clacton staging its final meeting on the 27th of February 1987. Anything beneficial was removed before the stadium was soon bulldozed, which left no evidence at all of a sports stadium ever having been there.
Today, The Water Glade Retail Park has become the base for a number of well-known stores, such as Safeways, Iceland, Harveys, Halfords and Texas, just to name a few. The football team eventually settled at a new venue called Rush Green Bowl, but not once was there a mention of Greyhound Racing ever joining them.
Memorabilia for this track is required for this page, if you can help please contact me.