Orrs Mill Road, Thornton, Nr Kirkaldy, Fifeshire, Scotland.
POSTCODE———————————-KY1 4DS
LOCATED————————————-The track is located three miles north of the Fifeshire town of Kirkaldy, with the track being half a mile south of the village of Thornton along Orrs Mill Road.
ORIGINAL SITE——————————Farm grazing land.
DATE CONSTRUCTED———————1936
DATE VENUE OPENED——————–May 1936.
Meaning other sports may have taken place prior to the arrival of Greyhound Racing.
FIRST MEETING—————————–May 29th 1936
Greyhound Racing only.
LICENSED OR INDEPENDENT———-Independent
All venues covered would have to be licensed with the government, licensed suggested in this section would refer to tracks operating under NGRC Rules.
INSIDE OR OUTSIDE HARE TYPE——Inside Sumner.
Please note that the Electric Hare suggested is only a guidance and would have been in operation for a certain amount of time at this venue. Although it is not necessarily guaranteed that it was operational all the time, as other types of lure may have been used and updated as time progressed.
DISTANCES———————————–300, 500 and 680 yards.
Please note that most racing venues distances had become varied throughout the years, the ones given above were at once point set and offers only a guidance to the track size.
CIRCUMFERENCE—————————Don't know.
Please note that alterations at most racing venues throughout its existence would see that the circumference of the track would vary, the one shown above offers only a guidance to the track size.
BIG RACE NAMES—————————The Kingdom of Fife.
STADIUM SHARED WITH—————–Whippet Racing.
LAST MEETING——————————N/A
Greyhound Racing only.
STADIUM CLOSURE DATE—————Still in operation.
Meaning other sports may have taken place after Greyhound Racing had ceased.
STADIUM DEMOLITION——————N/A
BUILT ON SITE——————————N/A
In some cases, structure's that originally covered the venue after the stadium had been demolished, may have been themselves demolished too, so the one described is more likely to be the one which now presently covers the site.
EVIDENCE LEFT TODAY——————N/A
FURTHER COMMENTS——————-None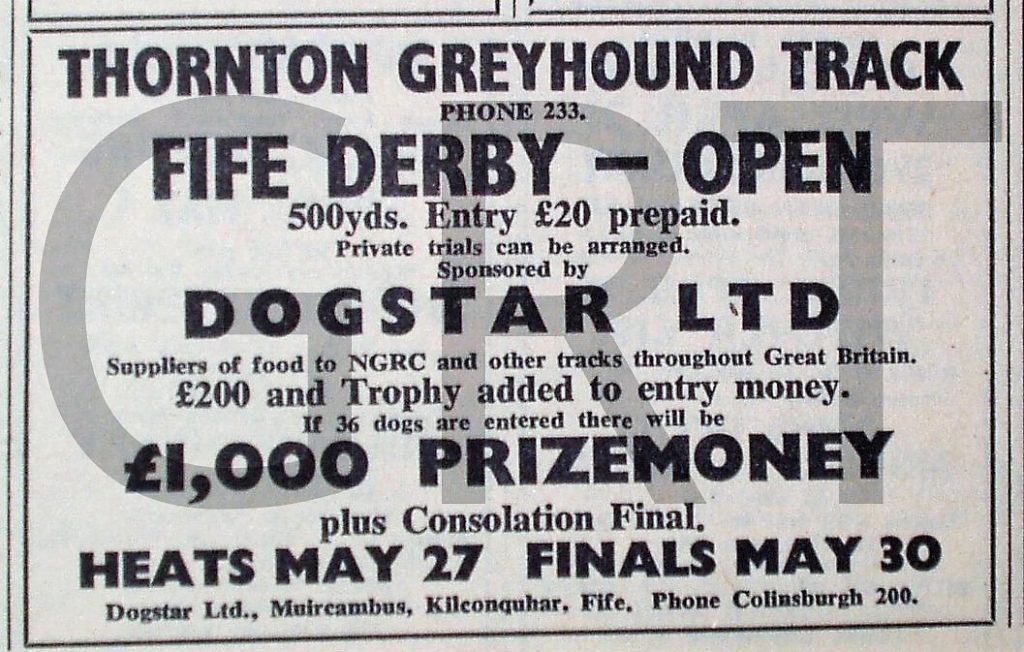 The present-day Thornton Greyhound Stadium lies three miles northwest of Kirkaldy and lies clearly visible when travelling along the A92 Glenrothes Road. Although there is no possible access from the A92, the stadium is actually situated along Orrs Mill Road, which links up with the A92 from a nearby roundabout.
It was during January 1936, that a small cutting in the local press suggested that the council were in discussions with a promoter regarding allowing permission to build a greyhound track in a farmer's field close to the village of Thornton. Once permission was granted, work on the new venue began, seeing the field becoming totally surrounded by fencing, which then witnessed the construction of a grandstand, kennels, and an oval racing track, complete with track lighting.
Opening up as a flapping track, Thornton's first meeting came on the 29th of May 1936, with six greyhounds chasing a trackless type of hare over distances of 300 and 500 yards. Thornton survived the war years and has continued to offer enthusiasts non-stop greyhound racing for over eighty years.
It annually runs big events such as The Kingdom of Fife over the 300-yard trip, and also The Fife Derby run over the four bend 500-yard trip, and offers six dog races, which are still contested over imperial distances of 300, 500 and 680 yards, with the hounds chasing an inside Sumner type hare.
It is still in operation today, as Thornton is the only independent greyhound track north of the border, but like all of the other tracks throughout the UK, it exists on a shoestring with an uncertain future ahead.
A programme, photograph or even memorabilia for this track is required for this page, if you can help please contact me.