Dundee Football Club, Dens Park, Sandeman Street, Dundee, Angus, Scotland.
POSTCODE———————————-DD3 7JY
LOCATED————————————Dens Park is located one mile north of Dundee city centre.
ORIGINAL SITE—————————–Farm grazing land prior to becoming a football stadium.
DATE CONSTRUCTED——————–Late 1890's.
DATE VENUE OPENED——————-Opened for first football match in 1899, then the venue was totally revamped during 1921.
Meaning other sports may have taken place prior to the arrival of Greyhound Racing.
FIRST MEETING—————————–November 9th 1932 until June 6th 1936 closed due to unpaid rent. then opened again on October 21st 1994 until closure confirmed in the press on December 11th 1996. It looks as if the last meeting was on November 14th, 1996.
Greyhound Racing only.
LICENSED OR INDEPENDENT———-NGRC.

All venues covered would have to be licensed with the government, licensed suggested in this section would refer to tracks operating under NGRC Rules.
INSIDE OR OUTSIDE HARE TYPE——Outside Sumner.
Please note that the Electric Hare suggested is only a guidance and would have been in operation for a certain amount of time at this venue. Although it is not necessarily guaranteed that it was operational all the time, as other types of lure may have been used and updated as time progressed.
DISTANCES———————————–400 metres, 480 metres handicapped races.
Please note that most racing venues distances had become varied throughout the years, the ones given above were at once point set and offers only a guidance to the track size.
CIRCUMFERENCE—————————Don't know
Please note that alterations at most racing venues throughout its existence would see that the circumference of the track would vary, the one shown above offers only a guidance to the track size.
BIG RACE NAMES—————————Nothing known of.
STADIUM SHARED WITH——————Dundee Football Club.
LAST MEETING——————————-November 15th 1996.
Greyhound Racing only.
STADIUM CLOSURE DATE—————-Still there.
Meaning other sports may have taken place after Greyhound Racing had ceased.
STADIUM DEMOLITION——————–N/A
BUILT ON SITE——————————–N/A
In some cases, structure's that originally covered the venue after the stadium had been demolished, may have been themselves demolished too, so the one described is more likely to be the one which now presently covers the site.
EVIDENCE LEFT TODAY——————–None noticeable at venue stadium now totally revamped since closure of greyhound racing.
FURTHER COMMENTS———————None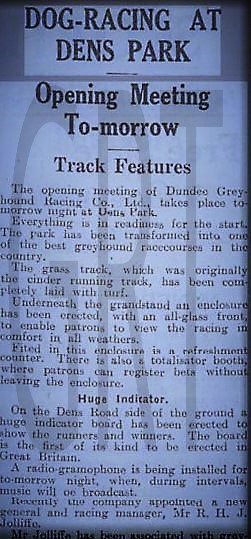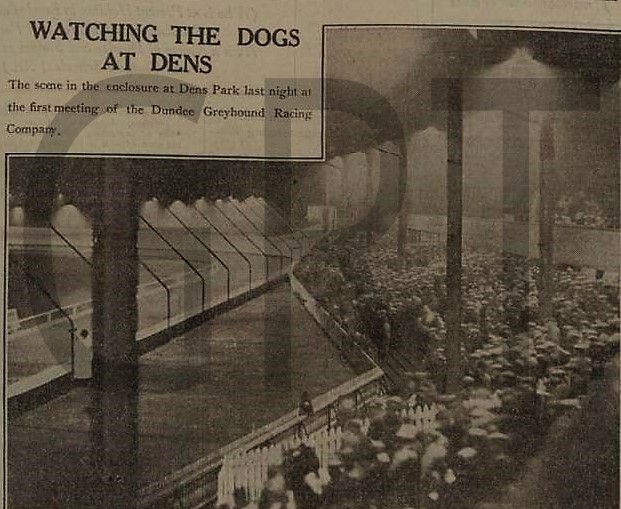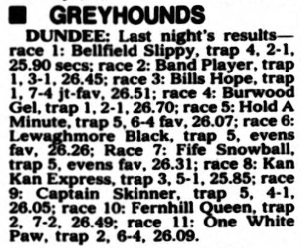 It may come as a surprise that Dundee is the fourth largest city in Scotland, situated on the northern banks of the Firth of Tay. The city of Dundee could boast it has two of the largest professional football clubs north of the border, Dundee who play at Dens Park and Dundee United who host matches at Tannadice.
Another thing that may come as a surprise is both these football stadiums have their main entrances on the same street, separated by no more than one hundred yards. Yet a further surprise awaits us, as both stadiums once featured Greyhound Racing while still hosting professional football. But it is this chapter that describes the one that lies one mile north of Dundee's city centre, at Dens Park. Both Dens Park and Tannadice began as nothing more than grazing land for cattle around the late 1890's, before Dundee Football Club hosted their first football match in 1899.
By 1921 Dens Park had established itself as an enclosed football venue, its shape and design then influencing the shape of stadium as we know it today. Although Greyhound Racing had been introduced down the road at Tannadice in 1928, the sport had been deemed a flop, mainly due to lack of interest, unlike south of the border were the sport was booming. But it was the Dundee Greyhound Racing Company who had invested £25,000 into Dens Park back in 1932, that caught the Dundee's public imagination at the right time. Their investment had seen an existing cinder Athletics track that ran around the perimeter of the football pitch, ripped up and replaced by a fully turfed greyhound track, complete with track lighting. The main grandstand had been refurbished with a glass fronted enclosure, totalisator booths and a result's indicator board erected on the opposite side to the main stand.
Dens Park's first meeting came on the 9th of November 1932, and promoted events under NGRC rules, with six greyhounds contesting over distances of 260, 460 and 612 yards, with the hounds chasing an outside electric hare. Attendances had been healthy during its early days, with the greyhounds provided by the greyhound company, and yet enough to fulfil the five meetings per week on offer. Further investment during July 1935 had seen a more modern totalisator system introduced and things looked promising. But undisclosed to the public, was that the greyhound company had not been paying their instalments of the £250 yearly rent to the football club, with their last instalment coming in September 1935.
By June 1936, the football club responded by taking action through Dundee sheriff's court, which warranted all goods that was owned by the greyhound company seized within Dens Park, forcing the greyhound company to cease trading. These legal moves taken by the football club had witnessed Dens Park stage its final meeting on Saturday the 6th of June 1936, its final race being a dead heat.
After the greyhounds were gone, Dens Park continued to host professional football, with Dundee Football Club witnessing its record attendance of 43,024 against Rangers in 1943. But Greyhound Racing had not finished at Dens Park, as it would take almost another sixty years to make a return.
It was during 1994 that local enthusiasts persuaded the football club to lay an all sanded track around the football pitches perimeter. Events were to be run under NGRC rules, with five greyhounds contesting over distances of 400 metres, with the hounds chasing an outside hare. Unfortunately, the sport failed to catch the modern day punter's imagination, as attendances failed to cover costs, with paying punters hovering around the fifty mark, way short of the 200 that was required to break even. It came as no surprise when during December 1996, the press announced no further meetings would take place.
It seemed the Friday night meeting of November the 15th had been its last, as the 22nd had been called off due to frost, and an appearance in the intertrack final at Wembley on the 29th, had been its last operative mention in the press. No further cards or results were to be found anywhere after, as Dens Parks next announcement had confirmed its closure.
Since those days of Greyhound Racing almost twenty years or so ago, Dens Park has seen a total transformation regarding the upgrading of the stadium. The oval shape it once had is now gone, the shape now is rectangular with all stands now being totally seated. Never again will we see Greyhound Racing at Dens Park, the only reminder of it ever having been there is Dens Park main stand, with its dog leg shape similar to what it was like during the boom years of the 1930's.
A programme, photograph or even memorabilia for this track is required for this page, if you can help please contact me.