Station Road, Earls Barton, Northamptonshire.
POSTCODE———————————-NN6 0RB
LOCATED————————————About one and a half miles south of Earls Barton situated between the A45 ands the River Nene.
ORIGINAL SITE—————————–Farm grazing land.
DATE CONSTRUCTED——————–Developed during the post war years.
DATE VENUE OPENED——————-July 1945.
Meaning other sports may have taken place prior to the arrival of Greyhound Racing.
FIRST MEETING—————————-July 4th 1945.
Greyhound Racing only.
LICENSED OR INDEPENDENT———-Independent
All venues covered would have to be licensed with the government, licensed suggested in this section would refer to tracks operating under NGRC Rules.
INSIDE OR OUTSIDE HARE TYPE——Inside Sumner.
Please note that the Electric Hare suggested is only a guidance and would have been in operation for a certain amount of time at this venue. Although it is not necessarily guaranteed that it was operational all the time, as other types of lure may have been used and updated as time progressed.
DISTANCES———————————–280, 470 and 680 yards.
Please note that most racing venues distances had become varied throughout the years, the ones given above were at once point set and offers only a guidance to the track size.
CIRCUMFERENCE—————————About 400 yards.
Please note that alterations at most racing venues throughout its existence would see that the circumference of the track would vary, the one shown above offers only a guidance to the track size.
BIG RACE NAMES—————————The Earls Barton Derby run in the summer months over 470 yards.
STADIUM SHARED WITH——————Stock Car Racing, Speedway and Go-Karts.
LAST MEETING——————————-Thought to be Mid December 1971.
Greyhound Racing only.
STADIUM CLOSURE DATE—————-Still used for sporting activities.
Meaning other sports may have taken place after Greyhound Racing had ceased.
STADIUM DEMOLITION——————–Venue still there.
BUILT ON SITE——————————–Football pitches on the Pioneer Sports Ground and is home to Earls Barton Football Club.
In some cases, structure's that originally covered the venue after the stadium had been demolished, may have been themselves demolished too, so the one described is more likely to be the one which now presently covers the site.
EVIDENCE LEFT TODAY——————–The concrete base of the grandstand still survives, although this has become the foundations of portacabins acting as offices and changing rooms.
FURTHER COMMENTS———————None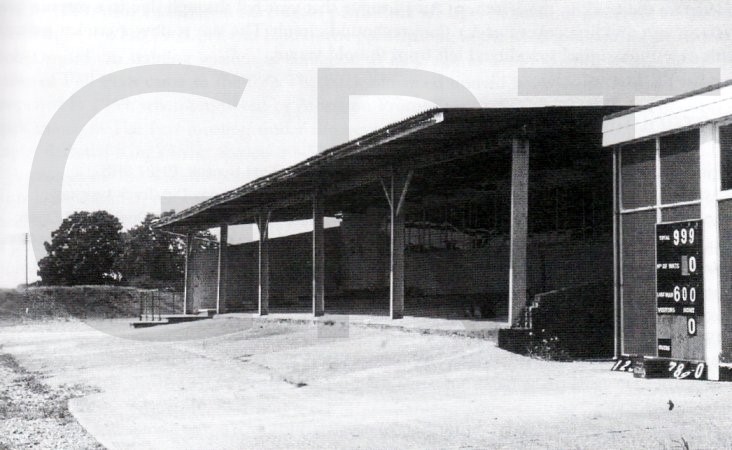 The small town of Earls Barton lies roughly four miles east of Northampton, situated just north of the A45. It was during the closing months of the Second World War that a greyhound track began to develop in a rural area one and a half miles south of the town. It was constructed on farmland between the A45 and the River Nene, opening up as an independent flapping track, with its first meeting coming on the 4th of July 1945, with almost 2,000 racegoers in attendance.
The track was primitive, although a stand was constructed on the north side of the track along with a kennel block, once war building restrictions had been relaxed. An earth bank developed on continuation of the covered stand to help better viewing, along with a purposely constructed pond situated within the infield of the track, which offered a source for watering the track. Distances were run over 280, 470 and 680 yards, with events consisting of five, then later six greyhounds chasing an inside Sumner type hare.
Its main attraction was the Earls Barton Derby, run over the 470-yard trip, run annually during the summer months. The Earls Barton venue also became a home to various types of motor sport, firstly in 1947 when a grass speedway track was constructed within the infield of the greyhound track, which remained active up until 1957. Midget Car Racing featured briefly during 1951, then later a Go Kart track was laid during the early 1960's, which also served its purpose as a Stock Car and Banger Racing track.
However, by 1971 all motor sport events had ceased, along with Greyhound Racing, seeing the whole venue becoming transformed in to more of what it is today. Today, it is more recognised as the home Earls Barton Football Club, and is known locally as the Pioneer Sports Ground, which also serves as a cricket pitch during the summer months. Although the venue is a total contrast of what it used to look like, luckily enough there is some evidence of the past remains. The concrete base of the old main stand is clearly evident and now acts as a base for the portacabin type changing rooms.
A programme, photograph or even memorabilia for this track is required for this page, if you can help please contact me.