Larkhill Sports Stadium, Larkhill Road, Yeovil, Somerset.
POSTCODE———————————-BA21 3HL
LOCATED————————————One and a hal miles north west of Yeovil town centre, just one mile east of Yeovil Town Football Club on Larkhill Road.
ORIGINAL SITE—————————–Farm grazing land situated along side Larkhill Road, an old Roman Road.
DATE CONSTRUCTED——————–1947-48
DATE VENUE OPENED——————-1948
Meaning other sports may have taken place prior to the arrival of Greyhound Racing.
FIRST MEETING—————————–March 27th 1948.
Greyhound Racing only.
LICENSED OR INDEPENDENT———-Independent
All venues covered would have to be licensed with the government, licensed suggested in this section would refer to tracks operating under NGRC Rules.
INSIDE OR OUTSIDE HARE TYPE——Inside Sumner.
Please note that the Electric Hare suggested is only a guidance and would have been in operation for a certain amount of time at this venue. Although it is not necessarily guaranteed that it was operational all the time, as other types of lure may have been used and updated as time progressed.
DISTANCES———————————–330, 530 and 730 yards.
Please note that most racing venues distances had become varied throughout the years, the ones given above were at once point set and offers only a guidance to the track size.
CIRCUMFERENCE—————————Dont know
Please note that alterations at most racing venues throughout its existence would see that the circumference of the track would vary, the one shown above offers only a guidance to the track size.
BIG RACE NAMES—————————The Somerset Derby and the Somerset Cesarewitch.
STADIUM SHARED WITH——————Stock Car Racing and Amateur football.
LAST MEETING——————————-End November 1972.
Greyhound Racing only.
STADIUM CLOSURE DATE—————-November 1972.
Meaning other sports may have taken place after Greyhound Racing had ceased.
STADIUM DEMOLITION——————–Dont know
BUILT ON SITE——————————–Housing on Larkspur Crescent on The Larkhill Crescent Estate locates its site, constructed during the late 70's and early 80's.
In some cases, structure's that originally covered the venue after the stadium had been demolished, may have been themselves demolished too, so the one described is more likely to be the one which now presently covers the site.
EVIDENCE LEFT TODAY———————Nothing known of.
FURTHER COMMENTS———————-None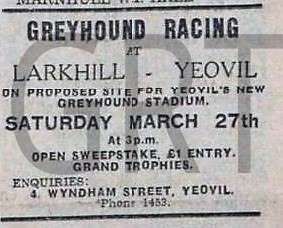 The Somerset town of Yeovil is more associated with the Helicopter industry rather than its sporting achievements, yet it became another town that would add to the list of greyhound racing venues. Although other tracks had ventured in and around the Yeovil area during the 1930's, none of them established themselves enough to become a permanent track unlike the one that arrived at Larkhill.
The new track was situated roughly one and a half miles northwest of Yeovil town centre, in a district known as Higher Larkhill, and became known as the Larkhill Greyhound Stadium. The stadium had cost 30,000 to construct, having been built on a seven-acre section of farmland that lay adjacent to Larkhill Road.
Opening up as an independent track, its first meeting came on the 27th of March 1948. It promoted six dog race events, with races being run over distances of 330 and 500 yards, with the hounds chasing an inside Sumner type hare. Other distances were introduced in its later days such as the 510-yard handicaps race, with the 530- and 730-yard trips also featuring. Like most tracks it hosted attractive events such as the annual Somerset Derby run over the four-bend trip, with distances varying over the years due to track alterations, from 510 to 530 yards, and also the Somerset Cesarewitch contested over the 730-yard trip.
Motor sports also featured with Stock Car Racing being introduced in 1957. Its demise came during the early 1970's as the once open land that surrounded the track was now becoming overwhelmed by housing development, and it came as no surprise when developers approached the greyhound tracks owners with an offer they could not refuse.
November 1972 witnessed the stadiums closure, and soon the site became bulldozed to make way for new housing. The Larkspur Crescent Estate now covers the site having been developed during the 1970's.