The Ramsgate Sports Stadium, Newington Road, Newington, Nr Ramsgate, Kent.
POSTCODE———————————CT12 6PP
LOCATED————————————About half a mile north west of Ramsgate's main railway station along the B2014 Newington Road, two miles north of the sea front.
ORIGINAL SITE—————————–Unoccupied land adjacent to a Corn Mill.
DATE CONSTRUCTED——————–Dont know
DATE VENUE OPENED——————-Very late 1931 or very early 1932.
Meaning other sports may have taken place prior to the arrival of Greyhound Racing.
FIRST MEETING—————————-Very late 1931 or very early 1932.
Greyhound Racing only.
LICENSED OR INDEPENDENT———-Independent
All venues covered would have to be licensed with the government, licensed suggested in this section would refer to tracks operating under NGRC Rules.
INSIDE OR OUTSIDE HARE TYPE——Don't know
Please note that the Electric Hare suggested is only a guidance and would have been in operation for a certain amount of time at this venue. Although it is not necessarily guaranteed that it was operational all the time, as other types of lure may have been used and updated as time progresssed.
DISTANCES———————————–275, 415 and 575 yards.
Please note that most racing venues distances had become varied throughout the years, the ones given above were at once point set and offers only a guidance to the track size.
CIRCUMFERENCE—————————Dont know
Please note that alterations at most racing venues throughout its existence would see that the circumference of the track would vary, the one shown above offers only a guidance to the track size.
BIG RACE NAMES—————————None found.
STADIUM SHARED WITH——————Boxing
LAST MEETING——————————-Possibly 1954.
Greyhound Racing only.
STADIUM CLOSURE DATE—————-Not yet known.
Meaning other sports may have taken place after Greyhound Racing had ceased.
STADIUM DEMOLITION——————–Dont know
BUILT ON SITE——————————–A Double Glazing company called Pipers.
In some cases, structure's that originally covered the venue after the stadium had been demolished, may have been themselves demolished too, so the one described is more likely to be the one which now presently covers the site.
EVIDENCE LEFT TODAY——————–Not Known of.
FURTHER COMMENTS———————None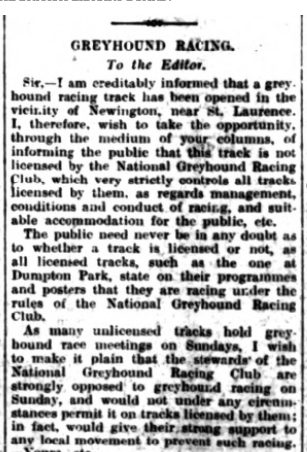 When discussing the history of Greyhound Racing in the Kent seaside resort of Ramsgate, the NGRC track of Dumpton Park immediately comes to mind. Yet for almost a twenty year period surrounding the Second World War, East Kent Greyhound Racing enthusiasts were blessed with the choice of racing their hounds at the nearby independent Ramsgate Sports Stadium on Newington Road.
The district of Newington is located roughly two miles north of the Ramsgate's sea front, and within half a mile of the resorts main railway station. The stadium had been constructed during the early 1930's, on farmland next door to a corn mill, finding itself tucked away behind a grey corrugated iron fence.
It opened up as an independent track either very late 1931 or very early 1932, and would continue to do so throughout the hostilities, right up until its closure in 1954. Little is known on how it operated, but it seems that the venue built a reputation by hosting Boxing bouts also. An industrial site now covers the foundations were it once lay, with Pipers Double Glazing Company pinpointing its once location.
A programme, photograph or even memorabilia for this track is required for this page, if you can help please contact me.