Clarence Road, Hartlepool, County Durham.
POSTCODE———————————–TS24 8BZ
LOCATED————————————-Half a mile north of Hartlepool town centre next door to the football ground along the A1048 Clarence Road.
ORIGINAL SITE——————————Developed as the Clarence Cricket Ground during the late 1800's then became a football ground.
DATE CONSTRUCTED———————Track constructed around a football ground during 1938.
DATE VENUE OPENED——————–During the late 1800's for Cricket.
Meaning other sports may have taken place prior to the arrival of Greyhound Racing.
FIRST MEETING—————————–September 14th 1938, 4,000 patrons attended.
Greyhound Racing only.
LICENSED OR INDEPENDENT———–Independent
All venues covered would have to be licensed with the government, licensed suggested in this section would refer to tracks operating under NGRC Rules.
INSIDE OR OUTSIDE HARE TYPE——–Inside Sumner.
Please note that the Electric Hare suggested is only a guidance and would have been in operation for a certain amount of time at this venue. Although it is not necessarily guaranteed that it was operational all the time, as other types of lure may have been used and updated as time progressed.
DISTANCES————————————260, 460 and 640 yards.
Please note that most racing venues distances had become varied throughout the years, the ones given above were at once point set and offers only a guidance to the track size.
CIRCUMFERENCE—————————-380 yards.
Please note that alterations at most racing venues throughtout its existence would see that the circumference of the track would vary, the one shown above offers only a guidance to the track size.
BIG RACE NAMES—————————-None known of.
STADIUM SHARED WITH——————West Hartlepool Rugby Club and Stock Car Racing.
LAST MEETING——————————-Around September 1996
Greyhound Racing only.
STADIUM CLOSURE DATE—————-Late 1996.
Meaning other sports may have taken place after Greyhound Racing had ceased.
STADIUM DEMOLITION——————–1996 but the site remained wasteland for many following.
BUILT ON SITE——————————–A Morrisons Superstore car park with spaces for 440 cars built in 2002.
In some cases, structure's that originally covered the venue after the stadium had been demolished, may have been themselves demolished too, so the one described is more likely to be the one which now presently covers the site.
EVIDENCE LEFT TODAY——————–Nothing known of.
FURTHER COMMENTS———————Two night-watchman died during a bombing raid during May 1941, after a direct hit on the grandstand and its offices.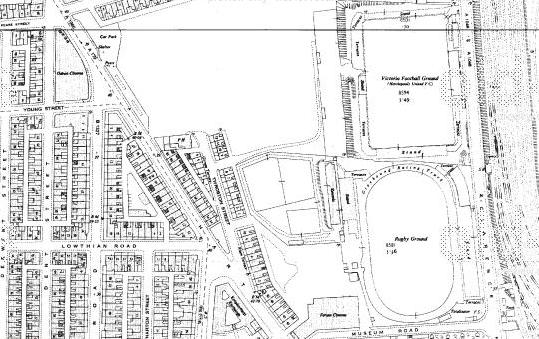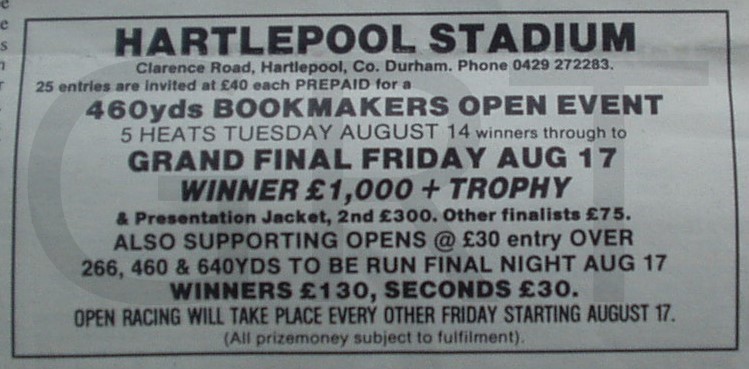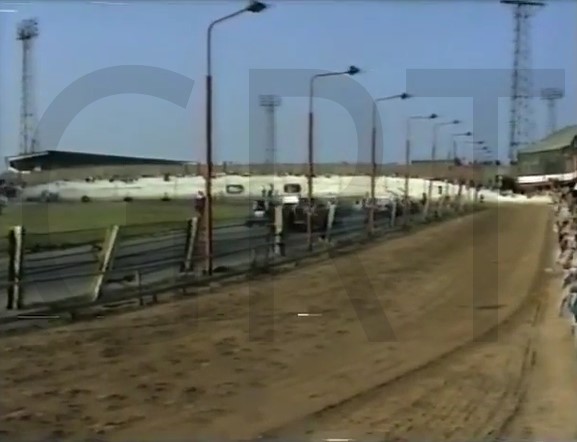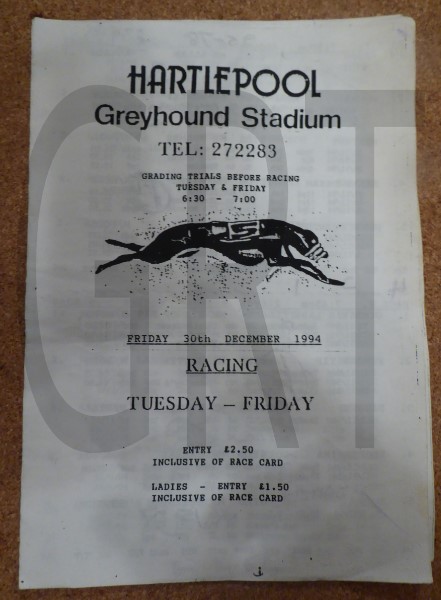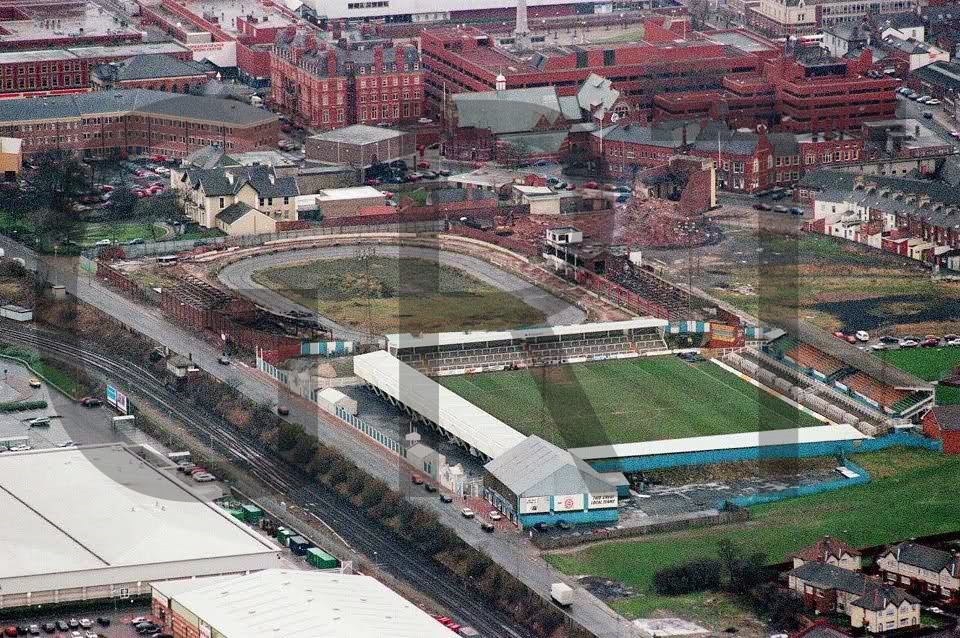 Hartlepool Greyhound Stadium was situated along the side of the A1048 Clarence Road, half a mile north of Hartlepool's town centre. The six and a half acre site lay directly behind the south terracing of Hartlepool United's Victoria Ground, separated only by a concrete slabbed wall.
The venue became host to a number of sports during its active days, firstly opening as the Clarence Cricket Ground before the turn of the twentieth century, then hosting amateur football, before settling as a rugby union venue for the local team West Hartlepool. Greyhound Racing joined the list of sports during 1938, when a track was laid around the rugby pitch in time for an opening meeting on the 14th of September. The eight-race event was contested over distances of 266, 370, 460 and 574 yards, with five greyhounds competing in handicap races and chasing a trackless type hare. Four thousand spectators attended the first meeting, with a greyhound called Arran Beg winning the first race.
The Hartlepool venue would begin its existence as a flapping track and would continue to do so through out its active days. The declaration of the Second World War stalled things briefly, but operations soon returned once restrictions had been lifted, this time with meetings being held during daylight hours. But a more serious incident occurred during May 1941, when the stadium suffered severe bomb damage during an air raid which demolished the main stand and its offices, which sadly killed the two-night watchmen who were on duty that night. So devastating was the blast, that the nearby cinema, the police station and an APR control room, also suffered extensive damage.
Further sporting activities featured during the post war years, such as Boxing making its first appearance in 1957, when Hartlepool's own Brian London, the nation's favourite at the time, contested a British Heavyweight eliminator against a Tongan challenger. By 1965 the Rugby Union Club was struggling financially and came as no surprise when they were evicted by the stadium's owners, leaving behind stacks of unpaid bills.
The next ten years saw Greyhound racing as the stadiums only means of income and became a decade that witnessed a rapid deterioration of the venue. But the arrival of Stock Car Racing in September 1975, seemed to give the stadium hope for survival, with the sport becoming a great success over the next twenty years or so. Greyhound racing continued to hold events with races run over distances of 260, 460 and 640 yards, and with the hounds chasing an inside Sumner type hare.
Senses of a downward trend were felt once again during 1985, after the stadium's owner announced that the venue would be put up for sale, suggesting it could be a potential target for developers. The early 1990's brought with it even more gloom, as the stadium failed council official inspections, which in turn saw sections of the venue closed to spectators and seeing the crowd capacity being vastly reduced to just 4,000. In 1993 an effort to host Speedway Racing failed miserably, after trials found that the noise levels exceeded the allowed decibel requirements. As the months ticked away, more and more dark clouds began to gather regarding the stadium's future, with threats of closure constantly being reported by the media. The end of Stock Cars came in 1995, then inevitably Greyhound Racing following, staging its final meeting during September1996.
With the stadium lying derelict, the venue suffered numerous attacks from vandals and arsonists, leaving the council with no other option than to bring the date of demolition forward to 1996. The flattened site became idle for a number of years following, with fairs and circus's using the site before the land became available for construction of a new Morrison's Superstore in 2002. Today, the superstore's vast car park covers an area which once housed the greyhound track and leaves no trace at all of a sporting venue ever having been there.
A programme, photograph or even memorabilia for this track is required for this page, if you can help please contact me.