Saddlebow Road, King's Lynn, Norfolk.
POSTCODE———————————–PE34 3EG
LOCATED————————————-Two miles south of King's Lynn town centre, situated about half a mile south of the A47 and A148 interchange roundabout.
ORIGINAL SITE——————————Arable farmland.
DATE CONSTRUCTED———————1950-51
DATE VENUE OPENED——————–August 1951
Meaning other sports may have taken place prior to the arrival of Greyhound Racing.
FIRST MEETING—————————–August 27th 1951.
Greyhound Racing only.
LICENSED OR INDEPENDENT———–Independent
All venues covered would have to be licensed with the government, licensed suggested in this section would refer to tracks operating under NGRC Rules.
INSIDE OR OUTSIDE HARE TYPE——-Inside Sumner.
Please note that the Electric Hare suggested is only a guidance and would have been in operation for a certain amount of time at this venue. Although it is not necessarily guaranteed that it was operational all the time, as other types of lure may have been used and updated as time progressed.
DISTANCES———————————–325 and 500 yards.
Please note that most racing venues distances had become varied throughout the years, the ones given above were at once point set and offers only a guidance to the track size.
CIRCUMFERENCE—————————Not known.
Please note that alterations at most racing venues throughout its existence would see that the circumference of the track would vary, the one shown above offers only a guidance to the track size.
BIG RACE NAMES—————————None found.
STADIUM SHARED WITH——————Speedway and odd Stock Car meetings.
LAST MEETING——————————-Mid 1960's, maybe 1965 or 1966.
Greyhound Racing only.
STADIUM CLOSURE DATE—————-Still going for motor sports.
Meaning other sports may have taken place after Greyhound Racing had ceased.
STADIUM DEMOLITION——————–Still there and known as Norfolk Arena.
BUILT ON SITE——————————–The present stadium is a continuation of the old one, that has been revamped over the years.
In some cases, structure's that originally covered the venue after the stadium had been demolished, may have been themselves demolished too, so the one described is more likely to be the one which now presently covers the site.
EVIDENCE LEFT TODAY——————–Dont know
FURTHER COMMENTS———————The stadium lay idle for a good number of years before it was revamped in 1965.During its operation in the mid 1960's it had a sister track at Wisbech.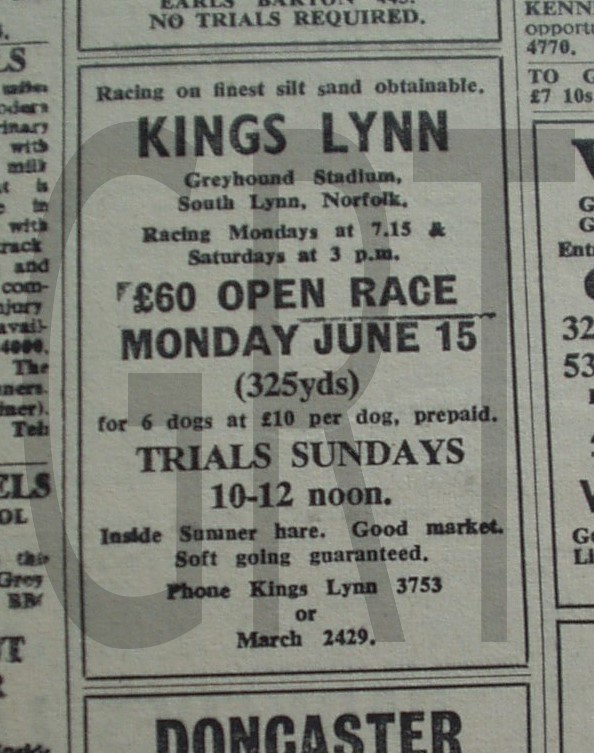 Today, the Norfolk town of Kings Lynn offers motor sports to its faithful, at a venue on its outskirts known as the Norfolk Arena. It was a venue that also featured Greyhound Racing during the 1950's and 1960's, operating solely as an independently run track.
The stadium began to develop on arable farmland around 1950, establishing itself as a purpose-built greyhound track known as the Saddlebow, then later The South Lynn Greyhound Track. Its first meeting came on the 27th of August 1951 and featured five dog racing over distances of 325 and 500 yards, with the greyhounds chasing in inside Sumner type hare.
The following year saw the introduction of grass track speedway, with the riders competing on a grass surface marked out within the infield of the greyhound track. Greyhound racing ceased during 1955, a year in which saw Stock Car Racing featured for the first time. Yet both motor sports failed to attract much interest, which in turn contributed to the tracks closure of all sporting activities by the end of 1956.
The stadium lay abandoned and unused for a good number of years following, but a handful of greyhound race meetings featured during 1964, hinted that the stadium was ready for action once more. A total revamp of the stadium in 1965 witnessed the return of Speedway Racing, but it would be the following year before the owner of the Wisbech greyhound track stepped in to promote Greyhound Racing once more. His policy would see all graded dogs being allowed to run at both Kings Lynn and Wisbech tracks, just as long as the greyhounds used the same racing name.
Sadly, its unpopularity saw the greyhounds cease once again within a matter of months, which gave the opportunity for Stock Car Racing to return once more during the latter end of 1966. Another attempt to bring back greyhound racing in 1967 came to nothing, as by now the Norfolk Arena had made its mark as a motor sport venue.
Today, the stadium is known as the Adrian Flux Arena, its name being the latest of a number of titles the stadium has been under throughout its existence. Motor sports still flourish at the very neat and tidy venue, with mainly Stock Car events and Speedway, along with Banger Racing etc. still on show. The stadium is located roughly two miles south of King's Lynn, just half a mile from the A47 and A148 interchange.
A programme, photograph or even memorabilia for this track is required for this page, if you can help please contact me.