Hednesford Road, Norton Canes, Nr Brownhills, Staffordshire.
POSTCODE———————————WS8 7NB
LOCATED————————————Four miles south west od Cannock along the B4154 between Chasewater Lake and the M6 Toll Road.
ORIGINAL SITE—————————–Marshland
DATE CONSTRUCTED——————–1974
DATE VENUE OPENED——————-May 1974
Meaning other sports may have taken place prior to the arrival of Greyhound Racing.
FIRST MEETING—————————–May 15th 1974.
Greyhound Racing only.
LICENSED OR INDEPENDENT———-Mainly NGRC, but did have short periods at the beginning and at the end of its existence.
All venues covered would have to be licensed with the government, licensed suggested in this section would refer to tracks operating under NGRC Rules.
INSIDE OR OUTSIDE HARE TYPE——Outside Sumner.
Please note that the Electric Hare suggested is only a guidance and would have been in operation for a certain amount of time at this venue. Although it is not necessarily guaranteed that it was operational all the time, as other types of lure may have been used and updated as time progressed.
DISTANCES———————————–265, 440, 570, 617 and 969 metres.
Please note that most racing venues distances had become varied throughout the years, the ones given above were at once point set and offers only a guidance to the track size.
CIRCUMFERENCE—————————Don't know
Please note that alterations at most racing venues throughout its existence would see that the circumference of the track would vary, the one shown above offers only a guidance to the track size.
BIG RACE NAMES—————————The Norton Canes Derby and The Norton Plate.
STADIUM SHARED WITH——————Banger Racing and Moto Cross.
LAST MEETING——————————-July 31st 1995.
Greyhound Racing only.
STADIUM CLOSURE DATE—————-Possibly 1995 but schooling trials took place after racing had ceased.
Meaning other sports may have taken place after Greyhound Racing had ceased.
STADIUM DEMOLITION——————-Late 1990's.
BUILT ON SITE——————————-The Willow Road Housing Estate.
In some cases, structure's that originally covered the venue after the stadium had been demolished, may have been themselves demolished too, so the one described is more likely to be the one which now presently covers the site.
EVIDENCE LEFT TODAY——————-Very Doubtful.
FURTHER COMMENTS——————–Norton Canes history seemed to be hindered by troubling events, which included two serious fires which alone halted proceedings.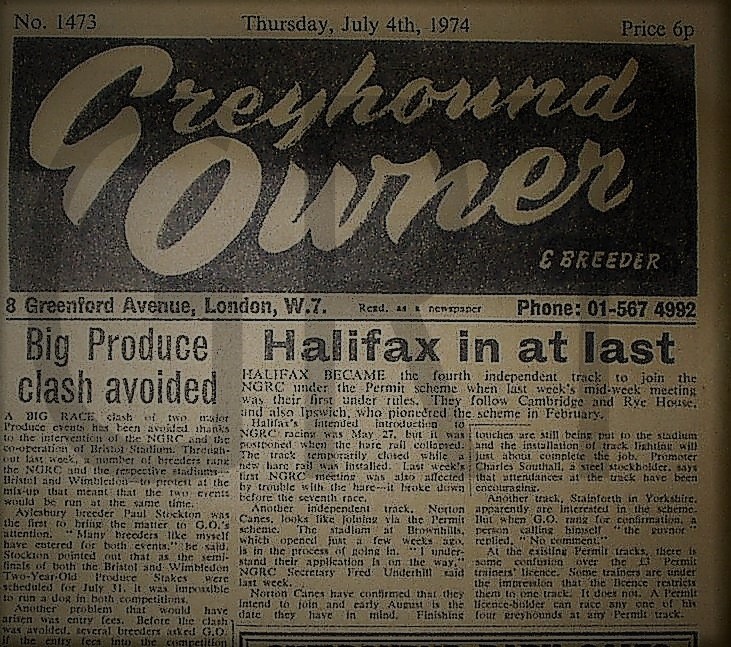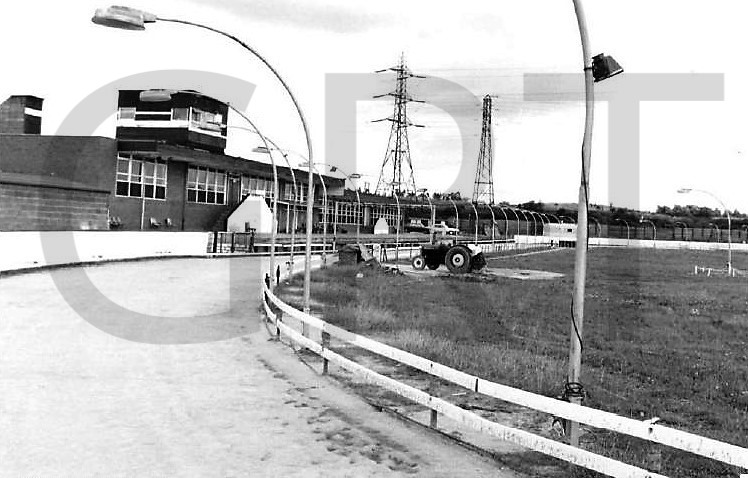 Another one of Staffordshire's handful of Greyhound Racing venue's, was the one known as Norton Canes, a small civil parish situated four miles south east of Cannock. The track began to develop during the early months of 1974, on marshland adjacent to the B4154, which lay just south east of Norton Canes village. Life began as an independent track, opening up with a meeting on the 15th of May 1974, but by August the management had switched to operating under an NGRC permit license.
It staged six dog events over distances of 265, 440, 570, 617, 792 and 969 metres, with the hounds chasing an outside Sumner type hare. Like most tracks it staged attractive events such as a The Norton Plate, run in July over the 440-metre trip, and The Norton Canes Derby run over the same distance but a month later. Sadly, Norton Canes seemed to suffer from serious mishaps during its time, firstly in December 1980 when a fire forced an eight-month temporary closure.
The track reopened the following August after £180,000 had been spent on refurbishment which included a new glass fronted grandstand, complete with restaurant, a spectator lounge and its own bar, along with a cluster of new tote booths. On the track side of things, a new kennel block was constructed, along with new track lighting and a newly laid all sanded running surface, complete with a new hare rail system.
Norton Canes found itself in the multi-sports venue brackets after hosting odd motor sports events during the late 1970's and early 80's, such as Banger Racing and Moto Cross. Its best period of Greyhound racing was around the late 1980's, when the venue had a spell of attracting top trainers, one of course being Geoff De Moulder.
After a dispute with the NGRC in November 1993 regarding the un absence of a vet at a meeting, Norton Canes reverted back to being an independent track after 19 years under license. But further tragic circumstances struck in July 1995, after another serious fire virtually destroyed the whole of the grandstand, instantly halting proceedings.
No more meetings took place following the fire, mainly due to the refusal of the stadium's safety certificate, although the track was used for trials and schooling over the following months. Attempts were made to see the return of Greyhound Racing once more, but efforts came to no avail, seeing the site gradually drift in to an idle and derelict state over the following years.
It is more than twenty years since the track closed, but surprisingly, the site has only recently been developed, with an estimated 130 dwellings now covering the site. The red perimeter wall that separated the track from its car park lingered for many years after, but with the modern dwellings now rapidly covering the site it is very doubtful that anything evidential of the Norton Canes venue remains. The new Willow Road housing estate now covers the site.
A photograph or even memorabilia for this track is required for this page, if you can help please contact me.