Dumpton Park, Hereson Road, Ramsgate,Kent.
POSTCODE———————————CT11 8BN
LOCATED————————————About half a mile north east of Ramsgate town centre, just off Dumpton Park Drive at the junction with Montefiore Avenue.
ORIGINAL SITE—————————–Farm grazing land.
DATE CONSTRUCTED——————–1927-28
DATE VENUE OPENED——————-May 1928.
Meaning other sports may have taken place prior to the arrival of Greyhound Racing.
FIRST MEETING—————————–May 26th 1928.
Greyhound Racing only.
LICENSED OR INDEPENDENT———–NGRC.
All venues covered would have to be licensed with the government, licensed suggested in this section would refer to tracks operating under NGRC Rules.
INSIDE OR OUTSIDE HARE TYPE——-Outside Sumner.
Please note that the Electric Hare suggested is only a guidance, and would have been in operation for a certain amount of time at this venue. Although it is not necessarily guaranteed that it was operational all the time, as other types of lure may have been used and updated as time progressed.
DISTANCES————————————450, 640, 855 and 1045 metres.
Please note that most racing venues distances had become varied throughout the years, the ones given above were at once point set and offers only a guidance to the track size.
CIRCUMFERENCE—————————Approximately 405 metres.
Please note that alterations at most racing venues throughout its existence would see that the circumference of the track would vary, the one shown above offers only a guidance to the track size.
BIG RACE NAMES—————————Kent St Leger and The Thanet Gold Cup.
STADIUM SHARED WITH——————Nothing found.
LAST MEETING——————————-March 4th 1996.
Greyhound Racing only.
STADIUM CLOSURE DATE—————-1996 after going in to receivership.
Meaning other sports may have taken place after Greyhound Racing had ceased.
STADIUM DEMOLITION——————–2001
BUILT ON SITE——————————–Housing on Brindle Grove and Harebrook now occupy the site.
In some cases, structure's that originally covered the venue after the stadium had been demolished, may have been themselves demolished too, so the one described is more likely to be the one which now presently covers the site.
EVIDENCE LEFT TODAY——————–There is a building on the side of the Garden Centre car park, that was once within the stadium boundaries and may have acted possibly as kennel space at one time.
FURTHER COMMENTS———————Car park used for Only Fools and Horses Christmas Special in 1989.Dumpton Park was closed down during the Second World War hostilities.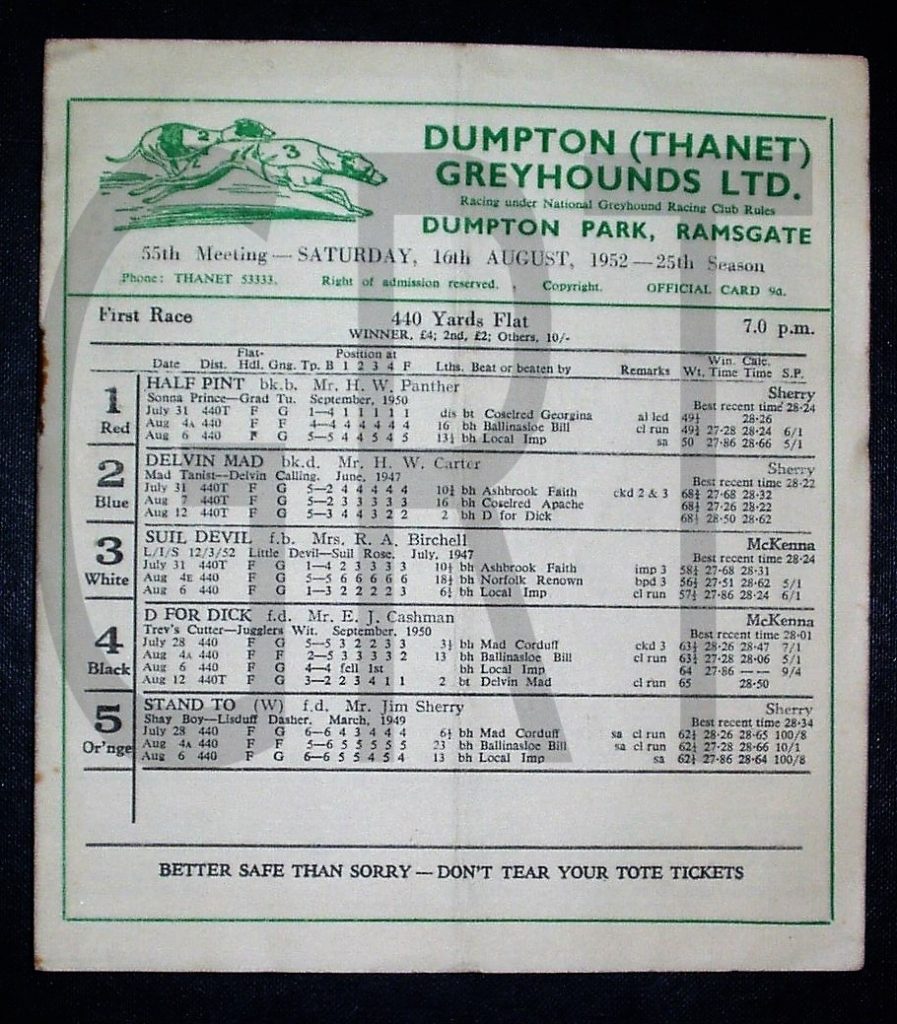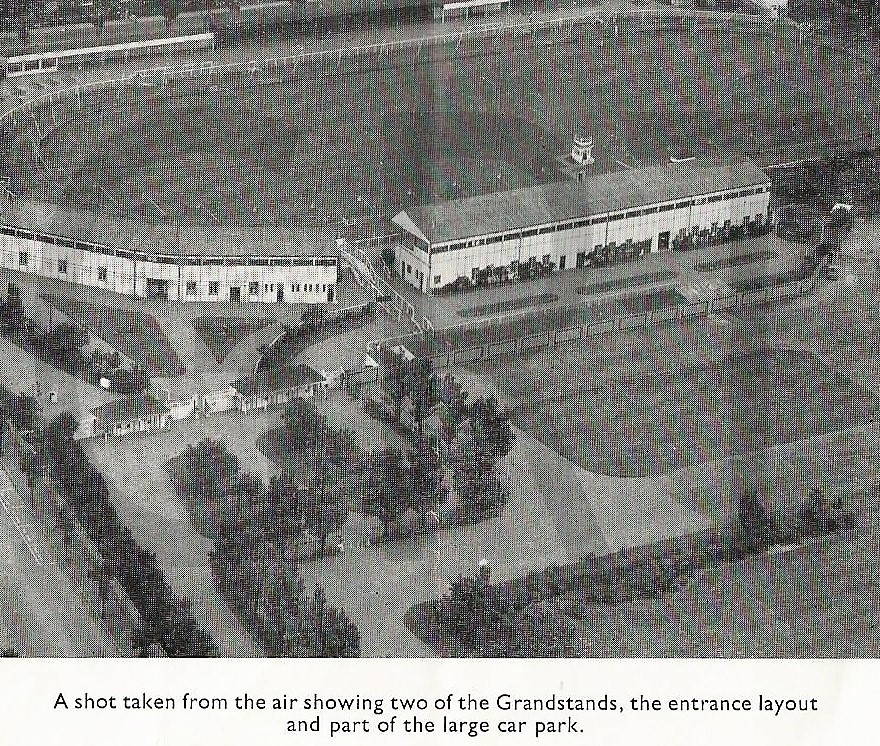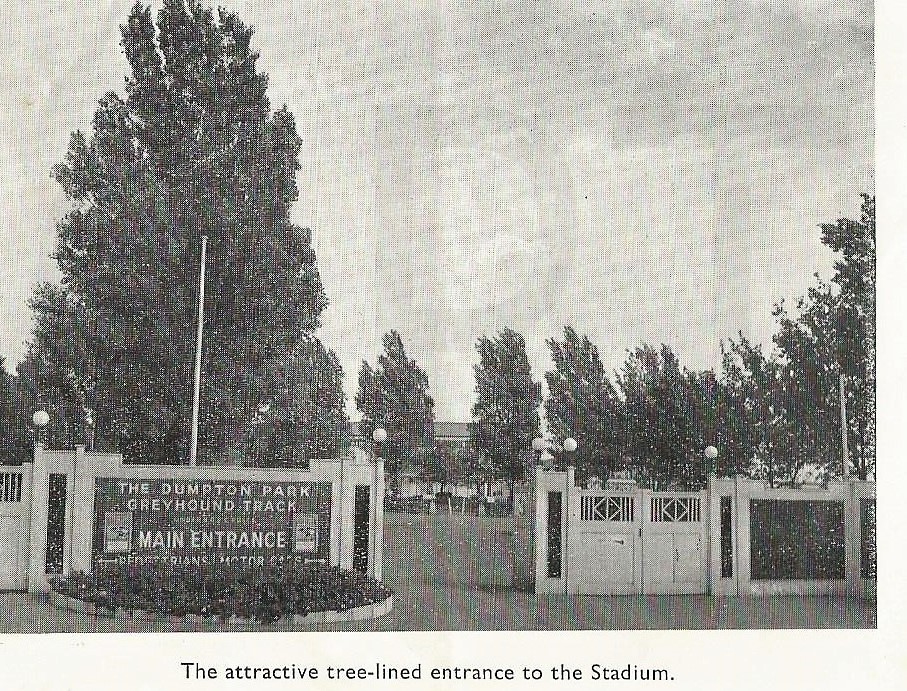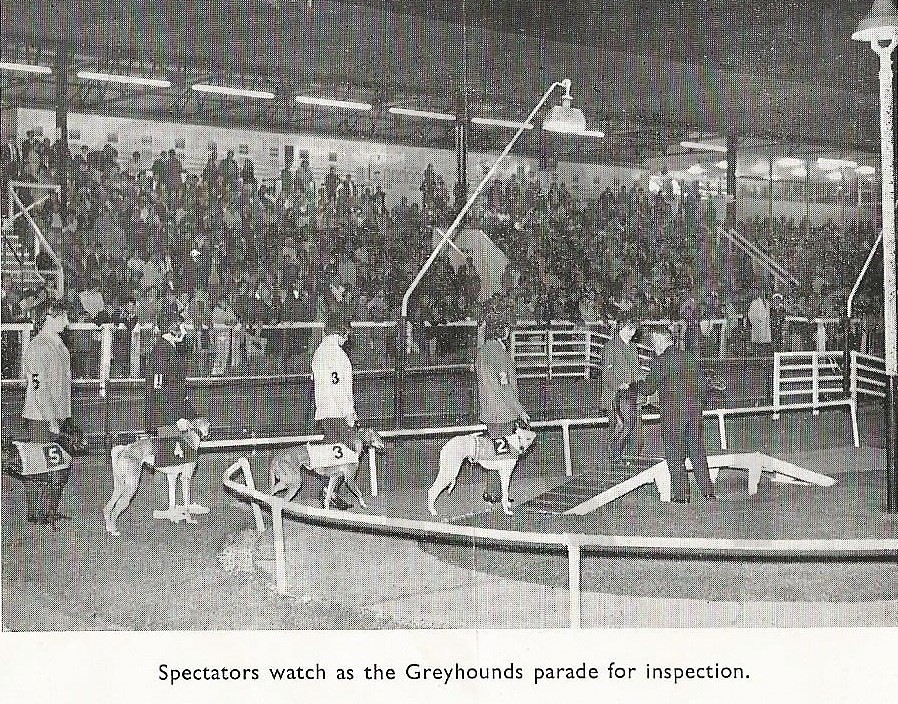 Dumpton Park was also a name given to Ramsgate Greyhound Stadium, a venue found roughly one and a half miles north east of Ramsgate town centre. Although its postal address was on Hereson Road, the tracks actual location was on the junction of Dumpton Park Drive and Montifore Avenue.
Construction of the purpose-built greyhound track began on farmland during 1927, and by the 26th of May 1928, it was ready to stage its first meeting, with a greyhound called Southern Surprise winning the first event. The track soon became popular, certainly throughout the summer months, as Ramsgate being a holiday destination had always attracted thousands of Londoners and others from surrounding areas.
The tracks earlier years were proving a success, and had inherited a name "The Ascot of English greyhound tracks", with its clusters of flower arrangements dominating the infield of the greyhound track, making itself one of the most picturesque and colourful tracks across the country. Improvements were being made all around the stadium to accommodate for more and more racegoers, including a brand new totalisator system, installed during 1936.
The outbreak of the Second World War, had seen Greyhound Racing suspended at Dumpton Park, this due to the stadium being requisitioned by The War Office, and also due to Ramsgate's graphical location situated along the Kent Coastline, who suffered constant air raids during the war, which no doubt had inflicted serious damage throughout the town. Greyhound Racing did not feature again at Dumpton Park, until hostilities had ceased in 1945.
Improvements were made during the mid 1970's, with an all sanded track replacing the old turfed one, along with brand new trackside lighting, and a switch to an outside hare during the 1980's. During Dumpton Park's existence it had always operated as a NGRC licensed track, running six dog races over distances of 450, 640, 855 and 1045 metres, with the hounds chasing an outside Sumner hare. Its big race events were The Kent St Leger and The Thanet Gold Cup, and even earned itself a BAGS contract in 1991.
Although the BAGS contract brought in extra revenue, the 1990's would also experience a down turn in patrons through the turnstiles, which contributed to the venue finding themselves in financial trouble. By 1996 the stadium's owners had gone into receivership, forcing Dumpton Park to stage its final meeting on the 4th of March of that year, incidentally its closure had seen the loss of over one hundred jobs.
Over the following months, the stadium soon found itself drifting in to a derelict state, and it came as no surprise when it became demolished in 2001. New housing now occupies the site, built along the access roads of Brindle Grove and Harebrook. Fortunately enough, there does lie some evidence of the stadium being there, with part of the old car park still being used by a Garden Centre, and more significantly enough is an extended outbuilding that lies at one side of the car park, which actually shows up on earlier Ordnance Survey maps, as being located within the stadium grounds at the rear of the main stand, and quite possibly could have acted as the stadium's kennel.
A photograph or memorabilia for this track is required for this page, if you can help please contact me.