Wessex Stadium, Radipole Lane, Weymouth, Dorset.
POSTCODE———————————DT4 9XJ
LOCATED————————————Two miles north west of Weymouth town centre.
ORIGINAL SITE—————————–Farm grazing land.
DATE CONSTRUCTED——————-1953-54
DATE VENUE OPENED——————August 4th 1954 for Speedway.
Meaning other sports may have taken place prior to the arrival of Greyhound Racing.
FIRST MEETING—————————-August 5th 1954.
Greyhound Racing only.
LICENSED OR INDEPENDENT———-Independent
All venues covered would have to be licensed with the government, licensed suggested in this section would refer to tracks operating under NGRC Rules.
INSIDE OR OUTSIDE HARE TYPE——Inside Sumner.
Please note that the Electric Hare suggested is only a guidance and would have been in operation for a certain amount of time at this venue. Although it is not necessarily guaranteed that it was operational all the time, as other types of lure may have been used and updated as time progressed.
DISTANCES————————————300, 465, 525 and 765 yards.
Please note that most racing venues distances had become varied throughout the years, the ones given above were at once point set and offers only a guidance to the track size.
CIRCUMFERENCE—————————Don't know.
Please note that alterations at most racing venues throughout its existence would see that the circumference of the track would vary, the one shown above offers only a guidance to the track size.
BIG RACE NAMES—————————Ran intertrack challenge meetings with Aldershot.
STADIUM SHARED WITH——————Speedway 1954-1985.
LAST MEETING——————————-During the 1970's.
Greyhound Racing only.
STADIUM CLOSURE DATE—————-1985
Meaning other sports may have taken place after Greyhound Racing had ceased.
STADIUM DEMOLITION——————–1986
BUILT ON SITE——————————–Wessex Stadium the home to Weymouth Football Club which was ready for use in 1987 after the whole area got redeveloped.
In some cases, structure's that originally covered the venue after the stadium had been demolished, may have been themselves demolished too, so the one described is more likely to be the one which now presently covers the site.
EVIDENCE LEFT TODAY——————–Nothing of the old stadium.
FURTHER COMMENTS———————None.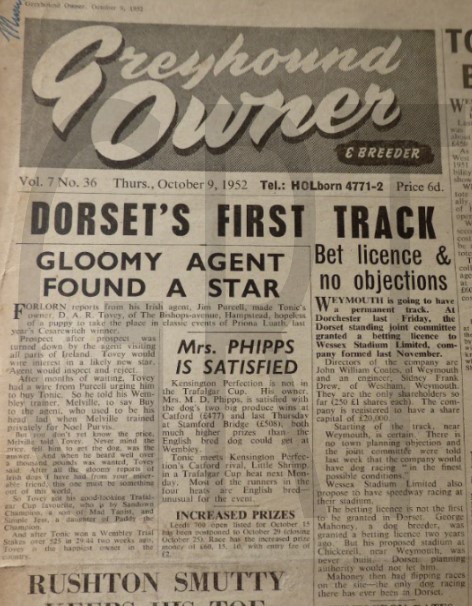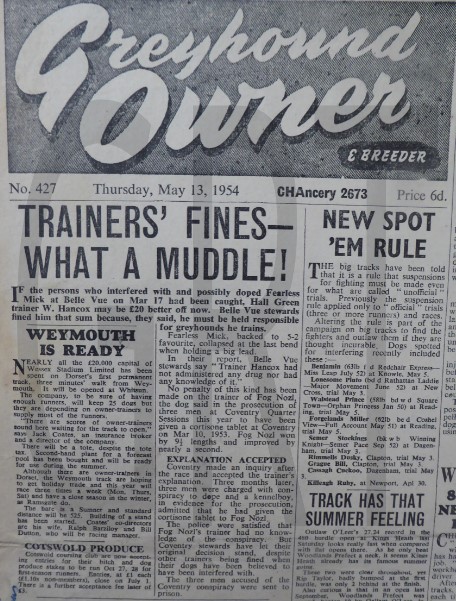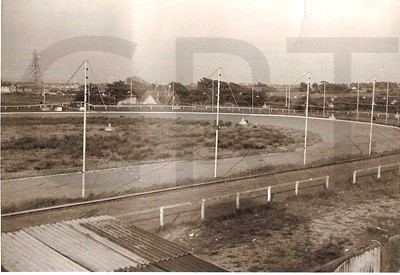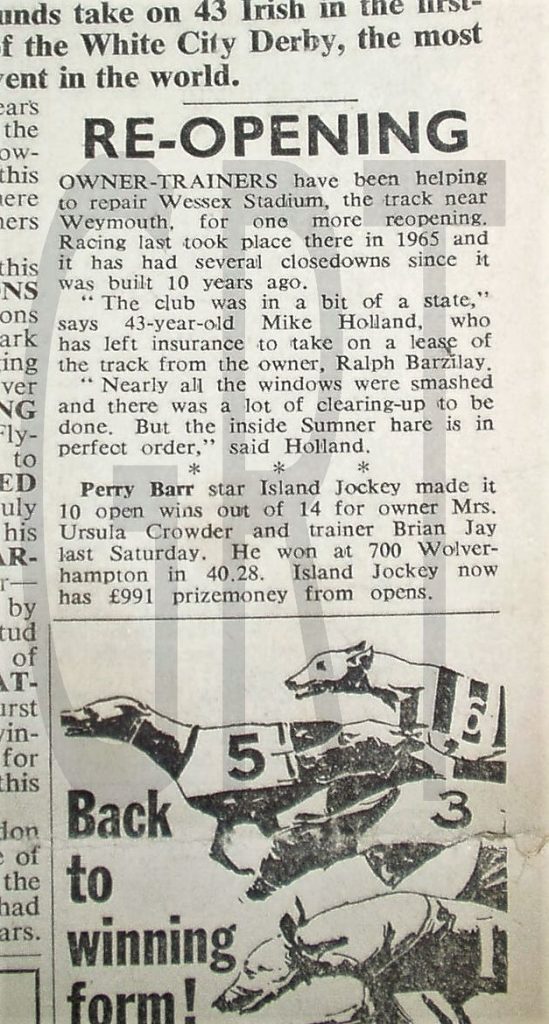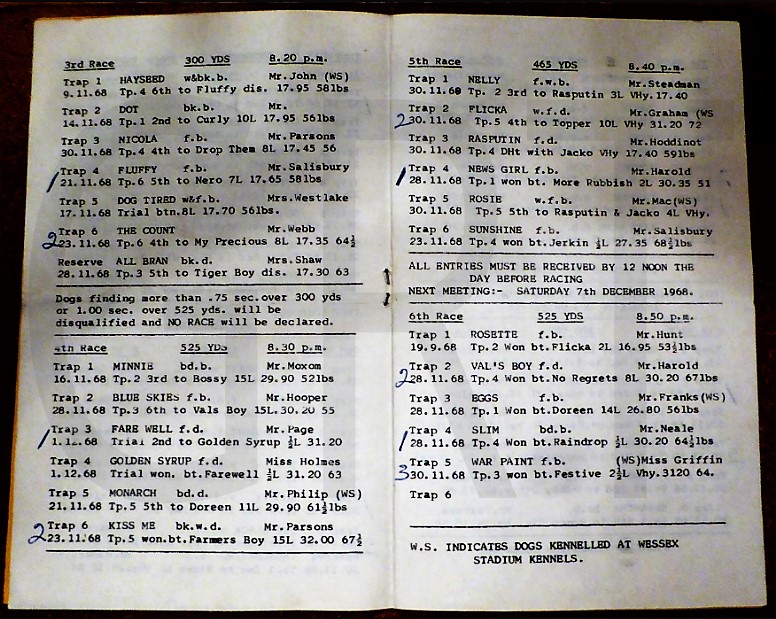 The seaside town of Weymouth became one of only a handful of towns that hosted the sport of Greyhound Racing in the county of Dorset. The venue was known as The Wessex Stadium, and became a purpose built venue found hidden away in the countryside, roughly two miles north west of Weymouth town centre.
It was during May 1951 that an application was made by a group of Speedway enthusiasts to construct a sports stadium on a 17 acre section of farm land, situated along the side of Radipole Lane. It was to take another two years or so before construction work began on a new multi sports venue, which was hoped to stage Greyhound Racing as well as Speedway. But it was Speedway racing that featured first at the new stadium, with a meeting being staged on a Wednesday evening of the 4th of August 1954.
Greyhound Racing followed almost immediately, with the hounds showing off their skills the following night. Greyhound Racing at Weymouth operated as a flapping track, and that is how it stayed throughout its existence. Its management had close links with the greyhound track at Aldershot, although situated over 100 miles away, the two tracks formed a partnership which saw them compete against each other regularly, by staging Inter Track competitions.
Six dog racing featured regularly, with the hounds contesting over distances of 300 and 525 yards as well as chasing an inside Sumner type hare. It was Greyhound Racing that would feature mainly at the venue, as Speedway seem to struggle from one season to another, sometimes failing to complete fixtures, and staging meetings in front of very low crowds. Yet Greyhound Racing suffered too, with the track going through phases of openings and closures, with the venue totally shutting in 1965.
It would take another two years before the greyhounds would make a return, a period in which the stadium suffered through acts of vandalism and theft. But again the sport struggled on through periods of good and bad times, before eventually seeing the greyhound track being removed during the 1970's, leaving The Wessex Stadium solely as a Speedway Racing venue. But it was during the early 1980's that the future of the Radipole Lane venue began to look unsecure, this due to changes at another sporting venue in the town which had come to light. The transition began after Weymouth Football Club had sold their old stadium to developers, a move which would see all their debts erased, and an agreement with the council to find another new venue on the outskirts of Weymouth. Plans were announced regarding a purpose built new football stadium, which would entail the part covering of the old Wessex Stadium site.
In November 1985 a Speedway practice match was held, an event which would become the last sporting venture to feature at the stadium, before demolition gangs would begin to bulldoze the venue a few months later. By 1987 part of its foundations had disappeared beneath a brand new ten thousand capacity football stadium, which had cost £1,000,000 to build. The land left behind remained undeveloped for a while, but eventually did become a training pitch for the football club. More developments unfolded during 2003, when a new Speedway circuit emerged on the disused training pitch, a venture which would last for the next eight years, before that closed too.
Today the old Wessex Stadium site still lies in the shadows of Weymouth Football Club, and is nothing more than an overgrown section of neglected land, its disturbed earth of the Speedway track still lies evident when looking down from satellite views.