Clydebank Greyhound Stadium, Clydeholm Park, Yoker, Glasgow.
POSTCODE———————————-G81 1JE
LOCATED————————————Next to Yoker High Station on the west side of Mill Road and Glasgow Road.
ORIGINAL SITE—————————–Grazing land adjacent to Yoker Railway Station.
DATE CONSTRUCTED——————–Around 1914 as a football ground.
DATE VENUE OPENED——————-1914 for Clydebank FC.
Meaning other sports may have taken place prior to the arrival of Greyhound Racing.
FIRST MEETING—————————–May 5th 1928.
Greyhound Racing only.
LICENSED OR INDEPENDENT———-Independent
All venues covered would have to be licensed with the government, licensed suggested in this section would refer to tracks operating under NGRC Rules.
INSIDE OR OUTSIDE HARE TYPE——Don't know.
Please note that the Electric Hare suggested is only a guidance and would have been in operation for a certain amount of time at this venue. Although it is not necessarily guaranteed that it was operational all the time, as other types of lure may have been used and updated as time progressed.
DISTANCES———————————–270 and 470 yards.
Please note that most racing venues distances had become varied throughout the years, the ones given above were at once point set and offers only a guidance to the track size.
CIRCUMFERENCE—————————Don't know
Please note that alterations at most racing venues throughout its existence would see that the circumference of the track would vary, the one shown above offers only a guidance to the track size.
BIG RACE NAMES—————————Nothing known of.
STADIUM SHARED WITH—————–Amateur Football.
LAST MEETING—————————–Date yet to be confirmed. Some reports say November 28th 1963, but the programme below is dated October 23rd 1964 and this item has thrown some confusion regarding its closure.
Greyhound Racing only.
STADIUM CLOSURE DATE—————1963
Meaning other sports may have taken place after Greyhound Racing had ceased.
STADIUM DEMOLITION——————Mid 1960's.
BUILT ON SITE——————————High rise flats on Clydeholm Terrace and Yokerburn, along with the car parking area.
In some cases, structure's that originally covered the venue after the stadium had been demolished, may have been themselves demolished too, so the one described is more likely to be the one which now presently covers the site.
EVIDENCE LEFT TODAY——————Nothing known of.
FURTHER COMMENTS——————-Used as a mortuary during the Second World War.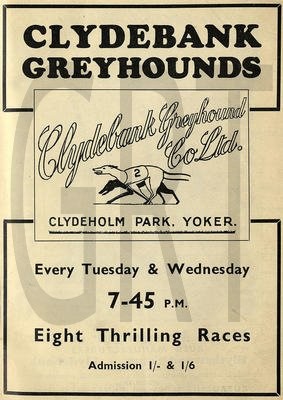 One of the less luxurious greyhound tracks in Glasgow was the one known as Clydeholm Park. It was situated on the district borders of Whitecrook and Yoker, with the venue having been the original home to Clydebank Football Club, who had once hosted matches there between 1914 and 1931. It was situated on land between Glasgow Road and Yoker Railway Station, five miles south west of Glasgow city centre in a very densely populated area, with its racegoers main source of employment relying on the docks.
The venue became known as the Clydebank Greyhound Racecourse, and opened up as a flapping track, with its first meeting being staged on the 5th of May 1928. During the Second World War the district of Clydebank suffered heavily from German bombing raids, and in 1941 it was suggested that the stadium should be used as a temporary mortuary. Yet the first night of use, the stadium took a direct hit from enemy bombers, which badly damaged the newly set up mortuary.
During the early 1960's, Clydeholm, like many other greyhound tracks was experiencing the decline of attendances at meetings, due to the new government's legislation of allowing bookmakers shops to open on the high street. The decline had influenced the sale of the stadium to the council, which saw Clydeholm Park stage its final meeting on the 28th of November 1963.
The site was demolished soon after to make way for high rise flats and shops on Clydeholm Terrace and Yoker Burn, along with a large car parking area.
A programme, photograph or even memorabilia for this track is required for this page, if you can help please contact me.