Horton Road, Gloucester, Gloucestershire.
POSTCODE———————————-GL1 3QN
LOCATED————————————About half a mile east of Gloucester city centre overshadowed by a huge gasometer.
ORIGINAL SITE—————————–14.5 Acres of Garden allotments.
DATE CONSTRUCTED——————-1964 for an Amateur football stadium.
DATE VENUE OPENED——————1964
Meaning other sports may have taken place prior to the arrival of Greyhound Racing.
FIRST MEETING—————————-March 7th 1975.
Greyhound Racing only.
LICENSED OR INDEPENDENT———-Independent
All venues covered would have to be licensed with the government, licensed suggested in this section would refer to tracks operating under NGRC Rules.
INSIDE OR OUTSIDE HARE TYPE——Inside Sumner. 
Please note that the Electric Hare suggested is only a guidance and would have been in operation for a certain amount of time at this venue. Although it is not necessarily guaranteed that it was operational all the time, as other types of lure may have been used and updated as time progressed.
DISTANCES———————————-350, 510, 540, 825 and 980 yards.
Please note that most racing venues distances had become varied throughout the years, the ones given above were at once point set and offers only a guidance to the track size.
CIRCUMFERENCE—————————Dont know
Please note that alterations at most racing venues throughout its existence would see that the circumference of the track would vary, the one shown above offers only a guidance to the track size.
BIG RACE NAMES—————————Gloucester Derby, mainly held during the Cheltenham Festival Period in March.
STADIUM SHARED WITH——————Gloucester City Football Club from 1964-86 and Athletics.
LAST MEETING——————————-July 6th 1979.
Greyhound Racing only.
STADIUM CLOSURE DATE—————-1986
Meaning other sports may have taken place after Greyhound Racing had ceased.
STADIUM DEMOLITION——————–1986
BUILT ON SITE——————————–New housing on The Hamer Street Estate now covers part of the site, yet the other roads that covers it are named after Gloucester City's football player legends.
In some cases, structure's that originally covered the venue after the stadium had been demolished, may have been themselves demolished too, so the one described is more likely to be the one which now presently covers the site.
EVIDENCE LEFT TODAY———————Nothing known of, yet the huge Blue Gasomter that once cast a shadow over the venue still exists.
FURTHER COMMENTS———————–Additional info courtesy of Mr Andrew King.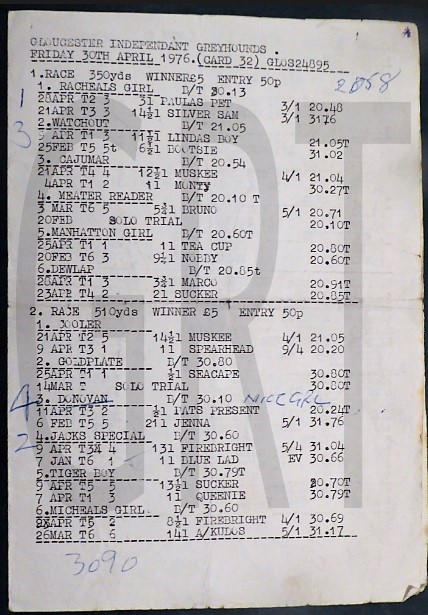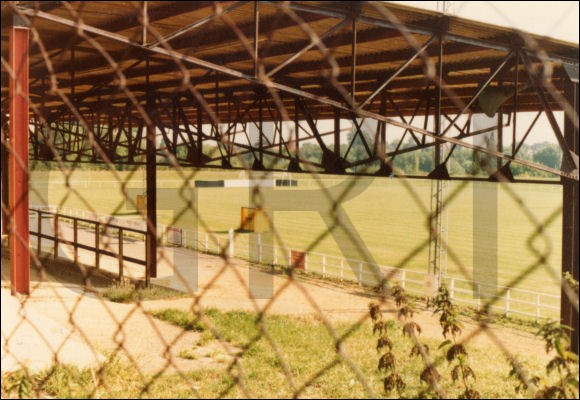 The city of Gloucester had experienced greyhound racing at two different venues over the years, firstly the NGRC run Longlevens venue, and secondly the brief spell of a flapping track known as the Horton Road Stadium. The Horton Road Stadium had been constructed during 1964, on a 14.5-acre section of land that once had housed garden allotments. Its original purpose was to host football and athletics, after the Gloucester City football club had found themselves homeless after reluctantly having sold their old ground to developers to pay off debts.
The newly constructed Horton Road Stadium was situated within half a mile northwest of the city centre and lay within the shadows of huge blue gasometer. In 1967 another sport was added to Horton Roads list of sports, that of Grass Track Speedway, but it would take another seven years before greyhound racing was added to the list. The greyhound circuit was built around the football pitch and on top of were the athletics track once lay and would eventually stage its very first meeting on the 7th of March 1975.
Information regarding racing distances remain sketchy, but it is known that the hounds chased an inside Sumner type hare. Sadly, the popularity experienced at Gloucester's other NGRC track, never really materialised at Horton Road, seeing its brief four-year spell come to an end on the 6th of July 1979.
The Horton Road venue continued to host not only football, but also athletics and the odd speedway event, before the site was sold off for housing, and closed down completely in 1986. Soon, new housing began to cover the site, and the area became known as The Swallow Park Housing Estate, with all of the estate roads named after Gloucester City's football legends. Today, it is very unlikely that any remnants of the stadium exist, yet the big blue gasometer still casts a shadow over to where it once lay.