The Pinnacles Industrial Estate, Royden Road, Harlow, Essex.
POSTCODE———————————-CM19 5DY
LOCATED————————————-About a mile and a half west of Harlow town centre, at the most northerly point of The Pinnicles Industrial Estate, at the back of Harlow Town Football Club's stadium.
ORIGINAL SITE——————————Abandoned council football pitches.
DATE CONSTRUCTED———————1994-95.
DATE VENUE OPENED——————–1995
Meaning other sports may have taken place prior to the arrival of Greyhound Racing.
FIRST MEETING—————————–March 15th 1995
Greyhound Racing only.
LICENSED OR INDEPENDENT———-NGRC.
All venues covered would have to be licensed with the government, licensed suggested in this section would refer to tracks operating under NGRC Rules.
INSIDE OR OUTSIDE HARE TYPE——Outside Bramwich.
Please note that the Electric Hare suggested is only a guidance and would have been in operation for a certain amount of time at this venue. Although it is not necessarily guaranteed that it was operational all the time, as other types of lure may have been used and updated as time progressed.
DISTANCES———————————–238, 415, 592 and 769 metres.
Please note that most racing venues distances had become varied throughout the years, the ones given above were at once point set and offers only a guidance to the track size.
CIRCUMFERENCE————————–354 metres.
Please note that alterations at most racing venues throughout its existence would see that the circumference of the track would vary, the one shown above offers only a guidance to the track size.
BIG RACE NAMES————————–Don't know
STADIUM SHARED WITH—————–Nothing known of.
LAST MEETING——————————Still in operation.
Greyhound Racing only.
STADIUM CLOSURE DATE—————N/A
Meaning other sports may have taken place after Greyhound Racing had ceased.
STADIUM DEMOLITION——————N/A
BUILT ON SITE——————————N/A
In some cases, structure's that originally covered the venue after the stadium had been demolished, may have been themselves demolished too, so the one described is more likely to be the one which now presently covers the site.
EVIDENCE LEFT TODAY——————N/A
FURTHER COMMENTS——————-None.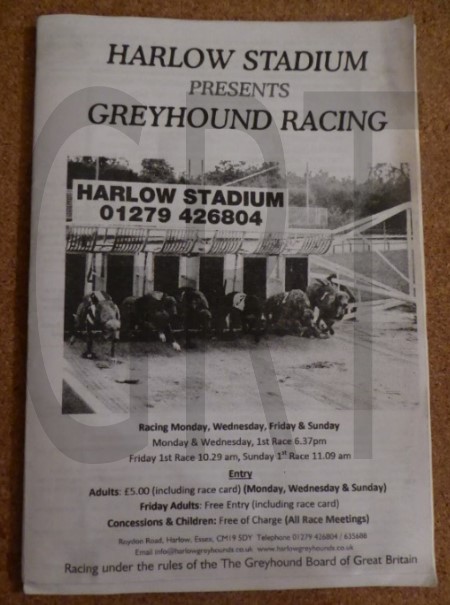 One of today's more modern Greyhound Racing venues exists in the Essex town of Harlow. Harlow is a relative new town, having developed through a government scheme to rebuild Britain, after the lack of housing left behind by the destruction of the Second World War. The town of Harlow is lies east of the M11, located on the eastern boundary of Hertfordshire, and lies roughly 27 miles northeast of London city centre.
The greyhound track itself, is situated on The Pinnacles Industrial Estate, roughly a mile and a half northwest of Harlow town centre and is one of the only handful of tracks that has signposts to point you in the right direction. It is situated very close to Harlow Town Football Club's Ground, so don't get drawn in by the club's floodlights thinking that it is there.
The greyhound stadium was constructed on the site of some abandoned council football pitches during the early nineties and opened up with its first meeting on the 15th of March 1995. It opened and continued as an NGRC track, with races consisting of six greyhounds competing over distances of 238, 415, 592, 769 and 946 metres, with the hounds chasing an outside Bramwich type hare. It has a track circumference of 354 metres, with a crowd capacity of 1,500 and room for 400 vehicles on its car park. It has an excellent restaurant that overlooks the start and finish straight, along with its own late-night entertainment known as The Trax Nightclub.
Memorabilia for this track is required for this page, if you can help please contact me.