Albert Park, Mansfield Road, Hawick, Roxburghshire, Scotland.
POSTCODE———————————-TD9 8AW
LOCATED————————————-Hawick is located roughly 40 miles north of Carlisle on the A7. Albert Park lies one mile north east of Hawick toewn centre, on the north banks of the River Teviot
ORIGINAL SITE——————————Farm grazing meadow.
DATE CONSTRUCTED———————1963 for football.
DATE VENUE OPENED——————–1963 for football.
Meaning other sports may have taken place prior to the arrival of Greyhound Racing.
FIRST MEETING—————————–May 13th 1989.
Greyhound Racing only.
LICENSED OR INDEPENDENT———-Independent
All venues covered would have to be licensed with the government, licensed suggested in this section would refer to tracks operating under NGRC Rules.
INSIDE OR OUTSIDE HARE TYPE——Originally an outside sumner switched to inside in August 1997.
Please note that the Electric Hare suggested is only a guidance and would have been in operation for a certain amount of time at this venue. Although it is not necessarily guaranteed that it was operational all the time, as other types of lure may have been used and updated as time progressed.
DISTANCES———————————–270 and 450 yards.
Please note that most racing venues distances had become varied throughout the years, the ones given above were at once point set and offers only a guidance to the track size.
CIRCUMFERENCE—————————Don't know.
Please note that alterations at most racing venues throughout its existence would see that the circumference of the track would vary, the one shown above offers only a guidance to the track size.
BIG RACE NAMES—————————Nothing known of.
STADIUM SHARED WITH——————Amateur football with Hawick Royal Albert FC.
LAST MEETING——————————-1999
Greyhound Racing only.
STADIUM CLOSURE DATE—————-Still in use as a football stadium.
Meaning other sports may have taken place after Greyhound Racing had ceased.
STADIUM DEMOLITION——————–N/A
BUILT ON SITE——————————–N/A
In some cases, structure's that originally covered the venue after the stadium had been demolished, may have been themselves demolished too, so the one described is more likely to be the one which now presently covers the site.
EVIDENCE LEFT TODAY——————–Track shape still there with some disturbed earth showing and the concrete bases of the purpose built offices remain plus the metre markings on the fence at the starting traps area.
FURTHER COMMENTS———————The venue has always been prone to flooding due to the nearby River Teviot The greyhound company invested £60,000 to promote Greyhound Racing at Albert Park.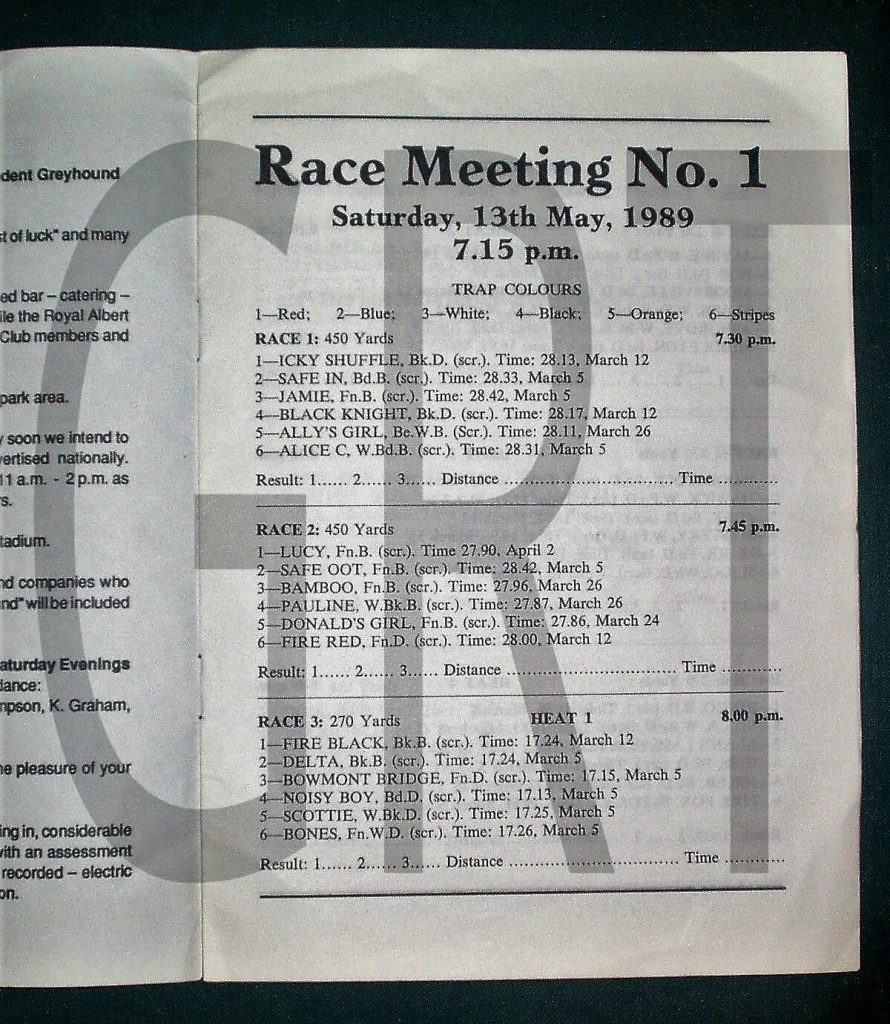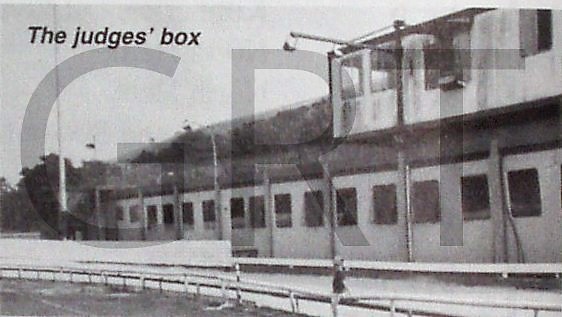 Should you ever travel Northbound along the A7 heading away from the City of Carlisle for at least forty miles or so, you should have by now have arrived at the Scottish Border town of Hawick. Hawick is a small town of around 14 to 15,000 inhabitants, with more of its sporting interest shared with Rugby Union, yet it's the towns football club that we should thank for giving Greyhound Racing its chance.
The venue was known as Albert Park, a venue found roughly one mile east of its town centre, situated along the northern banks of the River Teviot. It locates itself 100 yards further along Mansfield Road, lying within the shadows of the much-established rugby club, after laying its foundations on grazing land ready for football during 1963. The playing surface was never without its problems, often flooded due to poorly drained land and its close proximity next to the river. 1965 witnessed the construction of its present-day main stand, its presence being officially opened during April of that year, with a match against Hibernian.
Greyhound racing had already been experienced on the outskirts of the town in earlier years, with a track known as Target Hill operating for decades before its closure during the 1960's. But it was in 1988 that a group of Greyhound Racing enthusiasts approached the football club with a view of promoting their sport. Once all the paperwork and the thumbs up ad been given, a track was laid around the perimeter of the football pitch. The track had grass straights with a silica type sand laid around the bends, with an outside Sumner type hare system installed as its lure. Track lights were added, along with a modern tote system, and a judge's box complete with up-to-date video equipment. Further improvements were made to the bar and cafe areas, with portacabins being erected to act as offices on solid concrete foundations.
Efforts were made to get racing up and running by the end of the year, but hiccups such as failure to get the bar license delayed its grand opening. By April 1989 and after £60,000 had been invested, the track began by promoting sales trials and the grading of greyhounds ready for the big day. Albert Parks inaugural meeting came on the 13th of May 1989 with eight bookmakers in attendance, and drawing in a very healthy crowd indeed, with the greyhounds contesting over distances of 270 and 450 yards.
In its early days attendances held comfortably, but the latter years of the 1990's brought Hawick some bad publicity. The bad publicity, which will not be revealed, created a downturn at Albert Park, crowds began to dwindle, and its bar license renewal was turned down in the same year, a vast disappointment which became the final straw for the track to cease trading.
Today the stadium is still used for football with Hawick Royal Albert playing there, and with most of the greyhound racing fixtures and fittings now gone, little evidence remains of its greyhound racing days. What did remain for a good number of years was the track lighting stanchions, but sadly they too have now gone, leaving the only thing visible are the starting trap markings found on steel corrugated fencing close to where the traps operated. The porta cabins have also gone but the concrete base and half knocked down breeze block walls are still evident, with satellite views still showing partially the outline of the track.
A programme, photograph or even memorabilia for this track is required for this page, if you can help please contact me.