Rutherglan Road, Rutherglen, Glasgow.
POSTCODE———————————–G73 1SZ
LOCATED————————————-About two and a half miles southeast of Glasgow city centre, and about one mile north of Rutherglen.
ORIGINAL SITE——————————A Trotting circuit
DATE CONSTRUCTED———————1898 intended home of Clyde Football Club.
DATE VENUE OPENED——————–1898
Meaning other sports may have taken place prior to the arrival of Greyhound Racing.
FIRST MEETING—————————–November 14th 1932
Greyhound Racing only.
LICENSED OR INDEPENDENT———–NGRC
All venues covered would have to be licensed with the government, licensed suggested in this section would refer to tracks operating under NGRC Rules.
INSIDE OR OUTSIDE HARE TYPE——-Outside Sumner.
Please note that the Electric Hare suggested is only a guidance and would have been in operation for a certain amount of time at this venue. Although it is not necessarily guaranteed that it was operational all the time, as other types of lure may have been used and updated as time progressed.
DISTANCES———————————–300, 480, 500, 670 and 730 metres.
Please note that most racing venues distances had become varied throughout the years, the ones given above were at once point set and offers only a guidance to the track size.
CIRCUMFERENCE—————————Dont know
Please note that alterations at most racing venues throughout its existence would see that the circumference of the track would vary, the one shown above offers only a guidance to the track size.
BIG RACE NAMES—————————The Scottish Derby firstly staged during 1972 and the St Mungo Cup.
STADIUM SHARED WITH—————–Speedway, football and athletics.
LAST MEETING——————————Saturday 14th March 2020.
Greyhound Racing only.
STADIUM CLOSURE DATE—————2020
Meaning other sports may have taken place after Greyhound Racing had ceased.
STADIUM DEMOLITION——————Pending
BUILT ON SITE——————————N/A
In some cases, structure's that originally covered the venue after the stadium had been demolished, may have been themselves demolished too, so the one described is more likely to be the one which now presently covers the site.
EVIDENCE LEFT TODAY——————N/A
FURTHER COMMENTS——————-None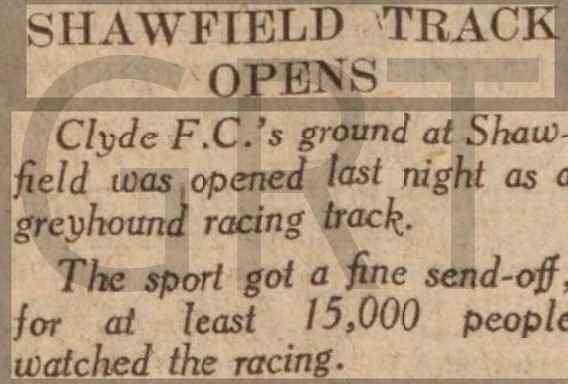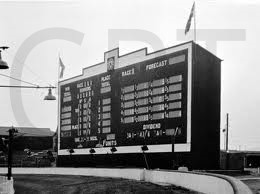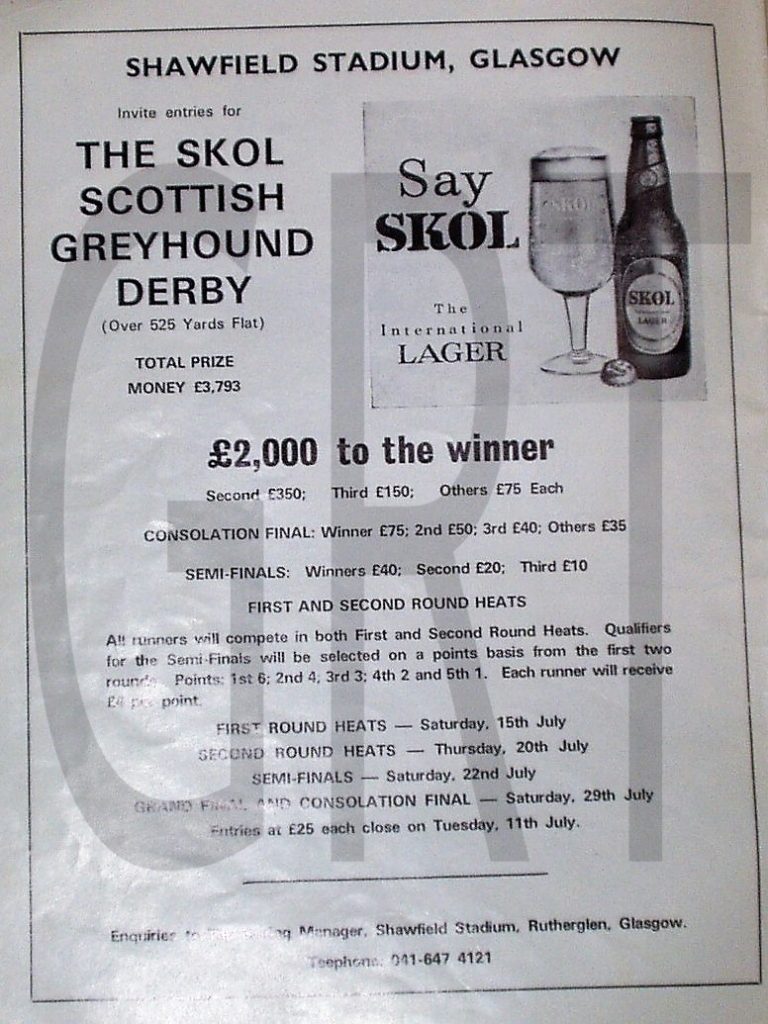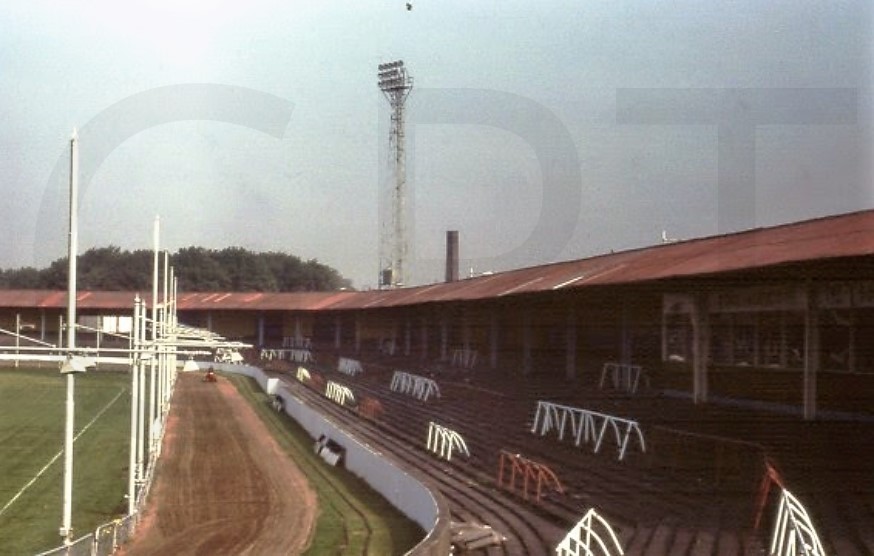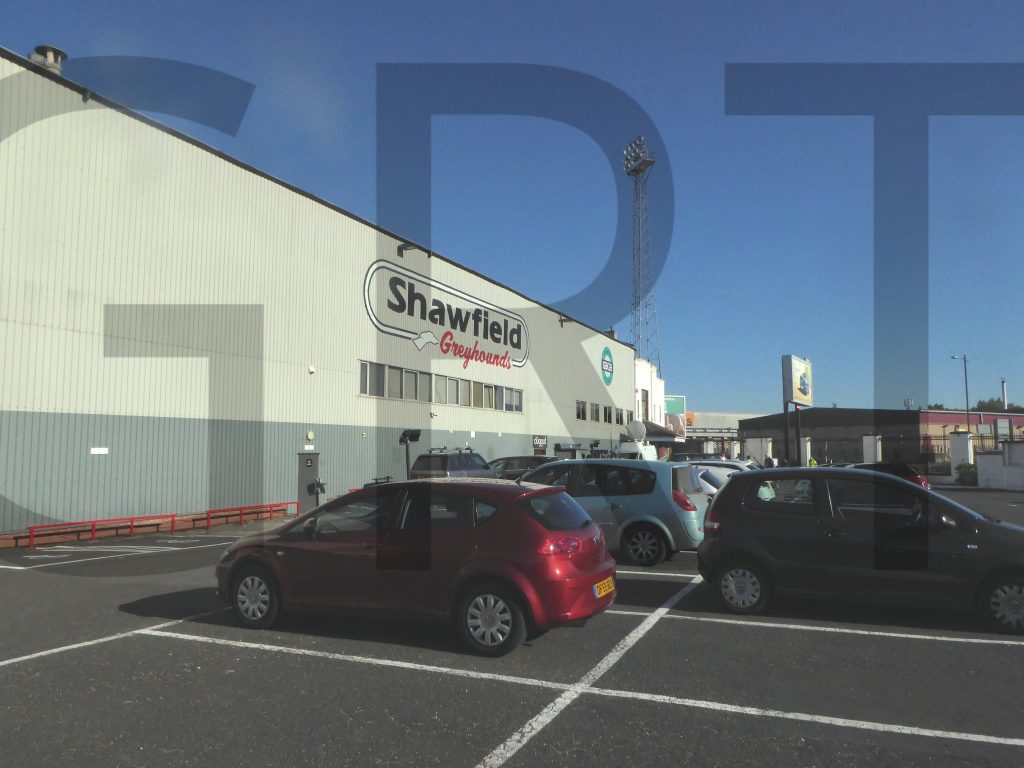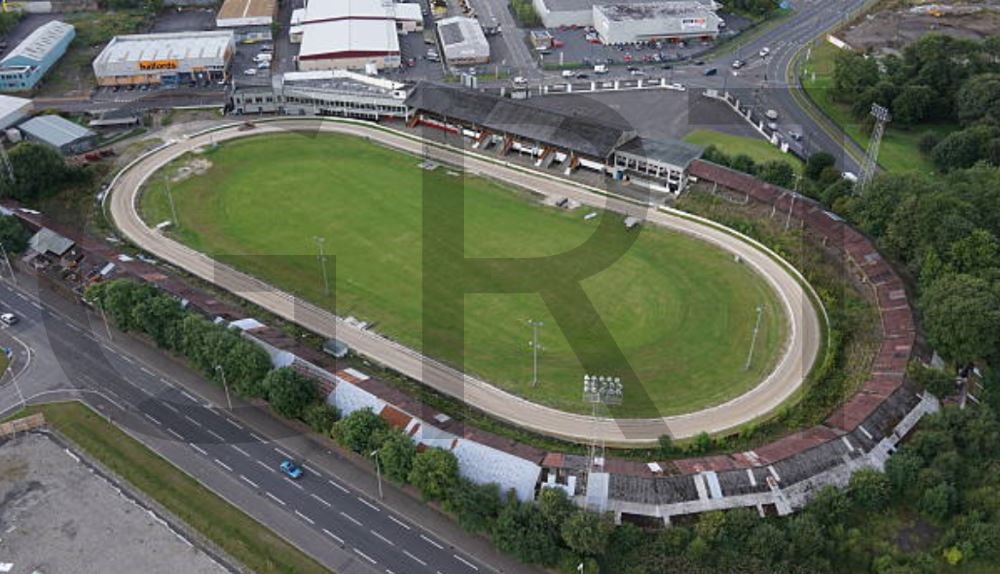 Shawfield Greyhound Stadium is located in the district of Rutherglen, a district found two miles south east of Glasgow city centre. The site had originally been a Trotting Circuit well before the turn of the twentieth century, but in 1898 Clyde Football Club began hosting home matches there.
The first signs of Greyhound Racing appearing at Shawfield came in 1926, when The Belle Vue Greyhound Company offered £2000 per year to hold events. The football club refused due to a clause in the lease which excluded dog racing, but six years later the matter was resolved, realising that the football club needed extra funding. Shawfield's first meeting took place on the 14th of November 1932, with as many as 15,000 patrons in attendance. So popular was the sport that within three years it had attracted the attention of the GRA who purchased the Shawfield Stadium outright, with the agreement that the football club would become tenants.
The stadium invited other sports to use its facilities, such as Athletics and Boxing, then later in time Speedway. During the Second World War, the introduction of meetings in daylight had seen Clyde Football Club becoming homeless, this due to the greyhounds having switched to regular Saturday afternoon meetings. But a compromise between the greyhound company and Clyde FC allowed things to run more smoothly once again, this time by each party using the stadium on alternative Saturdays.
Another restriction forced upon Shawfield during the war, was gathering of people at sporting venues. The stadium had been ordered to reduce its crowd capacity to 20,000, yet just a mile away, Celtic Football Club had seen their ground capacity vastly reduced to just 10,000, the reason being that Celtic Park was within the bombing zone of the Glasgow city boundaries. The district surrounding Shawfield was made up of heavily inhabited tenement blocks, an area which had in its early days had supplied the bulk of Clyde's fan base. But demolition of these dwellings during the early 1960's, reduced attendances drastically, triggering a spiral downward turn in the club's fortunes.
In 1972, the GRA won the contract to host the Scottish Greyhound Derby at Shawfield, having seen the event run at Glasgow's Carntyne track up until 1970. Since then, it hosted The Scottish Derby right up until present but did miss a period during the late 1980's, when it was transferred to Edinburgh's Powderhall Stadium, due to Shawfield's uncertain future.
Things began to get worse for Shawfield, as years of limited investment had seen the stadium deteriorate considerably. The unwelcomed vegetation sprouted on roof tops and filled in gaps of the crumbling terracing, along with new enforced Stadium regulations in place, it came as no surprise that Shawfield closed its gated to all sporting pastimes in 1986. By October of that year, the GRA were in talks with developers to sell Shawfield, but the developers' interest in obtaining planning permission failed. Fortunately, an interested Greyhound Racing Consortium purchased the stadium for £750,000 and injected enough cash to upgrade the stadium to see the return of the sport by June 1987. OK it may have been good news for Greyhound Racing, but for Clyde FC their days were over at Shawfield, but luckily enough they soon agreed a tenancy agreement with nearby Hamilton Academicals and continued to play home matches there.
By April 1988 another sport was added to Shawfield's list of pastimes, this time with Speedway Racing featuring, with Glasgow Tigers using the stadium every season bar one up until 1998. One of Shawfield's dominant features disappeared in 2004, that of a large tote board which stood redundant for years overlooking the southern bend. Today, only two greyhound tracks remain operational north of the border, with Shawfield having been the only NGRC venue to operate since Edinburgh lost Powderhall Stadium in January 1995.
In its latter days Shawfield offered two attractive competitions on the Greyhound Racing calendar, by having hosting The St Mungo Cup and The Scottish Greyhound Derby, both contested over 480 metres. Sadly, Shawfield no longer hosts the sport because since March 14th 2020 no racing has taken place. A greyhound called Boolabeg Lad, racing from trap three, won the last race with a winning time of 30.74 seconds.
A newspaper report from September 2022 indicated planning permission for housing is on the cards, so the chance of greyhound racing returning is very slim. CUT AND PASTE THIS STORY Lanarkshire racetrack faces uncertain future with environmental report needed for planning application to proceed – courtesy of The Daily Record
A programme, photograph or even memorabilia for this track is required for this page, if you can help please contact me.