Broomloan Road, Ibrox, Glasgow
POSTCODE———————————–G51 2XW
LOCATED————————————-Roughly three miles south west of Glasgow city centre, along Broomloan Road, almost opposite Ibrox Park, the home of Rangers Football Club.
ORIGINAL SITE——————————Built on farm grazing land belonging to Ibrox Farm.
DATE CONSTRUCTED———————1927/28.
DATE VENUE OPENED——————–1928
Meaning other sports may have taken place prior to the arrival of Greyhound Racing.
FIRST MEETING—————————–April 28th 1928.
Greyhound Racing only.
LICENSED OR INDEPENDENT———-NGRC.
All venues covered would have to be licensed with the government, licensed suggested in this section would refer to tracks operating under NGRC Rules.
INSIDE OR OUTSIDE HARE TYPE——Originally an outside Metro Vickers mono-rail.
Please note that the Electric Hare suggested is only a guidance and would have been in operation for a certain amount of time at this venue. Although it is not necessarily guaranteed that it was operational all the time, as other types of lure may have been used and updated as time progressed.
DISTANCES———————————–300, 525, 553 and 725 yards.
Please note that most racing venues distances had become varied throughout the years, the ones given above were at once point set and offers only a guidance to the track size.
CIRCUMFERENCE—————————Dont know.
Please note that alterations at most racing venues throughout its existence would see that the circumference of the track would vary, the one shown above offers only a guidance to the track size.
BIG RACE NAMES—————————Nothing known of.
STADIUM SHARED WITH——————Nothing known of.
LAST MEETING——————————-October 6th 1959.
Greyhound Racing only.
STADIUM CLOSURE DATE—————-October 1959.
Meaning other sports may have taken place after Greyhound Racing had ceased.
STADIUM DEMOLITION——————-Around 1964.
BUILT ON SITE——————————-By June 1960 it had become a training ground for Rangers Football Club, then acted as a car park, before eventually being totally demolished in 1964 to make way for 3 Highrise housing blocks. These housing blocks were demolished in 2010 leaving the land acting as a car park for the football club.
In some cases, structure's that originally covered the venue after the stadium had been demolished, may have been themselves demolished too, so the one described is more likely to be the one which now presently covers the site.
EVIDENCE LEFT TODAY———————Nothing known of.
-FURTHER COMMENTS———————The Albion racecourse lay between Glasgow White City Stadium and Ibrox Park the home of Rangers Football Club, in a section of land dissected by Railway lines.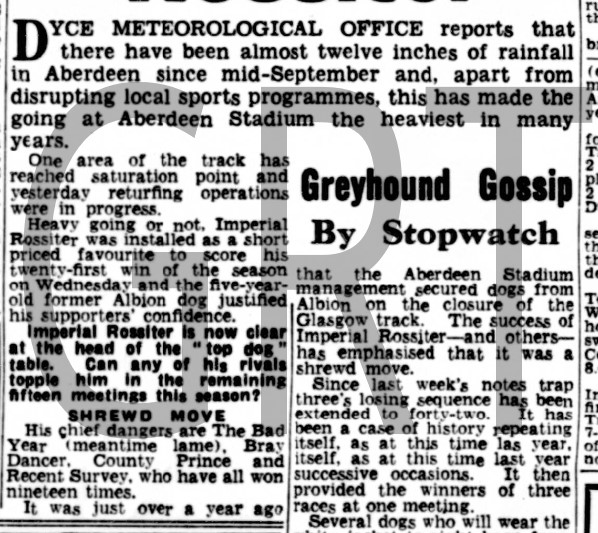 The name of Rangers Football Club is known world wide in the football sector, but for over thirty years its sporting neighbour was the Albion Greyhound Stadium. The Albion was located roughly three miles south west of Glasgow city centre, on land that would dissect Ibrox Park from Glasgow's White City Greyhound Stadium.
The track developed on a section of farmland connected to Ibrox Farm and was one of four privately funded tracks that had opened in Glasgow that year. The stadium had been built during the boom time of Greyhound Racing, opening up with its first meeting on the 28th of April 1928. Although a friendly compact track, it was well known for its unique atmosphere found seldom on big city tracks.
It prospered right from the start, with the Clyde Shipbuilding workers proving to be the most rabid fans that you could find anywhere in the world. No other track could create an atmosphere with extreme shouting going on during races, and continuous arguments carrying on after. Well known for its open betting market too, as it was quite common to hear 3-1 the field on offer, even 7-2 in some cases and rarely a dog was offered at odds on prices. Since Martell won the first ever race at the venue, many of the top greyhounds from around the region would grace the track, sometimes during open races and also inter track events.
The circuit itself had very sharp bends, but they were wide and banked to reduce the risk of injury. Albion would operate as an NGRC track throughout its life span, and also became one of the first tracks to use electrically operated traps. Distances were run over 300, 553 and 725 yards, with majority of events contested over 525. The greyhounds were company owned and housed at their own kennels on the premises, with enough space ample for exercising. The Albion employed only girls as kennel hands, and by the late 1950's had three contract women trainers.
However, once again, Albion became another of the early 1960's victims of failing crowds, with its closure coming on the 6th of October 1959. After its closure, it became a training ground for the neighbouring football club, before eventually being demolished to make way for the football clubs car park. Partial removal of its foundation came during 1964 when construction began of three high storey flats, which would soon cover the south side of the tracks once location. But by 2010 the surrounding area changed once again, as the high-rise flats became demolished. The land became levelled and tarmaced and has now returned to act as a car park for the football club.
A programme, photograph or even memorabilia for this track is required for this page, if you can help please contact me.