Sun Street, Hanley, Stoke on Trent, Staffordshire.
POSTCODE———————————.ST1 4NB Nearest
LOCATED————————————About half a mile south west of Hanley town centre. The town of Hanley is found roughly two miles north east of Stoke City Centre.
ORIGINAL SITE—————————–A Brick and Marls Works that closed around the turn of the twentieth century.
DATE CONSTRUCTED——————–Around 1927.
DATE VENUE OPENED——————-March 1928.
Meaning other sports may have taken place prior to the arrival of Greyhound Racing.
FIRST MEETING—————————–March 31st 1928.
Greyhound Racing only.
LICENSED OR INDEPENDENT———-NGRC up until 1956 then independent until its closure in 1963.
All venues covered would have to be licensed with the government, licensed suggested in this section would refer to tracks operating under NGRC Rules.
INSIDE OR OUTSIDE HARE TYPE——Inside Sumner.
Please note that the Electric Hare suggested is only a guidance and would have been in operation for a certain amount of time at this venue. Although it is not necessarily guaranteed that it was operational all the time, as other types of lure may have been used and updated as time progressed.
DISTANCES———————————–280 and 500 yards.
Please note that most racing venues distances had become varied throughout the years, the ones given above were at once point set and offers only a guidance to the track size.
CIRCUMFERENCE—————————Don't know.
Please note that alterations at most racing venues throughout its existence would see that the circumference of the track would vary, the one shown above offers only a guidance to the track size.
BIG RACE NAMES—————————None found.
STADIUM SHARED WITH——————A number of spells with Speedway Racing, Midget Car Racing during 1938 and Whippet Racing.
LAST MEETING——————————-October 18th 1963.
Greyhound Racing only.
STADIUM CLOSURE DATE—————-October 1963.
Meaning other sports may have taken place after Greyhound Racing had ceased.
STADIUM DEMOLITION——————-1964
BUILT ON SITE——————————-Presently used as a car park found behind The Force Group Training Centre, situated on Sun Street, it also has an entrance on Clough Street which feeds Holdcroft Motor Body Centre, their grounds backs on to the stadiums old perimeter wall.
In some cases, structure's that originally covered the venue after the stadium had been demolished, may have been themselves demolished too, so the one described is more likely to be the one which now presently covers the site.
EVIDENCE LEFT TODAY——————-Its easterly edge perimeter wall is still there, but more significantly and interestingly is its old rear entrance entering from Robson Street. When entering the stadium, the words Greyhound Racing is painted in the redbrick walls in white, and still remains evident after more than fifty years, a great bit of greyhound racing nostalgia indeed.
FURTHER COMMENTS——————–The stadium had been sold to motor garage company for £36,000 in 1964.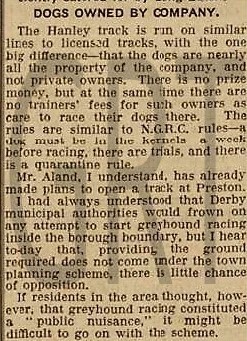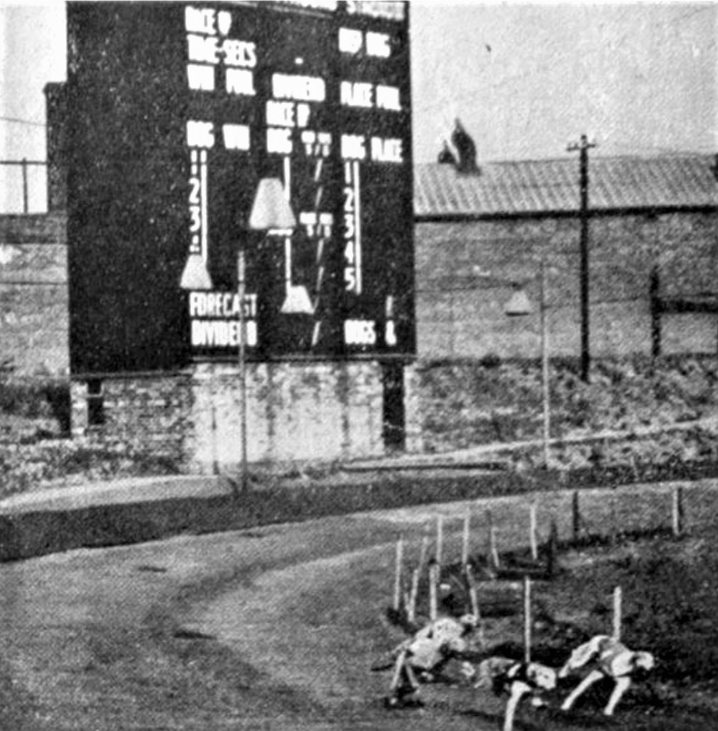 Another greyhound track once found in Staffordshire, was the one known as the Sun Street Greyhound Stadium. It was located in the Borough of Hanley, a town found smack bang in the middle of The Potteries, situated less than two miles north of Stoke City's Britannia Football Stadium.
Construction of the stadium began in 1927, on a demolished site that once occupied a disused brick and marl works. It had been funded by the Amalgamated Greyhound Racecourse Company, a company whose interest had seen a number of greyhound stadiums built across the UK during that year. The stadium's inaugural meeting came on the 31st of March 1928 and operated under rules similar to those of the NGRC. The majority of the greyhounds that made up the race card were the property of the Northern Greyhound Racers Hanley Limited, but sometimes meetings would also include a small number of privately owned greyhounds that were kennelled at the track. There were no trainer's fees, but this was compensated due to the fact that there was no prize money on offer, and also a specific ruling ordering that all greyhounds had to be kennelled at the track for at least one week before they were allowed to race.
In 1929 the Sun Street Stadium became a multi-purpose venue, as dirt track speedway made its first appearance, racing on a cinder track that had been constructed within the infield of the dog track. Boxing was another sport to feature, and also Midget Car Racing, along with the occasional Whippet race meeting, yet it was greyhound racing that had made it their home throughout the Sun Street Stadium's existence.
By the early 1930's, greyhound racing had become so established, that as many as fifty bookmakers would stand at each meeting. Meetings would consist of five dog races who would chase an inside hare, over distances of 280 and 500 yards. In 1956 a change of management had seen a switch from NGRC to independent racing, a move which would see seven years of flapping before its eventual closure in 1963, the year in which it had been sold to a car and garage company for £36,000.
Greyhound racing featured for the last time on the 18th of October 1963, with the speedway team running their last meeting eight days later, and within twelve months of these dates the stadium had been bulldozed. Fifty years on since its demise, virtually nothing remains of the stadium. Even memories now must be scarce still encased in minds of those who once visited the track, who now must be approaching their seventies at their youngest.
Today, an industrial site car park now marks its once location, found at the rear of Force Group Training Centre, accessible from Clough Street, were Holdcroft Motor Bodies entrance is. A dark red brick perimeter wall runs down its eastern side, its along here which thankfully leaves that little bit of magical history. Over the wall runs the continuation of Robson Street, once known as Sun Street, it is here that you will find your evidence of the old stadium. As you walk down Sun Street, facing you is the boarded-up mesh steel gates of the once stadium's entrance. At either side of the entrance stands the smog stained black and red brick wall, it is here you will find fading white paintwork reading Hanley Stadium, Speedway Racing and of course Greyhound Racing " still quite evident after all those years. Fortunately, quality piece of history is still with us, but for how long who knows.
A Photograph or even memorabilia for this track is required for this page, if you can help please contact me.