Custom House, Newham, London E16.
POSTCODE———————————E16 3LT
LOCATED————————————A quarter of a mile south east of the junction with the A13 and the A112 Prince Regent Lane.
ORIGINAL SITE—————————–A recreation grounds used for Whippet Racing and Football.
DATE CONSTRUCTED——————–1927/28
DATE VENUE OPENED——————-July 28th 1928 for Motor Cycling Dirt Track Racing.
Meaning other sports may have taken place prior to the arrival of Greyhound Racing.
FIRST MEETING—————————–August 4th 1928, 56,000 racegoers attended.
Greyhound Racing only.
LICENSED OR INDEPENDENT———-NGRC.
All venues covered would have to be licensed with the government, licensed suggested in this section would refer to tracks operating under NGRC Rules.
INSIDE OR OUTSIDE HARE TYPE——Outside
Please note that the Electric Hare suggested is only a guidance, and would have been in operation for a certain amount of time at this venue. Although it is not necessarily guaranteed that it was operational all the time, as other types of lure may have been used and updated as time progressed.
DISTANCES———————————–550, 600 and 700 yards.
Please note that most racing venues distances had become varied throughout the years, the ones given above were at once point set and offers only a guidance to the track size.
CIRCUMFERENCE—————————562 yards, the largest circuit in the UK although the Towneley Stadium in Burnley had the longest race length, which was over 570 yards, but events were run around two bends only, therefore was not a full circuit.
Please note that alterations at most racing venues throughout its existence would see that the circumference of the track would vary, the one shown above offers only a guidance to the track size.
BIG RACE NAMES—————————The Cesarewitch an event won by Mick the Miller in 1930. The event was transferred to Belle Vue, Manchester after West Ham's closure in 1972.
STADIUM SHARED WITH——————Ex football league club Thames FC between 1930-32. Stock Car racing and Speedway with one meeting between England and Australia attracting a crowd of 82,400 during 1933.
LAST MEETING——————————-Friday 26th of May 1972, when a greyhound called Troillus won the last event.
Greyhound Racing only.
STADIUM CLOSURE DATE—————-May 1972.
Meaning other sports may have taken place after Greyhound Racing had ceased.
STADIUM DEMOLITION——————-1972
BUILT ON SITE——————————-Housing on Croombe Road and Young Road.
In some cases, structure's that originally covered the venue after the stadium had been demolished, may have been themselves demolished too, so the one described is more likely to be the one which now presently covers the site.
EVIDENCE LEFT TODAY——————-None known of, but streets covering the site are named after legendary Speedway riders.
FURTHER COMMENTS——————–
—-The stadium had a crowd capacity of 100,000.
—-West Ham was recognised as the Daddy of all London greyhound tracks.
—-The turf track was laid on railway sleepers 12 inches above ground level, its intention was to reduce the risk of a frozen track.
—-It once experimented with greyhounds competing on coconut matting, but the idea never really caught on..
—-On the 7th of September 1940, a bomb exploded on the Pit Bend during an air raid.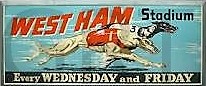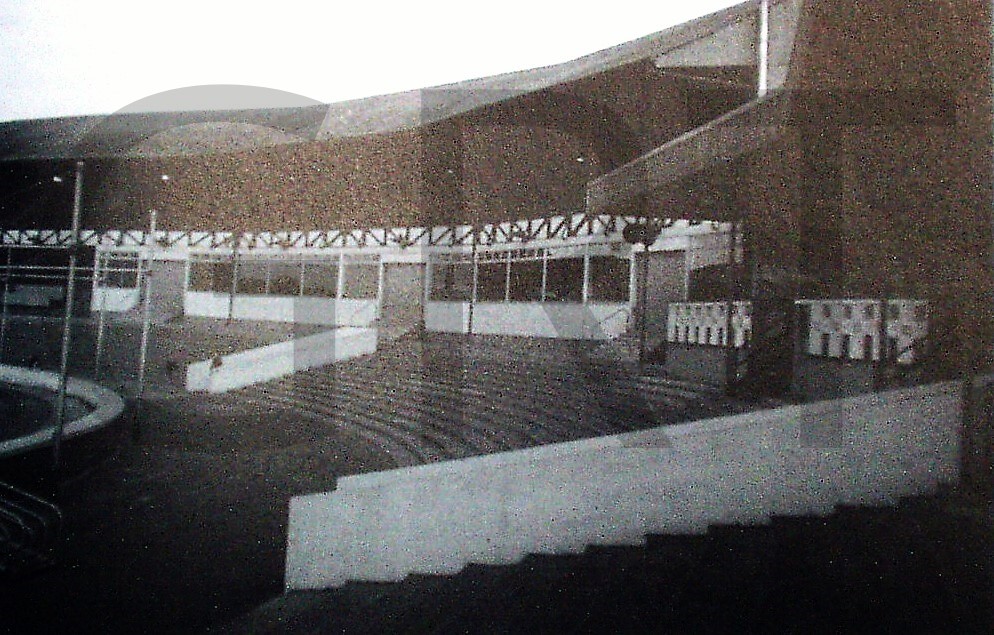 During the boom time of Greyhound Racings some would say that "The Daddy of all London greyhound tracks" could quite easily have been the West Ham Greyhound Stadium. The venue which was sometimes known as Custom House, was located in the north east London district of Newham, just of Prince Regent Lane, a quarter of mile south west of today's junction of the A13 and A112.
Prior to the turn of the twentieth century the site had been just open meadows, yet after being levelled and drained, a small, enclosed football ground began to develop on the site and became known as the Custom House ground. During the years following The First World War, amateur football continued to be played at the ground, but another sport was to feature just as regularly, that of Whippet Racing. But it was during the late twenties that the Custom House Stadium began to take its shape, after a sporting company invested heavily to construct a large multi-purpose sports venue, that would eventually host Greyhound Racing and Speedway.
After its completion in 1928, the huge stadium became a London landmark, large enough to accommodate over 100,000 people, with its main stand having been designed by the then famous architect, Archibald Leitch. Leitch's reputation had grown from designing huge grandstands, mainly at football stadiums throughout the UK, such as the one's found at Everton, Sunderland and Rangers, to name just a few. The stadium opened its doors for a Dirt Track Speedway event on the 28th of July 1928 and was still under construction by the time the greyhounds had run their first meeting a week later, on the 4th of August 1928, in front of an impressive 56,000 crowd.
The track had a circumference of 562 yards, which incidentally became the longest ever greyhound racing circuit to be built in Britain, which had been laid over wooden railway sleepers, positioned 12 inches above the ground, an idea that would reduce the chances of the track freezing during Winter months. Other positive features at the stadium, was the kennel block, an area capable of accommodating over 200 greyhounds, with its huge car parking space having enough space for 2,400 vehicles.
All meetings were staged under NGRC rules, with its big race attraction being The Cesarewitch, an event contested over a distance of 600 yards, with the famous Mick the Miller taking the honours in 1930. Attracting racegoers through the turnstiles was never a problem, certainly during the 1930's, with attendance figures well in excess of 30,000 regular attending meetings. The outbreak of the Second World War had seen regulations affect public gatherings, meaning that race meetings would have to be staged during daylight hours. As most of Greater London suffered during the blitz, the stadium also became a victim of an air raid during the night of the 7th of September 1940, with an explosive device badly damaged a section around the pit bend, yet fortunately enough the stadium was uninhabited at the time leaving nobody injured.
The post war years had seen racing return to normal, with meetings being staged during dark evenings with the hounds contesting over 550, 600 and 700 yards, and chasing an outside hare. During the 1950's the management experimented with the running surface this time switching from the regular grass track to a coconut matting type running surface, but this temporary idea never really caught on.
Along with Greyhound Racing, Custom House hosted other sports, mainly Speedway, who once attracted 82,400 at a meeting in 1933. Stock Car Racing, Baseball and also League Football featured, with Thames FC playing home matches there during the early 1930's. Incidentally, Thames lasted for just two seasons only before folding, having set a record not to boast about, by hosting the lowest ever attendance at a football league venue, with a crowd of just 469 against Luton Town on the 6th of December 1930. After more than 40 years of hosting sporting activities, the venue was now becoming to show some wear and tear, and it came as no surprise when it was announced that the stadium had been sold to developers during 1971.
Greyhound Racing featured for the last time on the Friday of 26th of May 1972, with a greyhound named Troillus winning the final event. Its top event. The Cesarewitch of which West Ham had been associated with throughout its years, became transferred north to Manchester's Belle Vue Stadium. Demolition began almost immediately after its closure, and within a couple of years, new housing had covered the site.
Today, these properties still remain, and are found on streets named after heroes who once graced the West Ham track. Disappointingly, these names are not greyhounds, but are of Speedway stars, who were once known worldwide as The Hammers.
Memorabilia for this track is required for this page, if you can help please contact me.