Newcastle Road, East Bolden, Sunderland, Tyne and Wear.
POSTCODE———————————–SR5 1RP
LOCATED————————————-Situated along side the A184, roughly half a mile south east of the village of East Bolden, two and a half miles north west of Sunderland city centre.
ORIGINAL SITE——————————Just farm gazing land.
DATE CONSTRUCTED——————–1939-40.
DATE VENUE OPENED——————-March 1940.
Meaning other sports may have taken place prior to the arrival of Greyhound Racing.
FIRST MEETING—————————–March 23rd 1940 first race won by Percheron.
Greyhound Racing only.
LICENSED OR INDEPENDENT———-Independent during its early years but switched to NGRC in May 1990.
All venues covered would have to be licensed with the government, licensed suggested in this section would refer to tracks operating under NGRC Rules.
INSIDE OR OUTSIDE HARE TYPE——An outside McKee.
Please note that the Electric Hare suggested is only a guidance and would have been in operation for a certain amount of time at this venue. Although it is not necessarily guaranteed that it was operational all the time, as other types of lure may have been used and updated as time progressed.
DISTANCES———————————–261, 450 and 640 metres.
Please note that most racing venues distances had become varied throughout the years, the ones given above were at once point set and offers only a guidance to the track size.
CIRCUMFERENCE—————————378 metres.
Please note that alterations at most racing venues throughout its existence would see that the circumference of the track would vary, the one shown above offers only a guidance to the track size.
BIG RACE NAMES—————————The William Hill Classic and The William Hill Grand Prix.
STADIUM SHARED WITH——————A couple of spells for Speedway Racing and also Whippet Racing.
LAST MEETING——————————N/A
Greyhound Racing only.
STADIUM CLOSURE DATE—————N/A
Meaning other sports may have taken place after Greyhound Racing had ceased.
STADIUM DEMOLITION——————N/A
BUILT ON SITE——————————N/A
In some cases, structure's that originally covered the venue after the stadium had been demolished, may have been themselves demolished too, so the one described is more likely to be the one which now presently covers the site.
EVIDENCE LEFT TODAY——————N/A
FURTHER COMMENTS——————-Constructed during the months leading up to the Second World War, a possitive idea had seen it include an air raid shelter built of reinforced concrete located beneath the main stand in its tote betting hall, an area which would easy accommodate 3,000 patrons.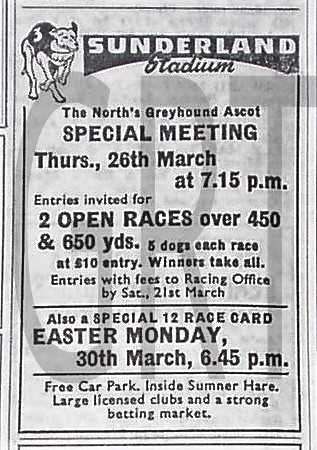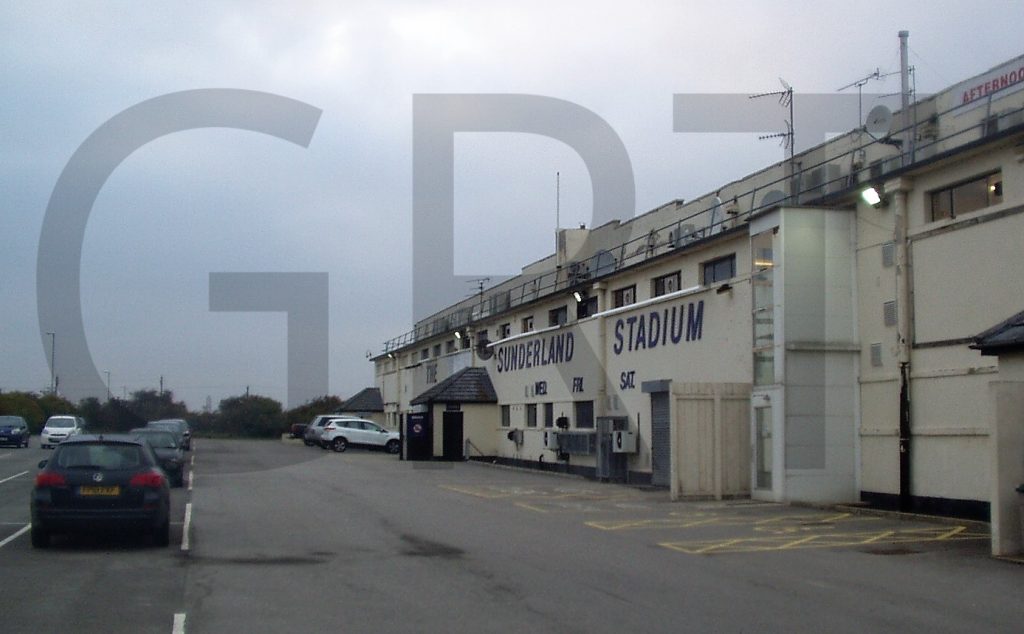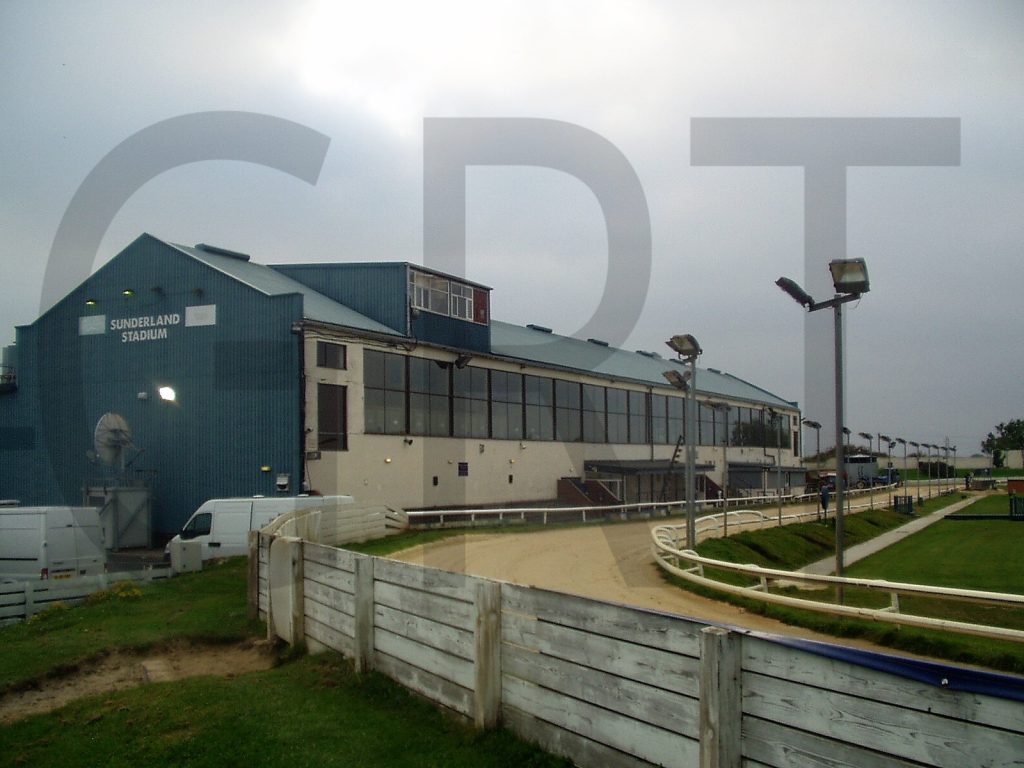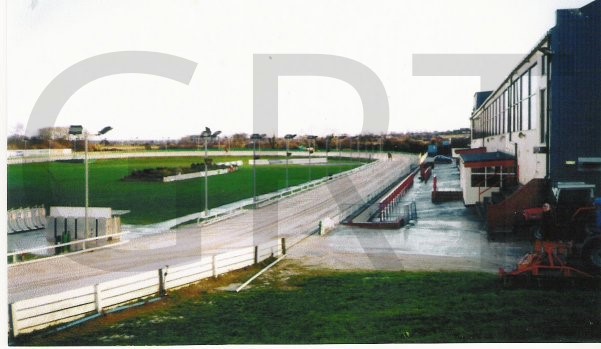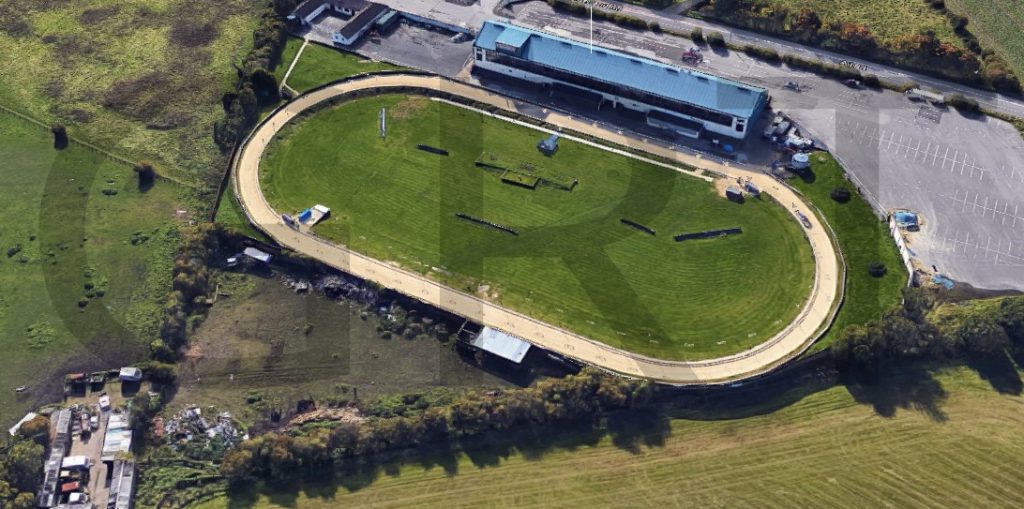 The Sunderland Greyhound Stadium lies along the side the A184 trunk road, situated between the villages of Cleadon and East Bolden, some two and a half miles north west of Sunderland's city centre. It was constructed on grazing land opposite a hospital that dealt with infectious diseases, which also became a sanatorium in its later life.
The laying of its foundations, began in 1939 shortly before the outbreak of the Second World War, a period which halted progress of its construction. With the threat of war looming, the design of the main stand was altered to cope with the threat of air raids in mind, seeing sand bags and reinforced concrete increased around its tote betting hall, in an area that could easily accommodate three thousand patrons. By completion it had cost around £60,000 to build, and become recognised to locals as the Bolden Greyhound Stadium.
Life began as an independent flapping track, opening up with its first meeting on the 23rd of March 1940, seeing a greyhound called Percheron win the first event over the 450 yard trip. The late 1940's had seen Sunderland switch to racing under NGRC rules, but complaints from disgruntled owners and trainers, saw them revert back to a flapping track by 1951. Speedway was introduced in 1964, but the interest dwindled rapidly after only eight meetings, and did not reappear again until 1971, this time lasting for three seasons before closing again due to poor attendances. The running surface had switched from grass to sand during the 1970's, but by the 1980's trouble times lay ahead. A disagreement with the council, regarding the renewal of the lease witnessed a temporary closure during 1980. But also the track was beginning to show signs of wear and tear, and was desperately in need of a cash injection. It was at this point that the owners decided to put the track up for sale, with an asking price of £200,000. A change of management soon got things under way again, a team that brought along with them investment and new ideas, such as Whippet Racing which had never featured before at the track before.
More investment came in 1988 when over a million pound was spent with the extension and refurbishment of the main grandstand. The investment brought with it ambition, seeing the new owners sending in an application to join the NGRC. In 1990 Sunderland celebrated its Golden Anniversary, with more celebrations to follow, as Sunderland signed up to join the NGRC for a second time in its history. A new McKee type hare was installed, along with the widening of the track to cope with six dog racing over newly set distances of 275, 450 and 630 metres, in time ready for its first meeting under rules on the 6th of June 1990.
In 2002 the stadium was purchased by William Hill the bookmakers for 9.4 million, it was the first time that a nationwide Bookmaker had invested in a greyhound track, a move which saw them also purchase Newcastle's Brough Park the following year.
Today, Sunderland's prestigious events are "The William Hill Classic" and "The William Hill Grand Prix", it also promotes meetings for its BAGS contract, and is watched regularly on Racing Post TV. It has a track circumference of 378 metres, creating distances of 261, 450, 640 and 828 metres, and has a crowd capacity of 1500, with a restaurant to accommodate 150 diners.
Memorabilia for this track is required for this page, if you can help please contact me.