Nottingham Road, Somercotes, Nr Alfreton, Derbyshire.
POSTCODE———————————-DE55 4QJ
LOCATED————————————Half a mile north of Somercotes town centre, which is just about a mile south of the Derbyshire town of Alfreton.
ORIGINAL SITE—————————–Developed aroud a cricket pitch during the late ninetweenth century.
DATE CONSTRUCTED——————–The greyhound racing venue began to take shape during 1954.
DATE VENUE OPENED——————-1955
Meaning other sports may have taken place prior to the arrival of Greyhound Racing.
FIRST MEETING—————————–October 7th 1955.
Greyhound Racing only.
LICENSED OR INDEPENDENT———-Independent
All venues covered would have to be licensed with the government, licensed suggested in this section would refer to tracks operating under NGRC Rules.
INSIDE OR OUTSIDE HARE TYPE——Inside Sumner.
Please note that the Electric Hare suggested is only a guidance and would have been in operation for a certain amount of time at this venue. Although it is not necessarily guaranteed that it was operational all the time, as other types of lure may have been used and updated as time progressed.
DISTANCES———————————–270 and 450 yards.
Please note that most racing venues distances had become varied throughout the years, the ones given above were at once point set and offers only a guidance to the track size.
CIRCUMFERENCE————————–370 yards with 86 yard long straights.
Please note that alterations at most racing venues throughout its existence would see that the circumference of the track would vary, the one shown above offers only a guidance to the track size.
BIG RACE NAMES————————–Nothing known of.
STADIUM SHARED WITH—————–Amateur football.
LAST MEETING——————————May 31st 1971.
Greyhound Racing only.
STADIUM CLOSURE DATE—————1971
Meaning other sports may have taken place after Greyhound Racing had ceased.
STADIUM DEMOLITION——————-Mid 1970's.
BUILT ON SITE——————————-NHS Supply Chain located on West Way just off Nottingham Road opposite a Tyre and Autoservices garage.
In some cases, structure's that originally covered the venue after the stadium had been demolished, may have been themselves demolished too, so the one described is more likely to be the one which now presently covers the site.
EVIDENCE LEFT TODAY——————-Nothing known of.
FURTHER COMMENTS——————–None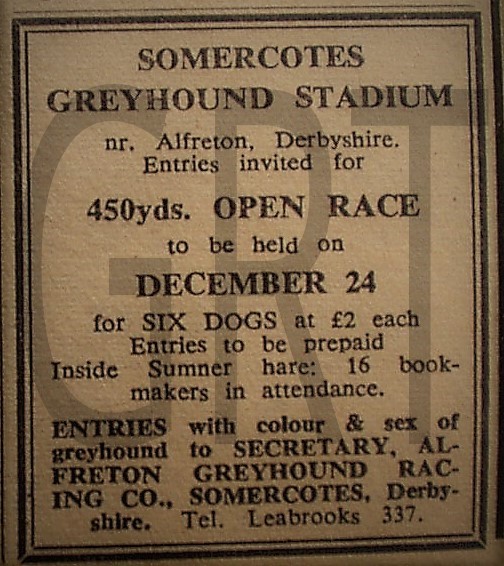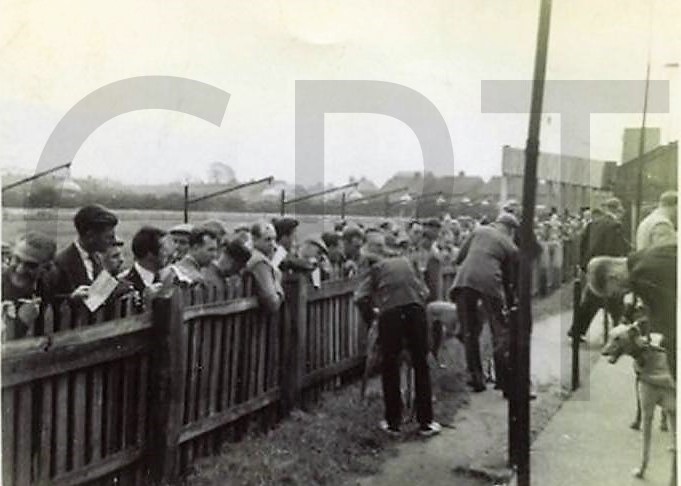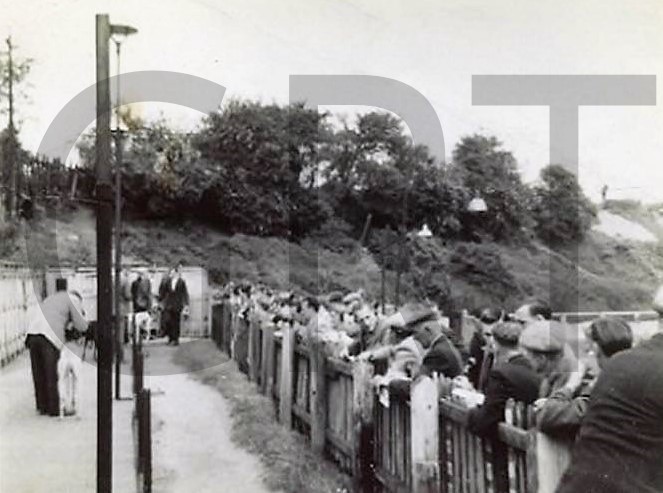 The small Derbyshire parish of Somercotes lies on the southern fringes of Alfreton, fifteen miles north of the city of Derby. The village had seen its development grow throughout the nineteenth century, due to its central location amidst five large coal mining collieries. Being a coal mining community, it would not come as a surprise to any of us that Whippet Racing may have featured during the 1920's and thirties, yet Greyhound Racing in Somercotes surprisingly did not arrive until the mid 1950's.
It began with a group of enthusiasts calling themselves the Alfreton and District Greyhound Racing Company Limited, who had been granted permission by the council to lay a greyhound track around a disused cricket pitch, which had lain abandoned since the late 1930's. It was during the summer months of 1954 that locals witnessed the new greyhound track being laid around the perimeter of the now overgrown cricket pitch. The newly turfed track measured 370 yards in circumference, which created racing distances of 270 and 450 yards. A Sumner type inside hare rail system was installed, along with upgrading of the existing rundown buildings brought the venue to life.
The new venture made use of the cricket pavilion which now served as offices, and a tearoom, along with toilets and a small standing area for spectators. A tin roofed shelter became another of the track's new additions, its purpose being to accommodate the tracks bookmakers.
Opening up as an independent flapping track, Somercotes first meeting came on Friday the 7th of October 1955. Early meetings featured eight races, all consisting of six greyhounds mainly contesting over the 450-yard trip, but distances did vary due to alterations, as efforts were made to improve the tracks efficiency and safety. By November 1957, the popularity of the track had grown to an amount that as many as sixteen bookmakers would stand at each meeting.
Although the first ten years at Somercotes had been a success, it was the late 1960's that witnessed a decline, as did so many other tracks, with numbers through the turnstiles gradually falling. By the end of the decade, a local amateur football club moved in as tenants, and marked out a football pitch within the track's infield. It was a move which would hope to bring in extra revenue, and also a period when the greyhound track gained a new title as the Somercotes Sports Stadium.
By 1971 the stadium had fallen into a state of disrepair, the reason mainly due to knowledge that the council had drawn up plans to re-develop the site for industrial purposes. Those last few years had seen a shorter race distance of 270 yards dominate the eight-race card, with an odd 453 yards event thrown in at the end.
After the lease had expired, Somercotes Sports Stadium ran its final meeting on the 31st of May 1971. The venue lay abandoned for a number of years before becoming demolished to make way for new industrial units.
Today, the track's location is now covered by an NHS Supply Chain building, situated east of Nottingham Road opposite a car and tyre service centre, found about half a mile north of the town.
A programme, photograph or even memorabilia for this track is required for this page, if you can help please contact me.