Darklands Lane, Swadlincote, Nr Burton-on Trent, Derbyshire.
POSTCODE———————————-DE11 0UP
LOCATED————————————-Less than half a mile north west of Swadlincote town centre.
ORIGINAL SITE——————————Farm grazing land but developed as a recreational area during the 1930's.
DATE CONSTRUCTED———————1947-48
DATE VENUE OPENED——————–July 5th 1948.
Meaning other sports may have taken place prior to the arrival of Greyhound Racing.
FIRST MEETING—————————–July 5th 1948. However, there is evidence on activity on the site from 28th March 1932 until probably the mid 1930s.
Greyhound Racing only.
LICENSED OR INDEPENDENT———–Independent
All venues covered would have to be licensed with the government, licensed suggested in this section would refer to tracks operating under NGRC Rules.
INSIDE OR OUTSIDE HARE TYPE——-Inside Sumner.
Please note that the Electric Hare suggested is only a guidance, and would have been in operation for a certain amount of time at this venue. Although it is not necessarily guaranteed that it was operational all the time, as other types of lure may have been used and updated as time progressed.
DISTANCES———————————–350 and 525 yards.
Please note that most racing venues distances had become varied throughout the years, the ones given above were at once point set and offers only a guidance to the track size.
CIRCUMFERENCE—————————465 yards.
Please note that alterations at most racing venues throughout its existence would see that the circumference of the track would vary, the one shown above offers only a guidance to the track size.
BIG RACE NAMES—————————None found.
STADIUM SHARED WITH——————Harness and Pony Racing and also Stock Car Racing.
LAST MEETING——————————1962
Greyhound Racing only.
STADIUM CLOSURE DATE—————1962
Meaning other sports may have taken place after Greyhound Racing had ceased.
STADIUM DEMOLITION——————Early 1960's.
BUILT ON SITE——————————A sportsfield mainly used for cricket.
In some cases, structure's that originally covered the venue after the stadium had been demolished, may have been themselves demolished too, so the one described is more likely to be the one which now presently covers the site.
EVIDENCE LEFT TODAY——————I have never visited the site but there is perimeter walls were the venue was, with this being its only evidence.
FURTHER COMMENTS——————-None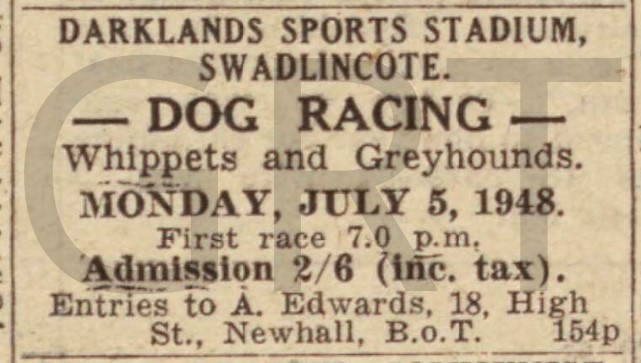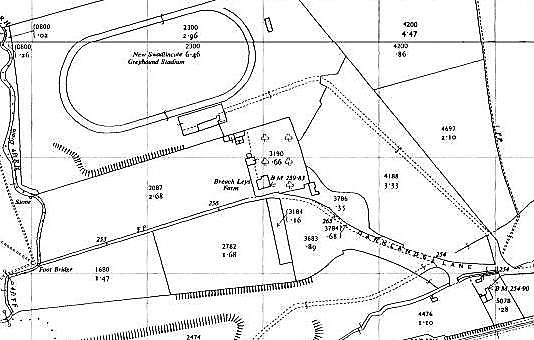 The small Derbyshire town of Swadlincote is located roughly three and a half miles southeast of Burton on Trent, with the city of Derby found ten miles further south. It was during the early 1930's that a sports field began to develop on grazing land linked to Breach Lays Farm, a site situated less than half a mile northwest of Swadlincote town centre.
It was during March 1932 that a newspaper article first mentions Darklands Sports Stadium, announcing that it was to stage Greyhound Racing, Trotting and Whippet Racing. Although it had been the first mention of Greyhound Racing on the site, it was nothing more than hounds chasing a drag hare along a straight run, classing itself like many around this period as a temporary flip track. That is how things ventured during the 1930's, but the post war years had witnessed further developments with a more recognised oval greyhound racing circuit having been laid on the site.
It was during October 1948 that the local press advertised that Greyhound Racing would be staged at The Darklands Stadium for the very first time. In time, it became known as Swadlincote Greyhound Stadium, an independent track, promoting six dog racing over distances of 350 and 525 yards, with the hounds chasing an inside Sumner type hare. During the mid 1950's,
Darklands played host to Stock Car Racing, but at this moment the operational dates at the track are still unclear. Further information regarding Greyhound Racing remains sketchy, but it is known that the sport ceased operations during 1962, with all its fixtures being removed, and outbuildings demolished soon after. Most of the track's evidence had gone by the late 1960's, with the proof of an early 1970's Ordnance Survey Map showing half the site having been swamped by a duck pond. The following years had seen any remaining evidence drift away, with nature eventually overwhelming the site.
In more recent times the site has totally transformed into something unrecognisable from those days of greyhound racing, with the development of a brand-new sports field and an adjacent cricket pitch. Today, very little evidence remains of Darklands, although its once southern boundary wall now acts as the northern boundary to Breech Lays Farm. There is also evidence of the access to the track through a wall at the rear of some new housing on Yard Close.
A programme, photograph or even memorabilia for this track is required for this page, if you can help please contact me.