The Empire Stadium, Wembley, Middlesex, Greater London.
POSTCODE———————————-HA9 0HB
LOCATED————————————-About eight miles north west of the city of London.
ORIGINAL SITE——————————A vast Parkland but were the football pitch is now was once the Abandoned Watkins Folly a 200 foot high tower.
DATE CONSTRUCTED——————–Began in 1922 ready for 1923.
DATE VENUE OPENED——————-April 1923 staging the FA Cup Final between Bolton Wanderers and West Ham.
Meaning other sports may have taken place prior to the arrival of Greyhound Racing.
FIRST MEETING—————————–December 10th 1927.50,000 attended to see a Greyhound called Spin win the first event.
Greyhound Racing only.
LICENSED OR INDEPENDENT———-NGRC.
All venues covered would have to be licensed with the government, licensed suggested in this section would refer to tracks operating under NGRC Rules.
INSIDE OR OUTSIDE HARE TYPE——Outside Swaffham.
Please note that the Electric Hare suggested is only a guidance, and would have been in operation for a certain amount of time at this venue. Although it is not necessarily guaranteed that it was operational all the time, as other types of lure may have been used and updated as time progressed.
DISTANCES———————————–275, 490, 650, 710 and 850 metres.
Please note that most racing venues distances had become varied throughout the years, the ones given above were at once point set and offers only a guidance to the track size.
CIRCUMFERENCE—————————463 yards.
Please note that alterations at most racing venues throughout its existence would see that the circumference of the track would vary, the one shown above offers only a guidance to the track size.
BIG RACE NAMES—————————The St Leger and the Trafalgar Cup.
STADIUM SHARED WITH—————–Various Sports but greyhound racing was Wembleys main regular feature.
LAST MEETING——————————December 18th 1998.
Greyhound Racing only.
STADIUM CLOSURE DATE—————October 7th 2000 England v Germany Football International.
Meaning other sports may have taken place after Greyhound Racing had ceased.
STADIUM DEMOLITION——————Began 2000 gone by 2003.
BUILT ON SITE——————————The New look Wembley Stadium completed by 2007.
In some cases, structure's that originally covered the venue after the stadium had been demolished, may have been themselves demolished too, so the one described is more likely to be the one which now presently covers the site.
EVIDENCE LEFT TODAY——————Nothing but the twin towers have been re-erected in a nearby park as a memorial.
FURTHER COMMENTS——————-Another vast venue that would not be around today if it wasn't saved by the financial income of Greyhound Racing.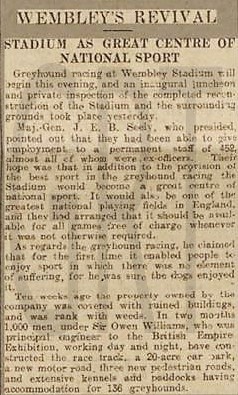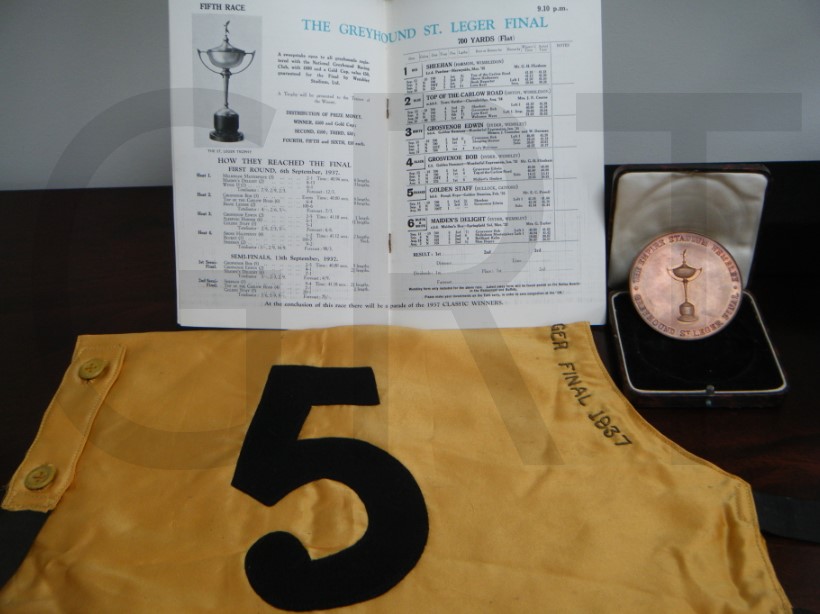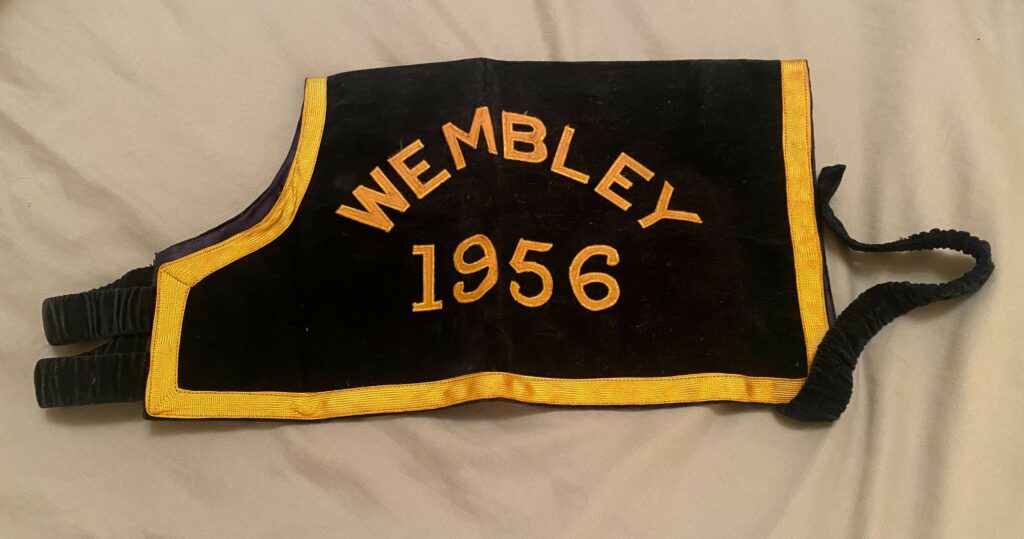 Throughout the majority of its life, The Empire Stadium, Wembley had become recognised as the most famous sporting venue in the world. More known to the sporting fraternity as Wembley Stadium, the venue was situated roughly eight miles north west of the City of London, not too far from the A406 North Circular Road.
Its construction began in the early 1920's on a huge recreation site, that had once housed the base of Watkins Tower, a structure that was intended to be built at 1150 feet, higher than The Eiffel Tower. The construction of Watkins Towers had begun during the late 1890's, only to see the project abandoned in 1901, after subsidence had been found around its base. The 200 feet partial structure was eventually deemed unsafe, forcing engineers to be called in and blow the whole steel base up with dynamite in 1904. But it was shortly after the end of the First World War, that the 220-acre recreation site left behind by the removal of Watkins Tower, became chosen to host The British Empire Exhibition, which had been planned to be staged during 1924 and 1925. The exhibition would be huge, with a view of attracting vast interest from around the world and would require a large central venue to stage its main attractions.
Construction of the stadium began in 1922, and took little more than twelve months to complete, costing the stadium's owners around £750,000 to build. Its opening spectacle came on the 28th of April 1923, its attraction being the FA Cup Final between Bolton and West Ham, with King George V attending as its special guest. Although the official attendance that day was given as 126,047, it was thought that an estimated 200,000 had entered the stadium, many without paying. After the exhibition had closed in 1925, the venue had found itself virtually unused and too expensive to run, its financial burden forcing the owners into liquidation. Fortunately, Wembley Stadium was saved from demolition after a building entrepreneur called Arthur Elvin purchased the venue for £127,000. But Arthur Elvin was also a keen follower of the up-and-coming sport of Greyhound Racing and had witnessed the success seen at other venues. That success had influence him enough to promote Greyhound Racing as his first venture at Wembley during 1927.
It required a further £100,000 to install the necessary equipment to make it work and very soon he was proved right. Wembley's first meeting came on the 10th of December 1927, when a greyhound called "Spin "won the very first event in front of an impressive 50,000 crowd. Thousands passed through the turnstiles for each meeting right up to the early 1960's, with captions in the programmes recognising itself as "The Ascot Of Greyhound Racing". Although more recognised as hosting the Cup Finals of both Football and Rugby, Wembley Stadium could still cheekily put on a greyhound meeting after 100,000 had packed the stadium in the afternoon.
Yet the vast interest shown in Greyhound Racing at Wembley had given itself priority over most sports that would take place, even during The World Cup of 1966, when a fixture between France and Uruguay had to be relocated to play at London's White City, after the tie had been double booked with an evening meeting of Greyhound Racing. A fascinating turn of events that today would create uproar in the world of football.
Wembley hosted many big greyhound events, such as The Trafalgar Cup, run from 1933 right up until 1998, along with The St Leger, still recognised today as a classic event. Healthy crowds were always in attendance to watch six greyhounds race over distances of 490 and 650 metres, with the hounds chasing an outside Swaffham type hare. Although Wembley may have been known for staging football internationals and cup finals, it also attracted most other huge sporting events, yet it was Greyhound Racing that financed the upkeep of the stadium, throughout the absence of those big occasions. But sadly the 1990's witnessed a downturn in attendances at meetings, four figure gates had plummeted to just a few hundred, but also the future of Wembley Stadium itself looked in doubt as well.
It was announced that Greyhound Racing would stage its final meeting on the 18th of December 1998, two years before the stadium would close with an international football match between England and Germany in October 2000. With all big match events now transferred to The Millennium Stadium, Cardiff, Wembley was left to rot for the next three years before total demolition came in 2003.
In 2007 The New Wembley Stadium opened for sporting events once again, after it had cost over £850 million to construct, a thousand times more than it had done in 1923. As for the new stadium of today, nothing remains of the old one, although a remnant of The Twin Towers has been re-erected in a nearby park as a memorial. But a final word from me states that, is that most people in the world today do not appreciate that if it was not for Greyhound Racing the name of Wembley Stadium would not be around today.
Memorabilia for this track is required for this page, if you can help please contact me.