Falkirk Football Club Ground, Brockville Park, Falkirk, Stirlingshire, Scotland.
POSTCODE———————————-FK1 5BU
LOCATED————————————Half mile north of Falkirk town centre.
ORIGINAL SITE—————————–Football Ground.
DATE CONSTRUCTED——————–1880's
DATE VENUE OPENED——————-1885 for the home of Falkirk Football Club.
Meaning other sports may have taken place prior to the arrival of Greyhound Racing.
FIRST MEETING—————————–July 16th 1932
Greyhound Racing only.
LICENSED OR INDEPENDENT———-Independent
All venues covered would have to be licensed with the government, licensed suggested in this section would refer to tracks operating under NGRC Rules.
INSIDE OR OUTSIDE HARE TYPE——Don't know.
Please note that the Electric Hare suggested is only a guidance and would have been in operation for a certain amount of time at this venue. Although it is not necessarily guaranteed that it was operational all the time, as other types of lure may have been used and updated as time progressed.
DISTANCES———————————–250 and 400 yards.
Please note that most racing venues distances had become varied throughout the years, the ones given above were at once point set and offers only a guidance to the track size.
CIRCUMFERENCE—————————Don't know.
Please note that alterations at most racing venues throughout its existence would see that the circumference of the track would vary, the one shown above offers only a guidance to the track size.
BIG RACE NAMES—————————Nothing known of.
STADIUM SHARED WITH——————Falkirk Football Club.
LAST MEETING——————————-May 15th 1935.
Greyhound Racing only.
STADIUM CLOSURE DATE—————-April 2003.
Meaning other sports may have taken place after Greyhound Racing had ceased.
STADIUM DEMOLITION——————-End of 2003.
BUILT ON SITE——————————-A Morrisons Superstore.
In some cases, structure's that originally covered the venue after the stadium had been demolished, may have been themselves demolished too, so the one described is more likely to be the one which now presently covers the site.
EVIDENCE LEFT TODAY——————-Nothing regarding greyhound racing, but an old turnstile from the football ground is located at the store entance of Morrisons premises.
FURTHER COMMENTS——————–None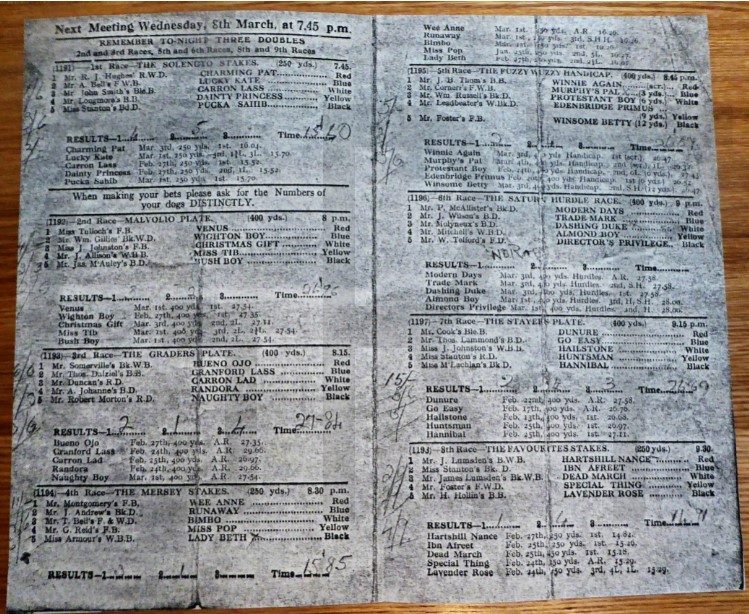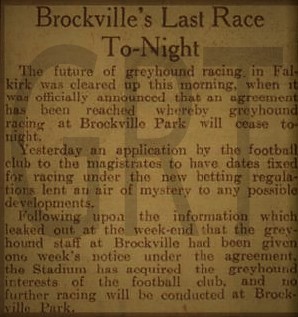 During the early 1930's, the introduction of Greyhound Racing at Scottish football grounds, had created enormous controversy within the Scottish Football League. During hard times football clubs were looking for means to free themselves of debt, and no doubt the uprising of Greyhound Racing had become the answer to a number of clubs.
Falkirk Football Club had been one of them, with the neighbouring club East Stirling being another, who themselves had opened for Greyhound Racing in October 1930. It was announced in the local press of April 1932 that Greyhound Racing would feature at the Brockville Park, becoming the second of three venues that would host Greyhound Racing in the town, with a third one being under construction just half a mile away.
In an agreement set by Falkirk Football Club and the newly formed Greyhound Racing Company, was that they could not guarantee that Greyhound Racing would continue once the club had cleared all of its debts. It had cost the greyhound company around £10,000 to lay the track and provide all its facilities, with an extra £1,000 to pay for rent each year. Around 150 greyhounds had been purchased to strengthen the kennels in time for its opening meeting on the 16th of July 1932.
Opening up as an independent track, races consisted of five greyhounds contesting over distances of 250 and 400 yards. Yet stern opposition was faced the following month, when the opening of the nearby Brockville Racecourse triggered off a rivalry, with the new tracks matinee meetings being held at the same time as Falkirk FC's Saturday afternoon football matches. Their objection was that the football club had stolen their idea, knowing full well that a new purpose built greyhound stadium was under construction close by. In response, Falkirk football club offered match attending fans free tickets for the following evenings meeting.
By the end of 1932, the town of Falkirk could now offer Greyhound Racing at three different venues just on a Saturday alone. But the battle of the tracks had dwindled down to two by Springtime 1933, due to the closure of the nearby Firs Park. The remaining two tracks rivalry would continue for the next two years, before eventually the football clubs board members had had their say. A dispute between the football club and the greyhound company, failed to reach an agreement regarding race nights, which in effect saw all greyhound staff given one weeks notice to leave the premises.
Brockville Park's final meeting came on the 15th of May 1935, followed shortly after with all fixtures and fittings, along with 75 greyhounds being put up for sale. Scottish League football continued to be Brockville Park's main attraction, right up until April 2003, before the ground was sold to developers and bulldozed by the end of that year.
Today, the site is covered by the Morrison's Superstore car parking area, leaving no evidence at all of the old Brockville Stadium. Although a little credit must be given to the superstore, as a kind gesture of the sites history is on offer, with one of the old football grounds turnstiles situated at the stores entrance.
A programme, photograph or even memorabilia for this track is required for this page, if you can help please contact me.