East Stirlingshire Football Club Ground, Firs Park, Falkirk, Stirlingshire, Scotland.
POSTCODE———————————-FK2 7AY
LOCATED————————————Half a mile north east of Falkirk town centre.
ORIGINAL SITE—————————–Land owned by a Railway Company.
DATE CONSTRUCTED——————–1921
DATE VENUE OPENED——————-1921 for football.
Meaning other sports may have taken place prior to the arrival of Greyhound Racing.
FIRST MEETING—————————–October 25th 1930.
Greyhound Racing only.
LICENSED OR INDEPENDENT———-Independent.
All venues covered would have to be licensed with the government, licensed suggested in this section would refer to tracks operating under NGRC Rules.
INSIDE OR OUTSIDE HARE TYPE——Inside
Please note that the Electric Hare suggested is only a guidance and would have been in operation for a certain amount of time at this venue. Although it is not necessarily guaranteed that it was operational all the time, as other types of lure may have been used and updated as time progressed.
DISTANCES———————————–250 and 410 yards.
Please note that most racing venues distances had become varied throughout the years, the ones given above were at once point set and offers only a guidance to the track size.
CIRCUMFERENCE—————————Dont know
Please note that alterations at most racing venues throughout its existence would see that the circumference of the track would vary, the one shown above offers only a guidance to the track size.
BIG RACE NAMES—————————Nothing known of.
STADIUM SHARED WITH——————East Stirlingshire Football Club.
LAST MEETING——————————-May 13th 1933.
Greyhound Racing only.
STADIUM CLOSURE DATE—————-July 2008.
Meaning other sports may have taken place after Greyhound Racing had ceased.
STADIUM DEMOLITION——————-January 2012.
BUILT ON SITE——————————-Not sure as yet but my last visit a few years ago, the venue had still not been built on.
In some cases, structure's that originally covered the venue after the stadium had been demolished, may have been themselves demolished too, so the one described is more likely to be the one which now presently covers the site.
EVIDENCE LEFT TODAY——————-Nothing regarding Greyhound Racing.
FURTHER COMMENTS———————None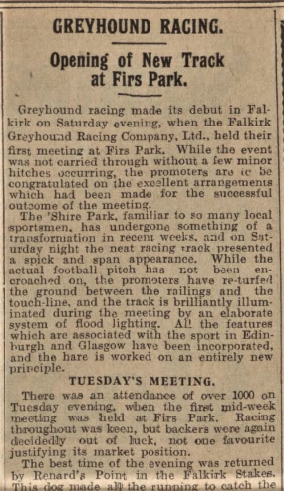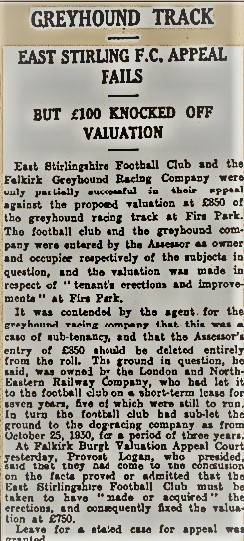 Firs Park happened to be the home of East Stirlingshire Football Club, a venue situated less than half a mile north east of Falkirk town centre. Firs Park had become the first of three greyhound tracks that would operate in Falkirk, all of which would begin operations during the early 1930's, and all three would later became involved in a fierce rivalry to attract custom.
Greyhound Racing had been introduced during 1930 because of the poor financial position East Stirlingshire had found themselves in, and therefore became one of a number of Scottish football clubs that would turn to Greyhound Racing, just to make ends meet.
Originally the land was owned by the LNER Railway Company, who let it out to the football club in 1921. It was during 1930 that a greyhound company became tenants to the football club, who agreed to pay between £800 and £900 per year rent to promote Greyhound Racing. After laying a track around the football pitches perimeter, a control tower was built, along with some wooden kennel blocks and a covered shelter, costing the greyhound company some £600 to equip the venue ready for racing.
Opening up as a flapping track, Firs Park staged its first meeting on the 25th of October 1930, and offered five dog racing over distances of 250 and 410 yards, with the hounds chasing an inside hare. In August 1932, the installation of a new totalisator system attracted a record crowd of over 3,000 during a midweek meeting, this figure was almost double that of a football match staged on a Saturday.
Sadly, after less than three years of operation, Greyhound Racing came to a close at Firs Park, with the final meeting coming on the 13th of May 1933. Constant issues had contributed to the greyhound company calling it a day, certainly the new betting regulations that had been introduced had reduced their income, but the main reason was that they could not agree terms with the football club.
Today, Firs Park no longer exists with the football club having left the venue in July 2008, after it had been their home for almost ninety years. The venue lay idle for a handful of years after, only to see it decay through nature and vandalism, before it was eventually demolished in January 2012. It remains to be seen what will cover the site, but no doubt new housing will soon occupy the site.
A programme, photograph or even memorabilia for this track is required for this page, if you can help please contact me.