Loomer Road, Chesterton, Newcastle-under-Lyme, Staffordshire.
POSTCODE———————————-ST5 7LB
LOCATED————————————About two and a half miles north west of Newcastle-under-Lyme town centre, and about one mile south of Chesterton town centre.
ORIGINAL SITE—————————–Coal Mining land.
DATE CONSTRUCTED——————–1973
DATE VENUE OPENED——————April 1973 for Speedway.
Meaning other sports may have taken place prior to the arrival of Greyhound Racing.
FIRST MEETING—————————-April 11th 1975.
Greyhound Racing only.
LICENSED OR INDEPENDENT———-Had spells of both independent and NGRC. see paragraph for dates.
All venues covered would have to be licensed with the government, licensed suggested in this section would refer to tracks operating under NGRC Rules.
INSIDE OR OUTSIDE HARE TYPE——-Outside the switched to Inside Sumner.
Please note that the Electric Hare suggested is only a guidance and would have been in operation for a certain amount of time at this venue. Although it is not necessarily guaranteed that it was operational all the time, as other types of lure may have been used and updated as time progressed.
DISTANCES———————————–280, 480, 670 and 870 metres.
Please note that most racing venues distances had become varied throughout the years, the ones given above were at once point set and offers only a guidance to the track size.
CIRCUMFERENCE—————————390 metres.
Please note that alterations at most racing venues throughout its existence would see that the circumference of the track would vary, the one shown above offers only a guidance to the track size.
BIG RACE NAMES—————————Nothing known of.
STADIUM SHARED WITH——————Speedway and Stock Car Racing.
LAST MEETING——————————-June 28th 2004 won by a hound called Burslem Tiger.
Greyhound Racing only.
STADIUM CLOSURE DATE—————-Speedway was staged for the very last time on the 14th of September 2019, although the stadium is to continue for a short while hosting other motor sports events.
Meaning other sports may have taken place after Greyhound Racing had ceased.
STADIUM DEMOLITION——————-N/A
BUILT ON SITE——————————-N/A
In some cases, structure's that originally covered the venue after the stadium had been demolished, may have been themselves demolished too, so the one described is more likely to be the one which now presently covers the site.
EVIDENCE LEFT TODAY——————-Don't know.
FURTHER COMMENTS——————–The venue cost £200,000 to build.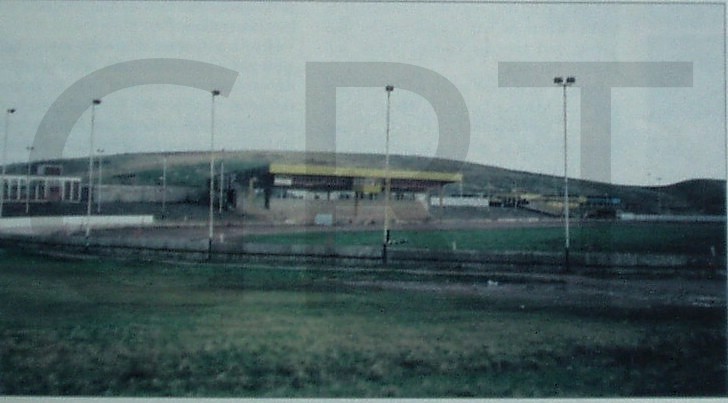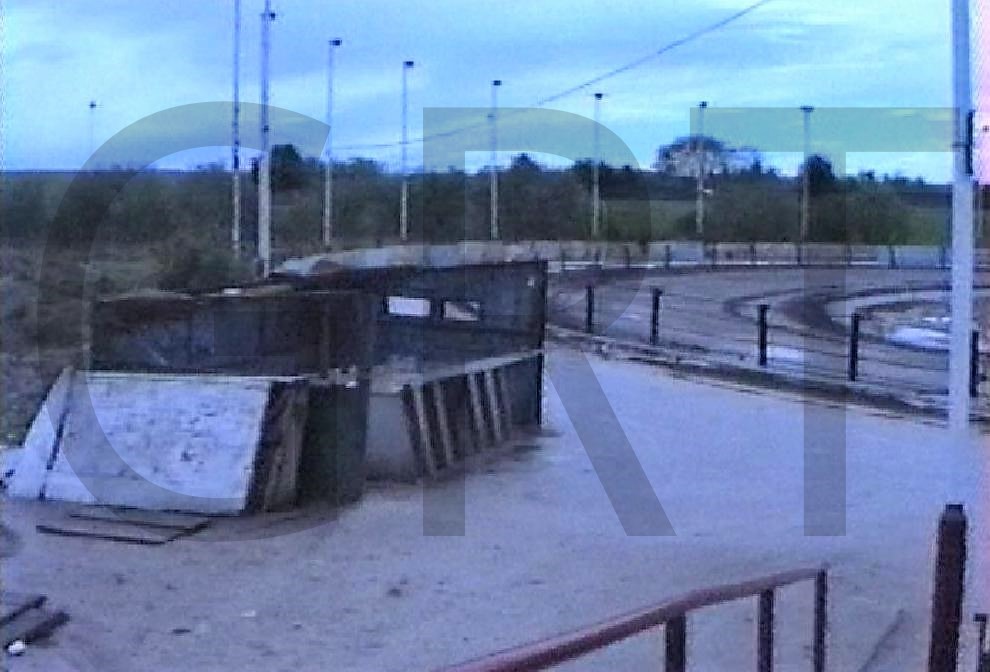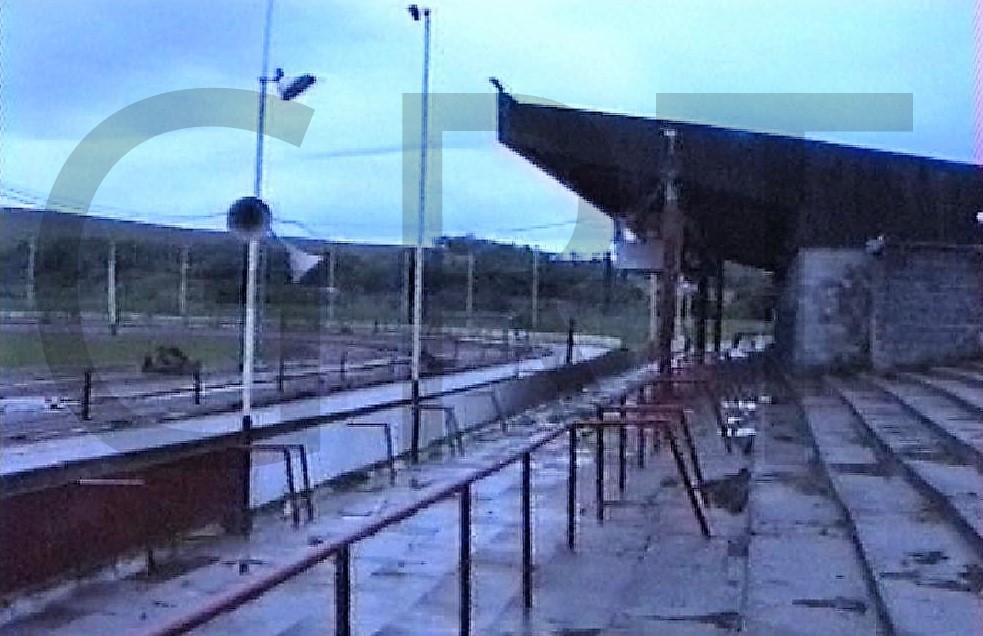 The City of Stoke and its surrounding areas had not seen Greyhound Racing since the Hanley track closed in 1964. Although another track at Cobridge, north of the city, had staged the sport earlier and had closed well before Chesterton's birth, although it did eventually re-open for Greyhound Racing once more in 1982.
Eleven years after the closure of Hanley, the sport reappeared once more, this time at a more modern constructed venue at Chesterton, found about two and a half miles northwest of Newcastle Under Lyme. It was known as The Loomer Road Stadium a venue that would eventually become a Multi-purpose Sports Stadium, with its main priority to host Speedway Racing.
Originally the stadium had been constructed on coal mining land at a cost of £200,000, with its first Speedway meeting taking place on the 12th of April 1973. Spectator cover lay on just one side of the stadium, yet it had a stadium capacity set at around 5,000, due to the open terracing continuing the whole length of the start and finish straight. The centre section of the terracing was sheltered by a flat cantilevered roof, and the wall at the rear backed on to the stadiums offices and clubhouse located behind.
Those early years had seen speedway operate successfully, but it wasn't until the 11th of April 1975, that Greyhound Racing featured for the first time, opening up as an independent track. Races were run over distances of 280, 480, 670 and 870 metres, with the hounds chasing an inside Sumner type hare. In December 1980, The NGRC accepted the application from Chesterton to run under its guidance and to operate under The Permit Scheme. But the switch lasted for no more than two years, before reverting back to flapping and staging its final NGRC meeting on the 30th of November 1982. Its reasons had been due to reduced income and simply not enough trainers, along with competition from the nearby Cobridge track that had reopened as a flapping track.
By the late 1980's The Loomer Road circuit had become totally sanded, offering six dog races with the hounds chasing an outside Sumner type hare. In 1990 another major switch came with the installation of the inside Sumner hare, a move which would hope to attract more entrants. Stock Car Racing had been introduced along the way, but by 2002 had ceased, due to lack of support, and that is how it was with the greyhounds too, with fewer and fewer entrants available.
Sadly, things did not pick up, as meetings were now being cancelled due the continuous problems of not having enough greyhounds to fill the card, until eventually the tracks management surrendered to the problem. Loomer Roads final meeting came on the 28th of June 2004, with a greyhound called Burslem Tiger winning the last race.
The Chesterton Stadium still exists today, but only just after Speedway staged its final meeting on September 14th 2019. At present the venue is still hosting the occasional motor sports event, although it still offers its oval shape, the future of Chesterton Stadium remains gloomy indeed.
A photograph or even memorabilia for this track is required for this page, if you can help please contact me.