Firhill Stadium, Firhill Road, Firhill, Glasgow
POSTCODE———————————-G20 7AL
LOCATED————————————Just over a mile north west of Glasgow city centre in the district of Firhill, just off the A81.
ORIGINAL SITE—————————–Prior to a football stadium it was wasteland owned by a Railway Company.
DATE CONSTRUCTED——————–1909
DATE VENUE OPENED——————-September 18th 1909 for Partick Thistle v Dumbarton Harp.
Meaning other sports may have taken place prior to the arrival of Greyhound Racing.
FIRST MEETING—————————–Had a series of meetings for about a month from 23 April 1928 but closed due to poor attendances. Its inaugural meeting was January 23rd 1933.
Greyhound Racing only.
LICENSED OR INDEPENDENT———-Don't know
All venues covered would have to be licensed with the government, licensed suggested in this section would refer to tracks operating under NGRC Rules.
INSIDE OR OUTSIDE HARE TYPE——Don't know
Please note that the Electric Hare suggested is only a guidance, and would have been in operation for a certain amount of time at this venue. Although it is not necessarily guaranteed that it was operational all the time, as other types of lure may have been used and updated as time progressed.
DISTANCES———————————–280, 480 and 680 yards.
Please note that most racing venues distances had become varied throughout the years, the ones given above were at once point set and offers only a guidance to the track size.
CIRCUMFERENCE—————————About 400 yards.
Please note that alterations at most racing venues throughout its existence would see that the circumference of the track would vary, the one shown above offers only a guidance to the track size.
BIG RACE NAMES—————————Nothing known of.
STADIUM SHARED WITH——————Partick Thistle Football Club.
LAST MEETING——————————-January 19th 1957.
Greyhound Racing only.
STADIUM CLOSURE DATE—————-N/A
Meaning other sports may have taken place after Greyhound Racing had ceased.
STADIUM DEMOLITION——————-N/A
BUILT ON SITE——————————-The stadium has been totally refurbished from the days of Greyhound Racing.
In some cases, structure's that originally covered the venue after the stadium had been demolished, may have been themselves demolished too, so the one described is more likely to be the one which now presently covers the site.
EVIDENCE LEFT TODAY——————-As for greyhound racing none.
FURTHER COMMENTS——————–None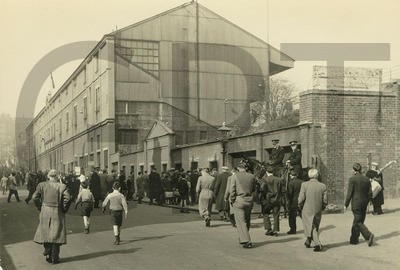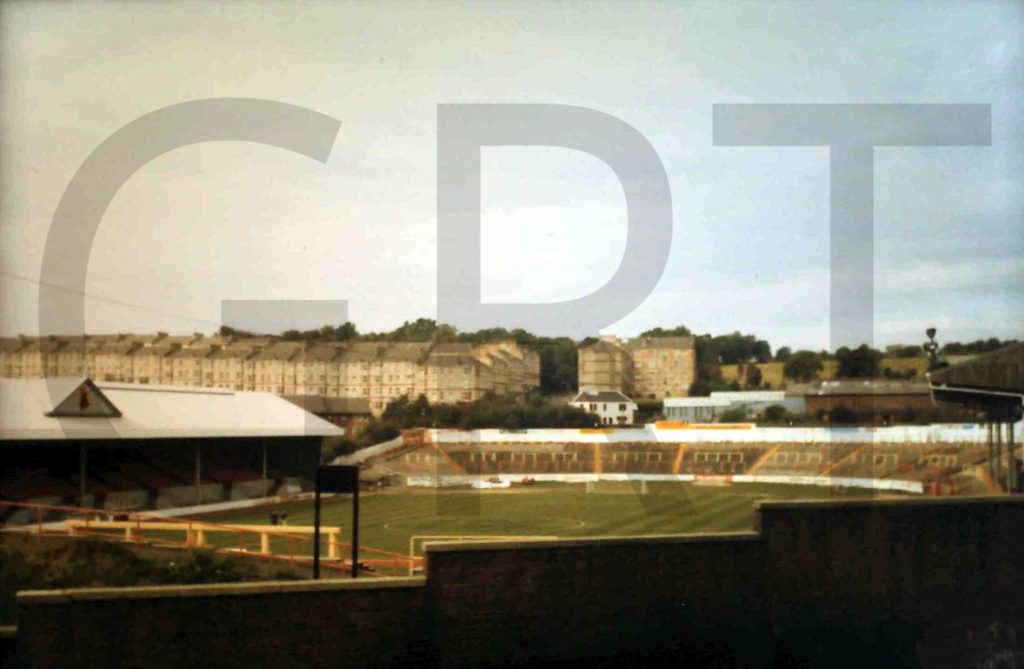 Just over a mile north west of Glasgow city centre is the district of Firhill. It is in this district that you will find Firhill Park, the present home of Partick Thistle Football Club, arguably the third best supported club in Glasgow. Since 1876 the football club had had numerous home venues throughout Glasgow, but it was in the late Edwardian years that they eventually found their present home. The land purchased had been nothing more than dumping land, owned by The Caledonian Railway Company, formed by the shape of an ox bow lake left behind by the development of The Forth and Clyde Canal.
In 1908 foundations were laid to build a football stadium large enough to host international fixtures, and within twelve months Partick Thistle's had played their first match. With a 6,000 all seater stand, along with its vast amount of terracing, it was capable of accommodating crowds in excess of 50,000. Proof of this was when 54,728 gathered to set the grounds record attendance during an international fixture, when Scotland hosted Northern Ireland in 1928.
However, it was in that same year that Greyhound Racing was experimented, but due to lack of interest, the idea was scrapped within weeks. But during early 1933 the sport was reintroduced, this time with more success, when the sport proved itself as an invaluable asset, fetching in much needed revenue to a football club who was on the brink of bankruptcy. Sections of the terracing were removed to compensate for the new greyhound track, as football attendances had fallen way short of capacity. This move did not affect attendance figures, yet some football fans opposed the idea, but the majority welcomed it, seeing that it was a way stop Partick selling their best players, clearly due to the extra income that the dogs would provide. Its promoters, the Glasgow Greyhound Racing Company held their first meeting on the 23rd of January 1933, with all races run under NGRC rules.
It ran races consisting of six greyhounds contesting over distances over 280, 480 and 680 yards. After more than 20 years of Greyhound Racing at Firhill, it was announced that the football club would no longer renew the lease, and that the sport would have to cease immediately. The decline of attendances at meetings had contributed to the fact that Greyhound Racing was no longer required, and a move that would see Firhill stage their final meeting on the 19th of January 1957.
Although the oval shape of Firhill lingered for a good number of years following, today's modern Firhill has seen so much transformation that it now has the shape of a rectangular football ground. It would be very difficult to recognise the venue from those Greyhound Racing days, as nothing much proves evident.
A programme, photograph or even memorabilia for this track is required for this page, if you can help please contact me.