Adenmore Road, Catford, Nr Lewisham, Greater London.
POSTCODE———————————-SE6 4RH
LOCATED————————————South east of London city centre in the Borough of Lewisham. Adenmore Road lead to its car park sandwiched between Catford and Catford Bridge Railway Stations.
ORIGINAL SITE—————————–Grazing land next to Ladywell Recreation ground, hemmed in by two railway lines.
DATE CONSTRUCTED——————–1931
DATE VENUE OPENED——————-July 1932.
Meaning other sports may have taken place prior to the arrival of Greyhound Racing.
FIRST MEETING—————————–July 30th 1932.
Greyhound Racing only.
LICENSED OR INDEPENDENT———-NGRC.
All venues covered would have to be licensed with the government, licensed suggested in this section would refer to tracks operating under NGRC Rules.
INSIDE OR OUTSIDE HARE TYPE——Outside
Please note that the Electric Hare suggested is only a guidance, and would have been in operation for a certain amount of time at this venue. Although it is not necessarily guaranteed that it was operational all the time, as other types of lure may have been used and updated as time progressed.
DISTANCES———————————–385 and 550 metres.
Please note that most racing venues distances had become varied throughout the years, the ones given above were at once point set and offers only a guidance to the track size.
CIRCUMFERENCE—————————333 metres.
Please note that alterations at most racing venues throughout its existence would see that the circumference of the track would vary, the one shown above offers only a guidance to the track size.
BIG RACE NAMES—————————The Cesarewitch between 1995 and 2000.and The Gold Collar during its early existence.
STADIUM SHARED WITH——————Speedway 1934-35.
LAST MEETING——————————-November 4th 2003.
Greyhound Racing only.
STADIUM CLOSURE DATE—————-November 2003.
Meaning other sports may have taken place after Greyhound Racing had ceased.
STADIUM DEMOLITION——————-2004
BUILT ON SITE——————————-New apartment blocks located on Adenmore Road.
In some cases, structure's that originally covered the venue after the stadium had been demolished, may have been themselves demolished too, so the one described is more likely to be the one which now presently covers the site.
EVIDENCE LEFT TODAY——————-Nothing known of.
FURTHER COMMENTS——————–None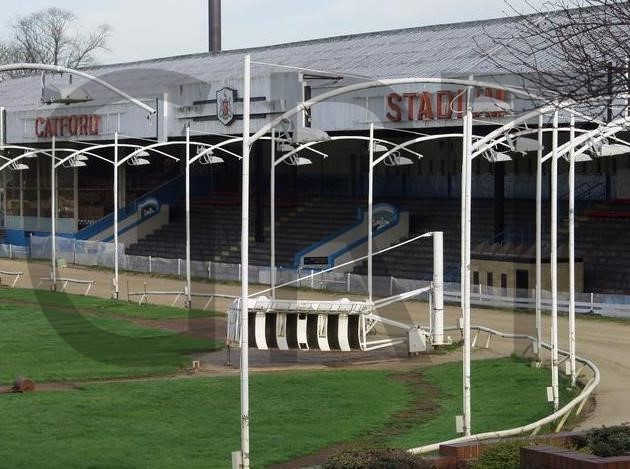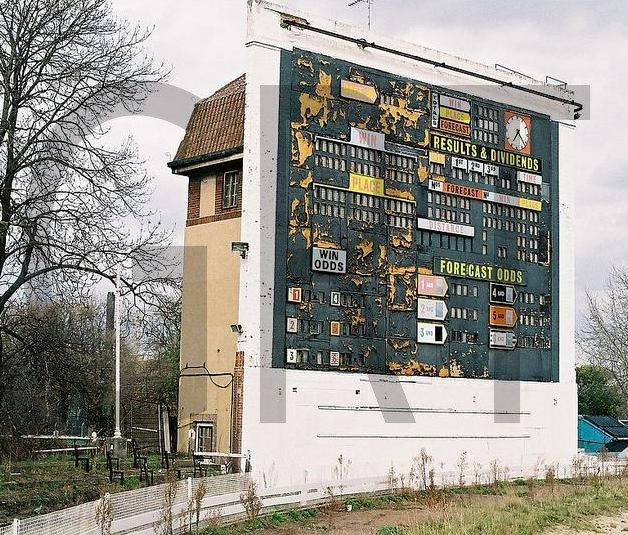 One of the most popular Greyhound Racing venues once found in London, was the one at Catford Stadium, situated in the cities south east borough of Lewisham. Although a difficult track to find on your first visit, this mainly due to its poor accessibility, with Adenmore Road being its only source of access. Adenmore Road who's earlier title of Station Road, lay hemmed in between two railway lines north of Catford Station, and Catford Bridge Station, a road which would feed a large car park before coming to a halt at Catfords impressive colourful entrance.
Construction of Catford Stadium began in 1931, on meadows adjacent to the Ladywell Recreation Grounds, in time ready for its inaugural meeting on the 30th of July 1932. The venue was originally owned by the Sutton Family before being eventually sold to the GRA, further establishing itself as one of the best atmospheric Greyhound Stadiums in the country. It had a crowd capacity of around 6,000, a figure which was in no doubt way short of what it should have been, having been proved time and time again, with patrons failing to gain access, due to the stadium being packed to the rafters.
Like many of London's licensed tracks, Catford was no different for staging luxurious events, with The Gold Collar attracting big named greyhounds, such as Wild Woolley, who became the first greyhound to claim the prize in 1933. The event had been run over 440 yards initially, but later extended to be contested over the 555-metre trip during modern times. Another much publicized event was The Cesarewitch, although held at other venues previous, it was Catford who staged the event from 1995 up until 2000.
Like many other stadiums during the 1930's, efforts were made to promote motor sports, with Speedway featuring during September 1934, a venture that would fail miserably, lasting for just one season only. Midget Car Racing would feature also during the years leading up to the outbreak of the Second World War. The Catford Stadium looked at its best in the evening, firstly, by the colourful illuminated entrance that would greet you on your approach, then once inside, a cluster of multi coloured water fountains situated on the infield of the track, added to the evening's unique atmosphere.
The early 1970's had seen eight dog racing at the stadium, twelve months after Manchester's Belle Vue track had staged the new idea in May 1971. The 1990's had seen a switch of ownership with the GRA selling the track to Wembley PLC, whose efforts lead to the signing up of a BAGS contract, a move which would hope to make the track more profitable. During the 1990's attendances figures at the stadium had begun to dwindle alarmingly, an issue that you would expect to show some discomfort amongst the stadium's owners, or did it, as events later would prove that maybe they didn't care after all.
With no hints of closure mentioned or even sensed, strange events began to unravel. Firstly, at a meeting on the Tuesday afternoon of the 4th of November 2003, when the departing of a Wembley PLC representative, a person who would normally attend the full meeting, strangely enough left just after the sixth race. The following morning revealed all, with the announcement of the stadiums closure with immediate effect, leaving scores of its employees without a job. Not only the tracks employees were stunned, but the news had sent shocks waves throughout all concerned, including the tracks contracted trainers, the dog owners and even its regular racegoers who had not been given the chance to say goodbye. Who would have thought it that the night before, when Redders Senorita passed the post in front, would be the last greyhound to win a race at Catford.
Sadly, Catford Greyhound Stadium had become another statistic on the developers list of Greyhound Stadiums purchases, and yet within months, vandals had wrecked the place, even a suspicious fire had gutted the main stand. All these sour events, even before the bulldozers had been given their chance to move in a year later. For a number of years following, the site remained nothing more than a gathering for weed infesting and piles of rubble, but what did remain up until recently was the main entrance gates, but sadly they went too, disappearing after construction of 595 new houses had begun in 2014.
A photograph or memorabilia for this track is required for this page, if you can help please contact me.