Bell Weir Park, Off Wraysbury Road, Staines, Middlesex.
POSTCODE———————————-TW19 6HA
LOCATED————————————About two miles north east of Staines town centre located just off the B376 west of junction 13 of the M25.
ORIGINAL SITE—————————–Grazing land known as adjacent to the River Nook.
DATE CONSTRUCTED——————–1927-28.
DATE VENUE OPENED——————-January 1928.
Meaning other sports may have taken place prior to the arrival of Greyhound Racing.
FIRST MEETING—————————–January 21st 1928.
Greyhound Racing only.
LICENSED OR INDEPENDENT———-Independent
All venues covered would have to be licensed with the government, licensed suggested in this section would refer to tracks operating under NGRC Rules.
INSIDE OR OUTSIDE HARE TYPE——An trackless McWhirter sledge was used for a long period as a lure.
Please note that the Electric Hare suggested is only a guidance, and would have been in operation for a certain amount of time at this venue. Although it is not necessarily guaranteed that it was operational all the time, as other types of lure may have been used and updated as time progressed.
DISTANCES———————————–525 yards.
Please note that most racing venues distances had become varied throughout the years, the ones given above were at once point set and offers only a guidance to the track size.
CIRCUMFERENCE—————————Dont know.
Please note that alterations at most racing venues throughout its existence would see that the circumference of the track would vary, the one shown above offers only a guidance to the track size.
BIG RACE NAMES—————————Nothing known of.
STADIUM SHARED WITH——————Stock Car Racing between 1955 and 1960. Speedway 1938-39.
LAST MEETING——————————-Early 1960s – one unconfirmed source reports still racing in February 1961
Greyhound Racing only.
STADIUM CLOSURE DATE—————-June 1960 for a Stock Car meeting.
Meaning other sports may have taken place after Greyhound Racing had ceased.
STADIUM DEMOLITION——————-1965
BUILT ON SITE——————————-A large pond east of Ferry Lane covers part of the site but the rest lies beneath the M25.
In some cases, structure's that originally covered the venue after the stadium had been demolished, may have been themselves demolished too, so the one described is more likely to be the one which now presently covers the site.
EVIDENCE LEFT TODAY——————-Nothing known as the construction of the M25 removed anything of interest. The old clubhouse still exists, although it lies a few miles away just off Hummer Road in Egham acting as the Egham and Staines Model Railway Clubs Headquarters.
FURTHER COMMENTS——————–This Is Your Life presenter Eamonn Andrews used to commentate Stock Car Racing there during the late 1950's.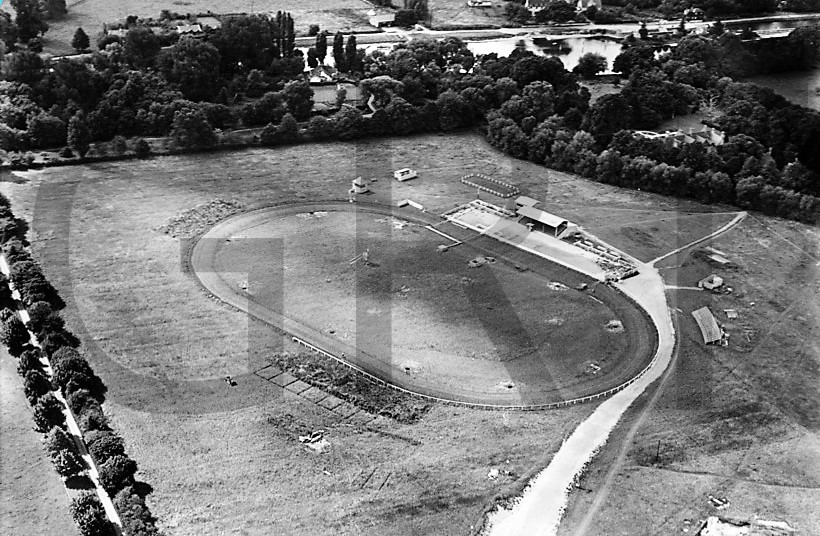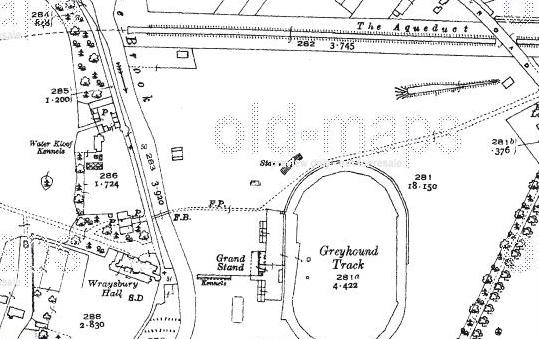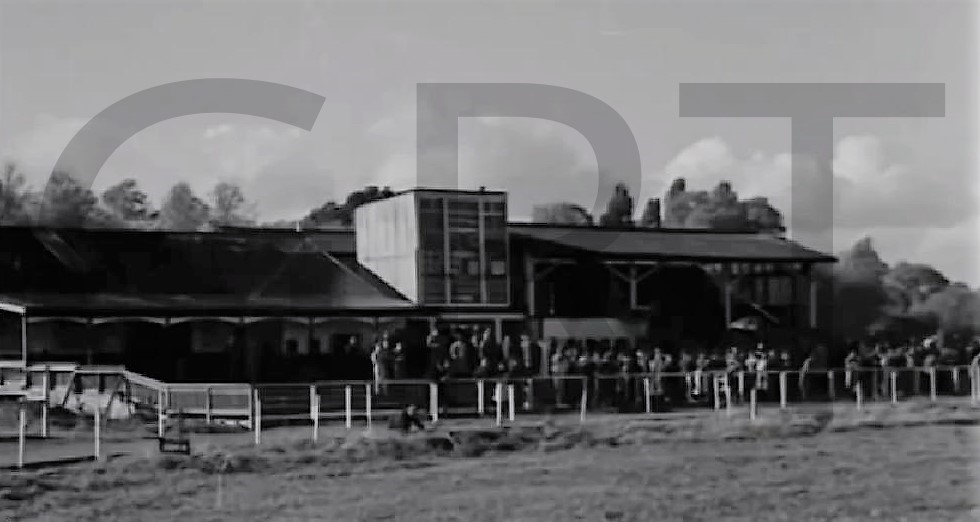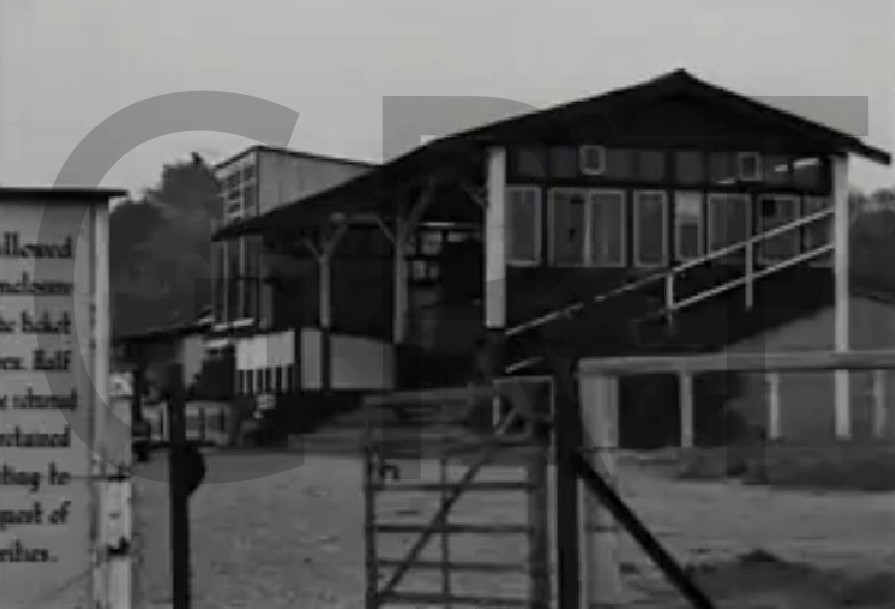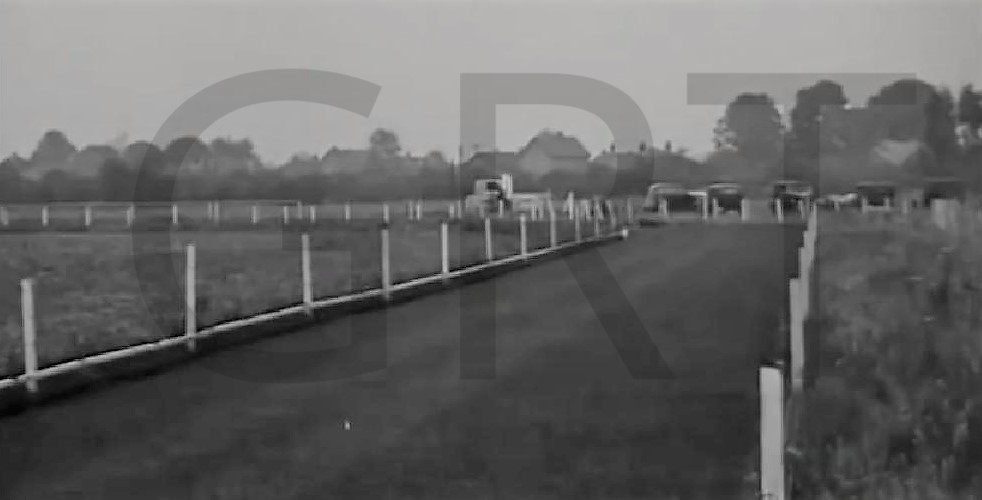 Bell Weir Park would not mean a thing to most greyhound enthusiasts today, but it happened to be the original name of the Staines Greyhound Stadium which opened in 1928. The Surrey town of Staines, although once classed in the county of Middlesex before boundary changes, just lies within the borders of the M25 circular, roughly 17 miles south west of the city of London.
The Staines Greyhound Stadium itself was situated off Wraysbury Road, roughly two miles northeast of Staines town centre, close by to were junction 13 lies on the M25 motorway. The tracks' exact location today, would lie about one hundred yards East of Clarendon Service Apartments which are situated on Ferry Lane. The Greyhound Stadium was built on grazing land during 1927, roughly 200 yards North of the River Thames, set along the side of The Nook, a tributary which feeds the Thames.
Opening up as an independent flapping track, Bell Weir Park staged its first greyhound meeting on the 21st of January 1928. It ran six dog races over distances of 525 yards, with the greyhounds chasing an outside McWhirter trackless sledge type hare. The stadium added itself to the list of multi-sports venues, when Speedway Racing featured during 1938, albeit without success, lasting for just two seasons only. Midget Car Racing arrived for a brief spell in 1947, but it was Stock Cars who became more of an attraction, featuring almost as regularly as greyhound racing during the late 1950's. Yet it was during Stock Car meetings at Staines that a certain young man called Eamonn Andrews firstly came to the public's attention. More known for presenting television's "This Is Your Life", he learnt his trade on the stadiums public address system commentating events.
The stadium also played a part as a location in handful of feature films such as the 1955 film "Stock Cars", starring Paul Carpenter, and also the 1964 film "Séance On A Wet Afternoon", starring David Attenborough. On the 17th of June 1960, Stock Car Racing featured for the very last time but it is not possible to pinpoint the exact date for the Greyhound Racing closure.
After efforts had failed to reopen the stadium for Greyhound Racing once more, but eventually the site became stripped of anything useful. It was during 1965 that all outbuildings became demolished, and the site left abandoned only for nature to take its course. The site remained untouched up until the early 1970's, when even track side lamps standards still lay visible, even though heavily corroded.
It was during this period that the site totally disappeared beneath the construction of the M25 motorway, with the surrounding land also changing, with a man-made lake developing on its Western fringe just off Ferry Lane. Nothing remains of the stadium site today, although a dirt track lying adjacent west of the lake seems to divert itself to where the rear of the main stand once lay. But more surprisingly is that the stadiums clubhouse still does exist, although not on the original site, it does act as the headquarters to The Egham And Staines Model Railway Club, situated on Hummer Road in Egham. The building had been purchased for £25 in 1965, by the Model Railway Clubs chairman, before being transported section by section to its present-day site.
Memorabilia for this track is required for this page, if you can help please contact me.