Garret Lane, Wandsworth, Greater London.
POSTCODE———————————-SW18 4AU
LOCATED————————————One mile south of the old Wimbledon Stadium.
ORIGINAL SITE—————————–Unoccupied land.
DATE CONSTRUCTED——————–1933
DATE VENUE OPENED——————-1933
Meaning other sports may have taken place prior to the arrival of Greyhound Racing.
FIRST MEETING—————————–April 15th 1933.
Greyhound Racing only.
LICENSED OR INDEPENDENT———-NGRC.
All venues covered would have to be licensed with the government, licensed suggested in this section would refer to tracks operating under NGRC Rules.
INSIDE OR OUTSIDE HARE TYPE——Outside Sumner.
Please note that the Electric Hare suggested is only a guidance, and would have been in operation for a certain amount of time at this venue. Although it is not necessarily guaranteed that it was operational all the time, as other types of lure may have been used and updated as time progressed.
DISTANCES———————————–440 and 650 yards.
Please note that most racing venues distances had become varied throughout the years, the ones given above were at once point set and offers only a guidance to the track size.
CIRCUMFERENCE—————————383 yards.
Please note that alterations at most racing venues throughout its existence would see that the circumference of the track would vary, the one shown above offers only a guidance to the track size.
BIG RACE NAMES—————————The Olympic.and The Cloth of Gold.
STADIUM SHARED WITH——————Professional Boxing Bouts now and again.
LAST MEETING——————————-June 4th 1966.
Greyhound Racing only.
STADIUM CLOSURE DATE—————-June 1966.
Meaning other sports may have taken place after Greyhound Racing had ceased.
STADIUM DEMOLITION——————-Late 1960's.
BUILT ON SITE——————————-Arndale Shopping Centre, Wandsworth and a Multi-Storey car park on Mapleon Crescent.
In some cases, structure's that originally covered the venue after the stadium had been demolished, may have been themselves demolished too, so the one described is more likely to be the one which now presently covers the site.
EVIDENCE LEFT TODAY——————-Nothing known of.
FURTHER COMMENTS——————–None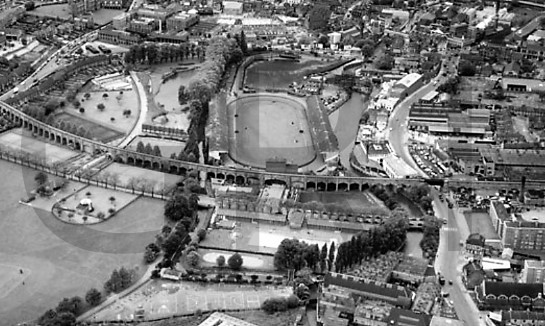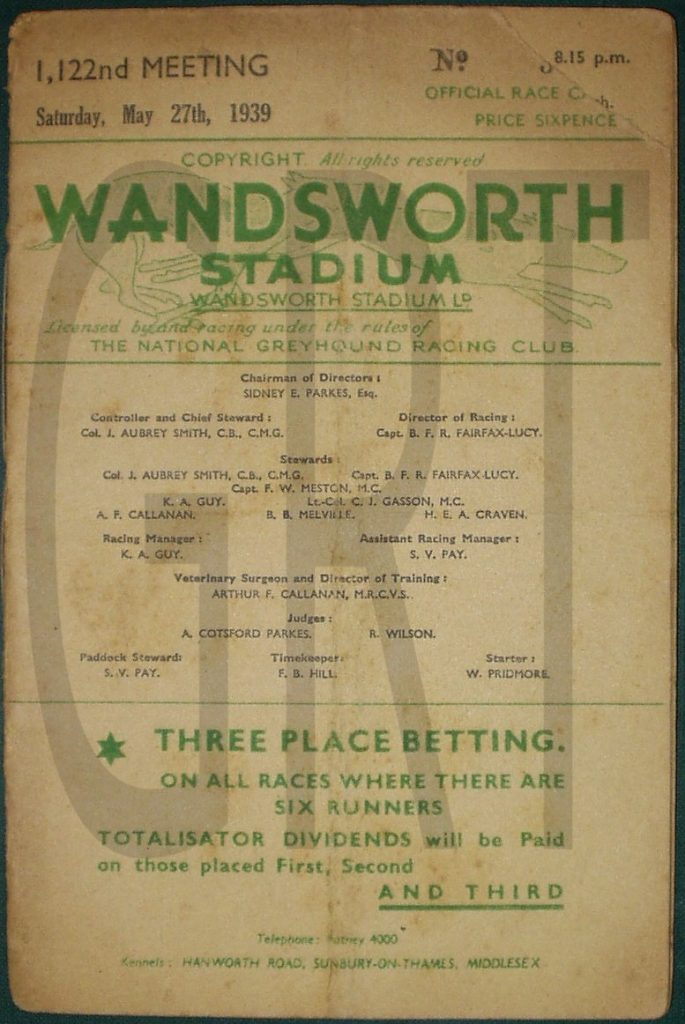 Another of South London's popular greyhound tracks was the one at Wandsworth, situated roughly one mile south of the now closed Wimbledon Stadium. Construction of the Wandsworth track began in 1933, with plans in place for the erection of two covered 7,000 all seater stands, which when finished would give excellent viewing of both finishing and back straights. It also consisted of banked terracing which overlooked each bend, an addition that would boost the stadium's crowd capacity to around 20,000, not only that but would also boost the total cost of building the stadium to an estimated £100,000.
The whole project had been funded by the London Stadiums Limited, a company who also had funded the Charlton and Park Royal tracks in London, and whose new ventures had created vast number of jobs, which had been very much welcomed in an area that was suffering badly during the great depression of the 1930's.
Its opening meeting came on Easter Saturday April 15th 1933 with events being staged under NGRC rules, around a track that had a 383-yard circumference, which created distances of 440 and 650 yards with the hounds contesting behind an outside Sumner type hare system. In 1934 a further investment witnessed a brand-new totalisator system being installed. The stadium also became host to another sport with international boxing taking place during the 1930's. One unusual feature linked with Wandsworth greyhound track was the transportation of racing greyhounds to and from the track. Due to no kennels ever having been built at the track, a Schammel mechanical horse was used to tow a trailer which could house as many as 56 greyhounds, backwards and forward from kennels based eleven miles away in Sunbury on Thames.
Wandsworth like most tracks in London experienced the boom time of the 1930's, 40's and 50's, but by 1961 the rot had begun to set in after the introduction of new governments legislation, which saw the introduction of bookmakers' shops on Britain's high streets. Yet Wandsworth responded better than most tracks, by reducing their outlays and reverting to just operating one meeting per week, a Saturday evening meeting, which meant only 32 races were run per month, and albeit the track could proudly say that it still made a profit. But eventually the financial side of things brought Wandsworth to an end after an offer of £675,000 had been accepted by the London stadiums company to sell the site.
Wandsworth ran its final meeting on the 4th of June 1966 seeing a greyhound called "There's Robin" win the final event over the 650-yard trip, a win which became the dogs 37th win out of 108 outings, all at Wandsworth. Its main attraction was the Cloth Of Gold event which became later transferred back to the Charlton track after its closure, and also the Olympic which is still run today at the Hove track in Sussex.
Any evidence of the Wandsworth track disappeared like most greyhound tracks, with the south side of the stadium being covered by an Arndale Shopping Centre that was opened in 1971, and a multi storey car park just of Mapleton Crescent covering the rest.
A photograph or memorabilia for this track is required for this page, if you can help please contact me.