South Yorkshire Sports Stadium, Station Road, Low Valley, Wombwell, Nr Barnsley, South Yorkshire.
POSTCODE—————————-———S73 8AG
LOCATED—————————————Five miles east of Barnsley, the venue situated half a mile north east of Wombwell town centre.
ORIGINAL SITE——————————–Farm grazing land.
DATE CONSTRUCTED———————–1928
DATE VENUE OPENED———————1928
Meaning other sports may have taken place prior to the arrival of Greyhound Racing.
FIRST MEETING——————————April 21st 1928, although a demonstration meeting had been staged the week before on April 14th.
Greyhound Racing only.
LICENSED OR INDEPENDENT————Independent
All venues covered would have to be be licensed with the government, licensed suggested in this section would refere to tracks operating under NGRC Rules.
INSIDE OR OUTSIDE HARE TYPE——–Inside Sumner.
Please note that the Electric Hare suggested is only a guidance and would have been in operation for a certain amount of time at this venue. Although it is not necessarily guaranteed that it was operational all the time, as other types of lure may have been used and updated as time progressed.
DISTANCES————————————360 and 525 yards.
Please note that most racing venues distances had become varied throughout the years, the ones given above were at once point set and offers only a guidence to the track size.
CIRCUMFERENCE—————————-Dont know
Please note that alterations at most racing venues throughout its existence would see that the circumference of the track would vary, the one shown above offers only a guidance to the track size.
BIG RACE NAMES—————————-Pitman's Derby.
STADIUM SHARED WITH——————Speedway and Stock Car Racing.
LAST MEETING——————————-August 1955.
Greyhound Racing only.
STADIUM CLOSURE DATE—————-1965
Meaning other sports may have taken place after Greyhound Racing had ceased.
STADIUM DEMOLITION——————–Late 1960's.
BUILT ON SITE——————————–Units built on Low Valley Road Industrial Estate, just off Valley Road.
In some cases, structure's that originally covered the venue after the stadium had been demolished, may have been themselves demolished too, so the one described is more likely to be the one which now presently covers the site.
EVIDENCE LEFT TODAY——————–Possibly a perimeter wall, but this is yet to be confirmed.
FURTHER COMMENTS——-————–The first UK venue to stage women's Stock Car Racing.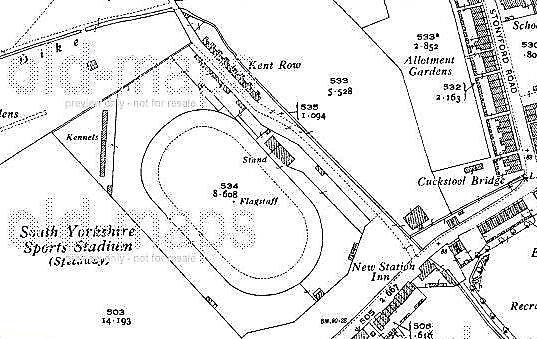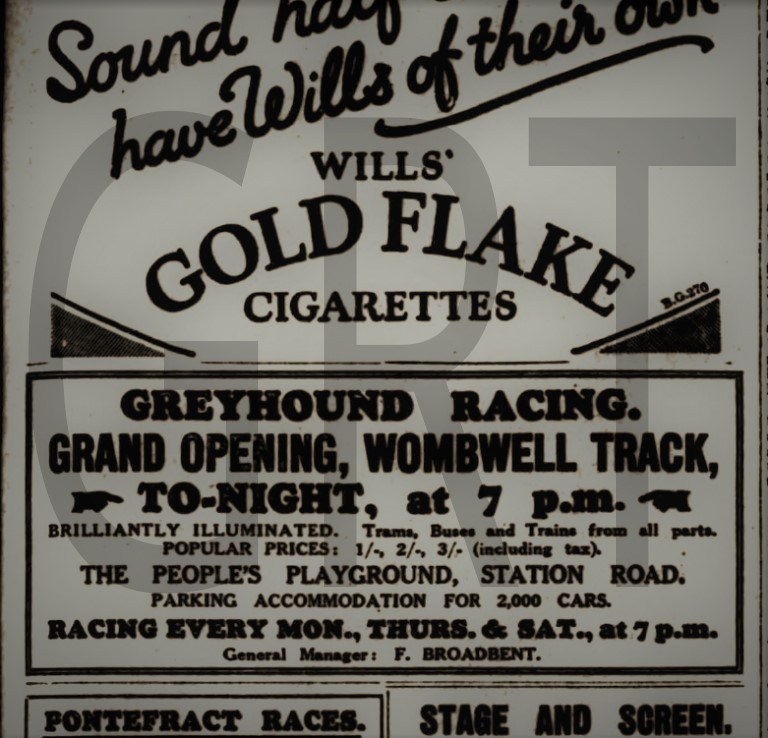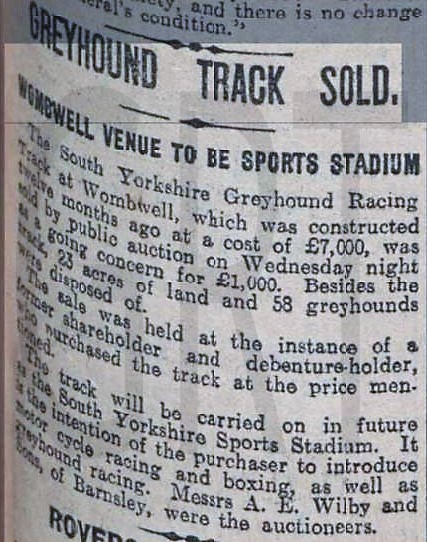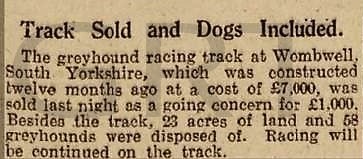 The South Yorkshire town of Wombwell, lies roughly five miles south east of Barnsley, and becomes another addition to the list of towns that once hosted two greyhound tracks. The one described in this section was known as The South Yorkshire Stadium, and became the first one to begin operations in the town, and also the first of the two venues to close.
The South Yorkshire Stadium was situated on Station Road about half a mile northeast of Wombwell town centre. It was during the early months of 1928 that a primitive greyhound track was laid out across grazing land that lay directly opposite The New Station Inn. By the time the venue was ready to stage its first meeting, £7,000 had been spent on installation of the relevant equipment required, and also the purchase of a good number of greyhounds that had been acquired to fill the track-based kennels. Although a demonstration meeting had been staged on the 14th of April 1928, its official opening meeting was staged a week later, with the following June hosting another sport, that of Grass Track Motorcycle Racing.
Yet within twelve months of its opening, the future of greyhound racing at the stadium looked very bleak indeed, after the new owners who incidentally had no plans for the continuation of greyhound racing, purchased the stadium for just one thousand pounds. This purchase was soon followed by the removal of all fixtures and fittings associated with greyhound racing, with all relevant equipment along with what was left of the kennelled greyhounds all being put up for auction in April 1929. Grass Track Racing had been their sole interest, a sport that would continue up until 1931.
Speedway Racing returned in 1947, but surprisingly the sport failed miserably with its brief appearance lasting for just one season. Stock Car Racing became another motor sport that would feature, firstly arriving in 1954, this venture again lasting for just one season only, although it could boast that it hosted the first ever women's Stock Car event in Britain.
Although Greyhound Racing did return during the 1930's, its last appearance came during August 1955, the reason for closure was that government taxation on tote betting had totally overwhelmed the profits made through the turnstiles. The venue continued to host sporting events, but it was mainly just minor motor sports gatherings. In 1964 Speedway returned, but only for practicing and training sessions, but again the sport had gone by the following year. By 1967 the track lay idle and remained derelict until it was stripped of anything useful during 1968.
The site later became covered by industrial units, who's cluster of buildings later became known as The Low Valley Road Industrial Estate, an area now found just off Valley Road. As for today no remnants of the stadium remains, although there is yet to prove that there may be an existing perimeter wall lying on the southern outskirts of the industrial estate.