Coatbridge Greyhound and Sports Stadium, Ellis Street, Coatbridge, North Lanarkshire.
POSTCODE———————————-ML5 3AP
LOCATED————————————The town of Coatbridge is located about ten miles east of Glasgow, with the track situated less than half a mile south west of Coatbridge Town centre.
ORIGINAL SITE—————————–Derelict land known as Langloan Junction once covered by The North British Ironworks that closed in 1927.
DATE CONSTRUCTED——————–Late 1940's.
DATE VENUE OPENED——————-December 1949.
Meaning other sports may have taken place prior to the arrival of Greyhound Racing.
FIRST MEETING—————————–December 23rd 1949.
Greyhound Racing only.
LICENSED OR INDEPENDENT———-Early years NGRC before going independent.
All venues covered would have to be licensed with the government, licensed suggested in this section would refer to tracks operating under NGRC Rules.
INSIDE OR OUTSIDE HARE TYPE——Outside McKee.
Please note that the Electric Hare suggested is only a guidance and would have been in operation for a certain amount of time at this venue. Although it is not necessarily guaranteed that it was operational all the time, as other types of lure may have been used and updated as time progressed.
DISTANCES———————————–310 and 500 yards.
Please note that most racing venues distances had become varied throughout the years, the ones given above were at once point set and offers only a guidance to the track size.
CIRCUMFERENCE—————————440 yards
Please note that alterations at most racing venues throughout its existence would see that the circumference of the track would vary, the one shown above offers only a guidance to the track size.
BIG RACE NAMES—————————Nothing known of.
STADIUM SHARED WITH——————Nothing known of.
LAST MEETING——————————-July 31st 1970.
Greyhound Racing only.
STADIUM CLOSURE DATE—————-Around 1971.
Meaning other sports may have taken place after Greyhound Racing had ceased.
STADIUM DEMOLITION——————-Early 1970's.
BUILT ON SITE——————————-Coatbridge Health Centre and its car park and an overflow car park belonging to Asda.
In some cases, structure's that originally covered the venue after the stadium had been demolished, may have been themselves demolished too, so the one described is more likely to be the one which now presently covers the site.
EVIDENCE LEFT TODAY——————-Nothing known of.
FURTHER COMMENTS———————None.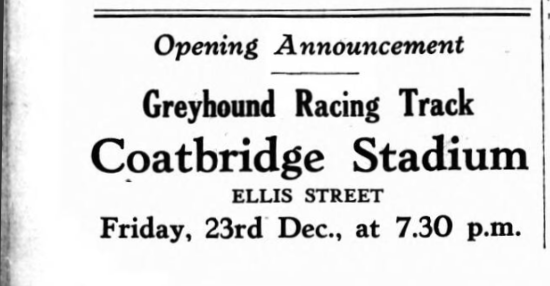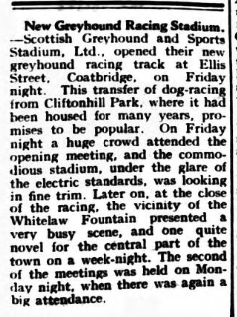 Ten miles east of Glasgow lies the North Lanarkshire town of Coatbridge. The town can boast it once hosted Greyhound Racing at two different venues, with the more familiar flapping track at Cliftonhill, the home of Albion Rovers Football Club, and the lesser known venue, which is described in this chapter, The Coatbridge Sports Stadium.
Coatbridge Sports Stadium was located on Ellis Street, half a mile west of Coatbridge town centre, and had developed on the site of an old iron works which ceased operations in 1927. The site had been left idle for a number of years after the works had been demolished, before the stadium began to take shape during the late 1940's. It was located next door to a gathering of railway lines known as Langloan Junction and must not be confused with the old football ground located 100 yards away to the east, with the Dundyvan Branch Canal separating both venues.
December 23rd 1949 witnessed the opening of this new independent venue, the circuit had a circumference of 440 yards which created distances of 310 and 500 yards and offered six dog race events with the hounds chasing an outside McKee type hare.
During the 1960's undersoil heating was installed to help reduce the number of meetings lost due to the grass circuit freezing over during winter. The venue eventually closed on July 31st 1970, before being demolished a few years later to make way for the Coatbridge Health Centre and its car park, along with an overflow car park that serves the local ASDA. Just to help in pinpointing its once location, the entrance to the stadium lay at the southern end of Ellis Street.
A programme, photograph or even memorabilia for this track is required for this page, if you can help please contact me.