Craighead, Springwell, Blantyre, Glasgow.
POSTCODE———————————-G72 0NJ
LOCATED————————————About two miles north west of Hamilton Railway Station, just of the A725 express way and north of the A724 and about half a mile east of Blantyre town centre.
ORIGINAL SITE—————————–A sporting venue mainly used for amateur football.
DATE CONSTRUCTED——————–1933
DATE VENUE OPENED——————-1933
Meaning other sports may have taken place prior to the arrival of Greyhound Racing.
FIRST MEETING—————————–October 6th 1933.
Greyhound Racing only.
LICENSED OR INDEPENDENT———-Independent.
All venues covered would have to be licensed with the government, licensed suggested in this section would refer to tracks operating under NGRC Rules.
INSIDE OR OUTSIDE HARE TYPE——Inside Sumner.
Please note that the Electric Hare suggested is only a guidance and would have been in operation for a certain amount of time at this venue. Although it is not necessarily guaranteed that it was operational all the time, as other types of lure may have been used and updated as time progressed.
DISTANCES———————————–300 and 500 yards.
Please note that most racing venues distances had become varied throughout the years, the ones given above were at once point set and offers only a guidance to the track size.
CIRCUMFERENCE—————————Approximately 400 yards.
Please note that alterations at most racing venues throughout its existence would see that the circumference of the track would vary, the one shown above offers only a guidance to the track size.
BIG RACE NAMES—————————-None known of.
STADIUM SHARED WITH——————Glasgow Tigers Speedway between 1977 and October 1981.
LAST MEETING——————————-April 22nd 1982.
Greyhound Racing only.
STADIUM CLOSURE DATE—————-April 1982.
Meaning other sports may have taken place after Greyhound Racing had ceased.
STADIUM DEMOLITION——————-1982
BUILT ON SITE——————————-A slip road of the A725 Northbound Expressway.
In some cases, structure's that originally covered the venue after the stadium had been demolished, may have been themselves demolished too, so the one described is more likely to be the one which now presently covers the site.
EVIDENCE LEFT TODAY——————-Nothing known of.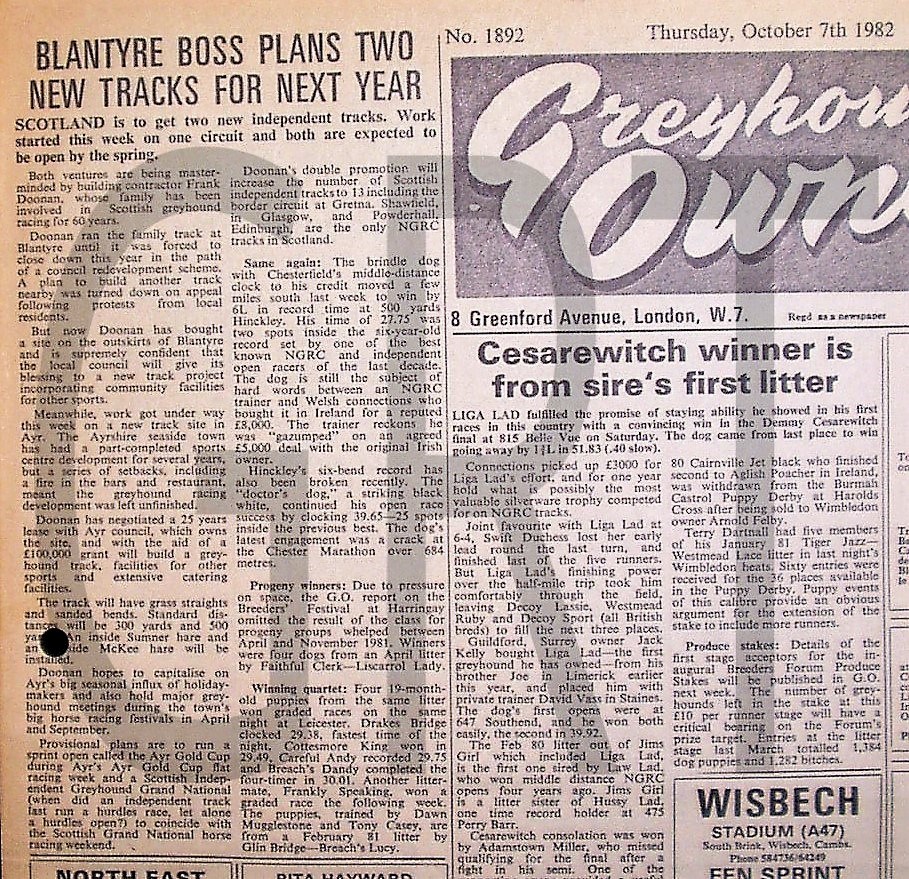 Blantyre is a parish located in South Lanarkshire, found just north of Hamilton, and ten miles south of Glasgow city centre. The parish became host to greyhound racing, with its venue located about half a mile east of Blantyre town centre, hemmed in by a curved railway line. But before Greyhound Racing was first introduced, the site had been used as a football pitch, and was known locally as Craighead Rows, and had begun to develop just after the turn of the twentieth century.
During the First World War the grounds had seen very little sporting use, but the years following had witnessed amateur football, with Blantyre Celtic hosting matches there, along with Boxing Bouts and Whippet Racing. During the Summer of 1933 the Craighead Park football ground became remodelled to accommodate a greyhound track, seeing it laid around the perimeter of the playing pitch. Its egg-shaped circuit had a circumference of just over 400 yards, which created racing distances over 300 and 500 yards, and was lit during evening meetings by the football clubs pylons. The venue also had a kennelling area, with enough shelter to accommodate 75 greyhounds, and had a reasonably sized covered stand which lay behind the southern bend, and another covered stand that stretched the whole length of the western side of the track.
Opening up as a flapping track, Blantyre staged its first meeting on the 6th of October 1933. But in 1965 extensive renovations were made to modernise the original track, shaping it in to the more recognised oval greyhound track that we know of. Craighead Park also became host to motor sports, when in 1977 Speedway made its first appearance of many, during a spell that would last until October 1981. But it was during this period that the future of the track looked in doubt, after publications of a new road development scheme had been issued by the council, which would show that a new bypass would be laid directly over the tracks boundaries.
Sadly, these publications became fact, and soon the stadium had been sold under the council's compulsory purchasing order, which in turn saw Blantyre's last greyhound meeting being staged on the 22nd of April 1982. Demolition of the stadium took place shortly afterwards, with the construction of the A725 Expressway North bound slip road beginning to cover the site. Today sees no evidence of the venue remaining, as the whole surrounding area has become totally redeveloped.
A programme, photograph or even memorabilia for this track is required for this page, if you can help please contact me.