The Trotting Stadium, Muiralehouse Road, Corbiewood, Bannockburn, Stirlingshire.
POSTCODE———————————-FK7 8AB
LOCATED————————————Just of the A872, half a mile north west of junction 9 on the M80, about three miles south east of Stirling.
ORIGINAL SITE—————————–A wooded area called Corbie Wood, a cluster of tress that had grown over abandoned mineshafts.
DATE CONSTRUCTED——————–1969 as a Speedway circuit.
DATE VENUE OPENED——————-1973 for Harness Racing.
Meaning other sports may have taken place prior to the arrival of Greyhound Racing.
FIRST MEETING—————————–September 1st, 1984.
Greyhound Racing only.
LICENSED OR INDEPENDENT———-Independent
All venues covered would have to be licensed with the government, licensed suggested in this section would refer to tracks operating under NGRC Rules.
INSIDE OR OUTSIDE HARE TYPE——Inside
Please note that the Electric Hare suggested is only a guidance and would have been in operation for a certain amount of time at this venue. Although it is not necessarily guaranteed that it was operational all the time, as other types of lure may have been used and updated as time progressed.
DISTANCES———————————–120, 300, 340, 500, 550 and 830 yards.
Please note that most racing venues distances had become varied throughout the years, the ones given above were at once point set and offers only a guidance to the track size.
CIRCUMFERENCE—————————Dont know
Please note that alterations at most racing venues throughout its existence would see that the circumference of the track would vary, the one shown above offers only a guidance to the track size.
BIG RACE NAMES—————————Nothing known of.
STADIUM SHARED WITH——————Harness Racing.
LAST MEETING——————————-April 27th 2010.
Greyhound Racing only.
STADIUM CLOSURE DATE—————-Not sure that it is still a Harness Racing venue.
Meaning other sports may have taken place after Greyhound Racing had ceased.
STADIUM DEMOLITION——————-N/A
BUILT ON SITE——————————-N/A
In some cases, structure's that originally covered the venue after the stadium had been demolished, may have been themselves demolished too, so the one described is more likely to be the one which now presently covers the site.
EVIDENCE LEFT TODAY——————-The stadium and its outbuildings still remain, along with the trotting circuit. Any evidence of the greyhound track is the disturbed earth found within the trotting circuit and even the track side lighting has now been removed.
FURTHER COMMENTS——————–None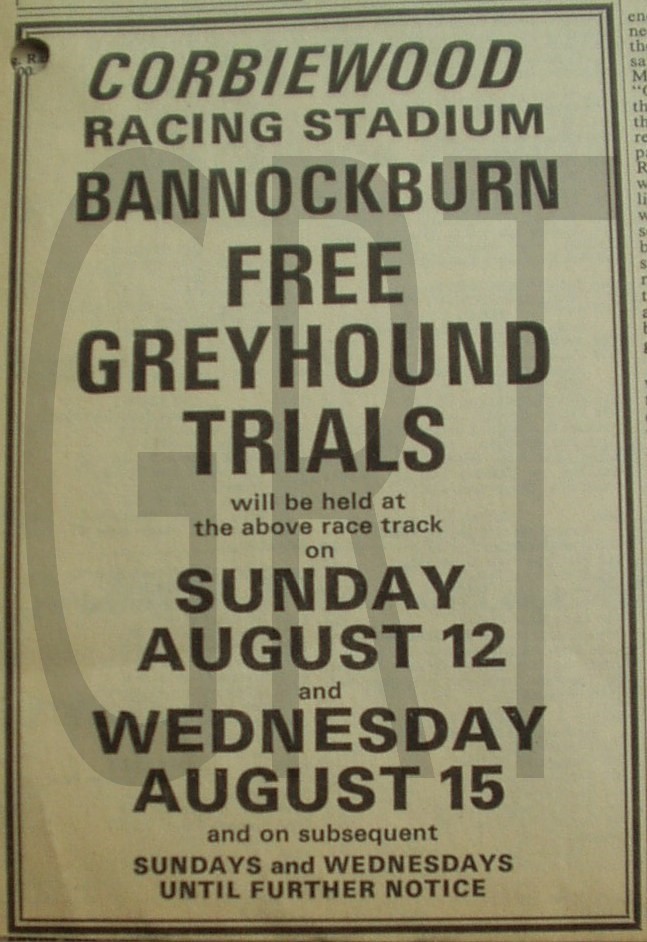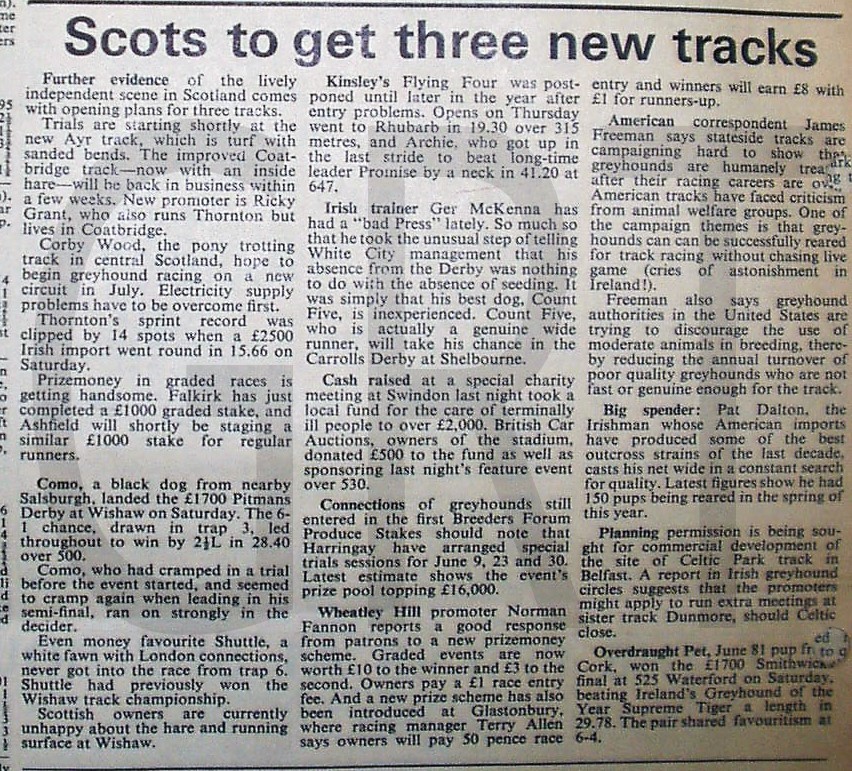 The Scottish town of Bannockburn is more famous in history books as a battle ground used by the Scots and the English to sort things out, but in more recent times it has been the host to another contest, that of Greyhound Racing.
Known as Corbiewood Greyhound Stadium, it remains located in the middle of some vast acres of farmland, just about visible from the A872 main road, situated approximately one mile north of junction 9 of the M80. The original site had been a densely wooded area known as, not surprisingly Corbie Wood, with the trees taking root amongst a number of disused mine shafts that had been abandoned many years previous. But it was in 1969 that the area became cleared and levelled to create a Speedway training track for enthusiasts.
More sporting activities took place in 1973 when Harness Racing featured, but it would take another four years before a greyhound track would develop within the boundaries of the trotting circuit. An inside Sumner type hare system was installed with an all sanded track being laid that seemed spacious enough to sustain six dog racing. But the failure to attract enough greyhound prevented Corbiewood getting started and business remained as a track for just trialling and schooling only. It would take a few more years before a more successful approach happened, after new promoters successfully gained a license to begin Greyhound Racing in 1983. An illness amongst one of its promoters delayed its opening, but eventually Corbiewood did get its chance to add its name to the list of greyhound tracks, with its opening meeting arriving during September 1984.
Firstly sprints were run over 330 yards, while the four bend dogs faced a stiff 550 yards trip, before further trips were calibrated at 120, 300, 340, 500, 550 and 830 yards. Troubled times during 1985 had seen the track being managed by three different promoters, the financial strain that the track was under forced its third management team to close the venue. The tracks problems stemmed from its remote location, in an area that could not attract enough greyhounds to fill the card, along with bookmakers who had become reluctant to stand after suffering early heavy losses.
New promoters give the track another chance two years later, they invested heavily, yet this time efforts were rewarded, seeing more entrants filling the card on a more regular basis. Corbiewood continued to soldier on, just like other tracks with its ups and down but twenty years later, the decline of greyhound racing was beginning to be felt even more at the track. Its struggle was not only due to the scarcity of greyhounds, but also the declining numbers of bookmakers and punters as well, which all contributed to the track staging its final meeting on the 27th of April 2010. Although it was used for a short while after, for schooling, eventually all links with greyhound racing ceased.
Fortunately, the venue is still there, its presence being not much different to the days of Greyhound Racing, with the track itself still intact, although decaying with neglect, it rests peacefully along the side of the Trotting circuit, which is still in operation today.
A programme, photograph or even memorabilia for this track is required for this page, if you can help please contact me.