Redheugh Park, Ropery Road, Gateshead, Tyne & Wear.
POSTCODE———————————-NE8 2HD
LOCATED————————————About one and a half miles east of Gateshead Metro Centre, heading north east on the A184. The site lies along Ropery Road which is off the A1114 Derwentwater Road.
ORIGINAL SITE—————————–Clay Pit.
DATE CONSTRUCTED——————–1930
DATE VENUE OPENED——————-1930 for football.
Meaning other sports may have taken place prior to the arrival of Greyhound Racing.
FIRST MEETING—————————–November 23rd 1937.
Greyhound Racing only.
LICENSED OR INDEPENDENT———-NGRC.
All venues covered would have to be licensed with the government, licensed suggested in this section would refer to tracks operating under NGRC Rules.
INSIDE OR OUTSIDE HARE TYPE——Inside Sumner.
Please note that the Electric Hare suggested is only a guidance and would have been in operation for a certain amount of time at this venue. Although it is not necessarily guaranteed that it was operational all the time, as other types of lure may have been used and updated as time progressed.
DISTANCES———————————–440 and 600 yards.
Please note that most racing venues distances had become varied throughout the years, the ones given above were at once point set and offers only a guidance to the track size.
CIRCUMFERENCE—————————370 yards.
Please note that alterations at most racing venues throughout its existence would see that the circumference of the track would vary, the one shown above offers only a guidance to the track size.
BIG RACE NAMES—————————Nothing known of.
STADIUM SHARED WITH——————Gateshead Football Club.
LAST MEETING——————————-January 27th 1966.
Greyhound Racing only.
STADIUM CLOSURE DATE—————-1972
Meaning other sports may have taken place after Greyhound Racing had ceased.
STADIUM DEMOLITION——————-Mid 1970's.
BUILT ON SITE——————————–Five a side football pitches now owned by the Power League Sports Group.
In some cases, structure's that originally covered the venue after the stadium had been demolished, may have been themselves demolished too, so the one described is more likely to be the one which now presently covers the site.
EVIDENCE LEFT TODAY——————-Nothing known of.
FURTHER COMMENTS——————–Gateshead was sister track to Gosforth.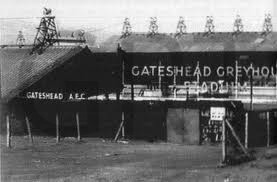 Redheugh Park Greyhound Stadium in Gateshead was constructed in 1930 on the site of an old clay pit, built to a standard that one day it might host league football. Its main stand had been transported from the old Harraby Park Greyhound Stadium in Carlisle, which had ceased operations during 1929. It was to become the home of the newly reformed South Shields Football Club, a club who had found themselves in financial difficulties, having been forced out of their original home, incidentally also a greyhound stadium, at Horsley Hill twelve miles away.
Luckily enough it was Gateshead Council who had become their saviour, as they had become very sympathetic towards the football club, offering them a new venue at a time which would see South Shields change their name to Gateshead AFC. Their first ever league match was against Doncaster Rovers on the 30th of August 1930, in front of an impressive 15,000 plus crowd. By the end of the 1936-37 season, financial troubles within the football club, had seen negotiations taking place with a greyhound company to stage racing at the venue.
During the Summer of 1937 work began remodelling Redheugh Park, firstly by narrowing the playing surface to compensate for the greyhound track, then sections of the terracing behind each goal were removed to take make way for the tracks bends. Another significant change came when the main stand was extended to overshadow the whole length of the start and finish straight. Before Greyhound Racing began, Redheugh Park witnessed its record attendance on the 25th of September 1937, when 20,752 fans packed the stadium, to watch a top of the table clash against Lincoln City. Yet within two months of this occasion, Redheugh Park staged Greyhound Racing for the first time on the 23rd of November 1937, with over 8,000 racegoers witnessing Lovely Lucerne win a 450 yard event.
The Gateshead venue had become the sister track to the Gosforth Stadium, a venue found five miles further north, with both tracks now operating under the same management. Operating under NGRC rules, meetings offered five dog race events over distances of mainly 440 yards, with the Stadium owned hounds chasing an inside Sumner type hare.
The years surrounding the Second World War had seen an upturn of fortunes for the football club, yet it was the late fifties that brought difficult times once more, mainly due to dismal performances on the pitch, which accounted for home attendances to drop dramatically. The new decade of 1960 brought more bad news, as it was announced that Gateshead Football Club had lost their Football League status, after failing to obtain enough votes to be re-elected back in to the League. The football club continued its days at amateur level, but another financial blow came at the end of January 1966 when Greyhound Racing ceased.
Redheugh Park staged its final meeting on January 27th 1966. A glimmer of hope arrived in 1967, this time with the introduction of Speedway Racing, but that too became short lived, and departed as quickly as it arrived. A serious fire at the ground in 1971, saw all sporting activities halted instantly, leaving Gateshead Football Club in a position to play its home fixtures elsewhere. With the football club having virtually no income and no ground, it came as no surprise when the club folded in 1973. Sadly, Redheugh Park dwindled into a poor derelict state, and it came as no surprise when all the remaining buildings were demolished in the mid 1970's.
The site lay idle for almost twenty years, with its crumbling terracing becoming infested with weeds, before being completely levelled in 1990 to make way for a garden festival. Today, nothing remains evident of the old Redheugh Park, its site now covered by a number of synthetic five a side football pitches, who are owned by the Power League Sports Group, which are found just off Ropery Road, about one and a half miles East of Gateshead Metro Centre.
Memorabilia for this track is required for this page, if you can help please contact me.