Glastonbury Football Club, Abbey Moor Stadium, Godney Road, Glastonbury, Somerset.
POSTCODE———————————-BA6 9AF
LOCATED————————————Along Godney Road, found roughly half a mile north west of Glastonbury town centre.
ORIGINAL SITE—————————–The land was known as Common Moor, although it was normally farm grazing land, it was occasionally used for a football pitch during the 1970's.
DATE CONSTRUCTED——————–1979-80
DATE VENUE OPENED——————-June 1980
Meaning other sports may have taken place prior to the arrival of Greyhound Racing.
FIRST MEETING—————————–June 13th 1980
Greyhound Racing only.
LICENSED OR INDEPENDENT———-Independent
All venues covered would have to be licensed with the government, licensed suggested in this section would refere to tracks operating under NGRC Rules.
INSIDE OR OUTSIDE HARE TYPE——Outside Sumner.
Please note that the Electric Hare suggested is only a guidance and would have been in operation for a certain amount of time at this venue. Although it is not necessarily guaranteed that it was operational all the time, as other types of lure may have been used and updated as time progressed.
DISTANCES———————————–280, 475, 700 and 895 metres.
Please note that most racing venues distances had become varied throughout the years, the ones given above were at once point set and offers only a guidance to the track size.
CIRCUMFERENCE————————–Dont know.
Please note that alterations at most racing venues throughout its existence would see that the circumference of the track would vary, the one shown above offers only a guidance to the track size.
BIG RACE NAMES————————–The South Western Derby and South Western St Leger.
STADIUM SHARED WITH—————–Glastonbury Football Club moved in as tenants in 1982.
LAST MEETING——————————End of February 2006.
Greyhound Racing only.
STADIUM CLOSURE DATE—————N/A
Meaning other sports may have taken place after Greyhound Racing had ceased.
STADIUM DEMOLITION——————-N/A
BUILT ON SITE——————————-Nothing although the fixtures and fittings for greyhound racing has been now removed.
In some cases, structure's that originally covered the venue after the stadium had been demolished, may have been themselves demolished too, so the one described is more likely to be the one which now presently covers the site.
EVIDENCE LEFT TODAY——————-The Football stadium is still in exitence, and there is still evidence that geyhound racing took place, with disturbed earth behind each goalmouth, along with a crumbling curved brick wall.
FURTHER COMMENTS———————-It was acts of vandalism that brought greyhound racing to an end at Abbey Moor in 2006, its promoter having to pull the plug due to concerns that it might affect Glastonbury Town Football Club's future.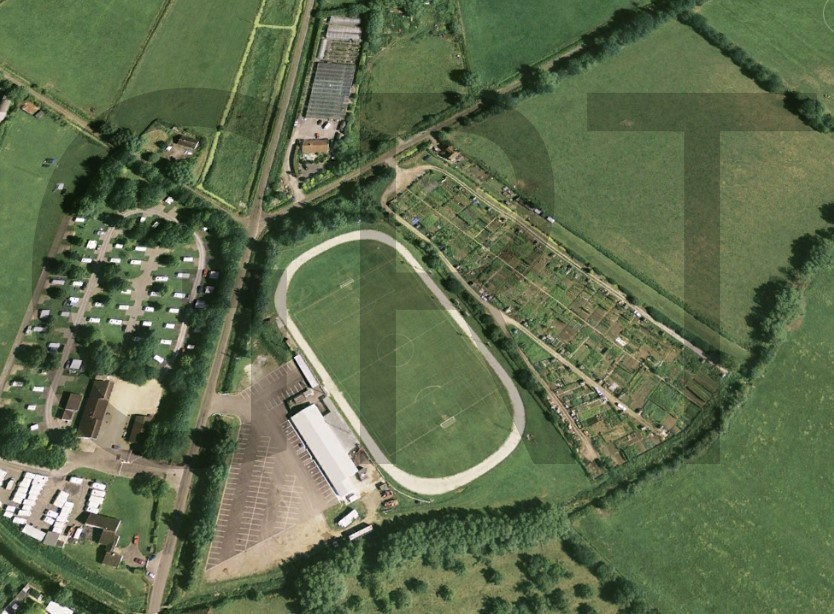 The Abbey Moor Football Stadium is situated on Godney Road, roughly half a mile northwest of Glastonbury town centre. Although recognised today as the home of Glastonbury Town Football Club, it had a period either side of the millennium of hosting Greyhound Racing. The original site had been nothing more than a grazing meadow, known as Common Moor, and had occasionally been used as a football pitch during the 1970's. But things began to develop as a Greyhound Racing venue, after a number of enthusiasts invested £30,000 installing track facilities during June 1979.
Opening up as a flapping track, it was ready to stage its opening meeting on Friday the 13th of June 1980. Events consisted of six greyhounds contesting over distances of 280, 475, 700 and 895 metres, with the hounds chasing an outside Sumner type hare. Early events had seen races run on a grassed surface, along with sanded bends, but within two years the track had become a totally all sanded affair.
In 1982 the council owned venue accepted local amateur football club Glastonbury Town as new tenants, after their old ground had been sold to developers, which created a new partnership at the venue. The Glastonbury track promoted attractive events such as The South Western power cables feeding the floodlights having been cut. Red paint had been strewn across the track, and insulting messages spray painted around the stadium. The abuse and insults had become too much for the track's promoter to take, and fearing more attacks, he reluctantly decided to halt proceedings at Abbey Moor.
On Monday the 6th of March 2006, he released a statement saying "More vandalism at the track could risk the football club's future" therefore admitted that the animal campaigners had won their battle and that there would be no more Greyhound Racing at the venue. The days of Greyhound Racing at Abbey Moor are now a distant memory, yet the stadium still continues to host amateur football. It's small, covered shelter and club house remains in good order, and even hosts a local radio station which broadcasts from a black portacabin close to the turnstiles.
My visit in April 2012 had become a little eerie, as it had been 14 years since I had last graced Abbey Moor, and it didn't take long before the memories came flooding back, and to be honest, it felt a little strange. The stadium in general hadn't changed that much, although it was quite evident the greyhound track had gone, and so had the hare driver's hut. But further inspection of the stadium, did reveal the evidence of a greyhound track that I was looking for, with settled mounds of earth now overgrown down the back straight and also behind the goalmouth, were the West side bend used to lay. But more substantial evidence was found around were the first and second bends used to be, in a crumbling curved breeze block wall that was just about standing, was good enough for me that Greyhound Racing did once exist here.