CHESTERFIELD GREYHOUND STADIUM SUMMARY
ADDRESS————————————-
Chesterfield Sports Stadium
Wheeldon Mill
Off Station Road.
Brimington Nr Chesterfield
Derbyshire.
POSTCODE———————————-S43 1LR
LOCATED————————————About one mile east of the small town of Brimington, near the Chesterfield Canal,about two and a half miles north of Chesterfield town centre.
ORIGINAL SITE—————————–Farm grazing land next to the site of the old Wheeldon Mill Colliery.
DATE CONSTRUCTED——————–1941
DATE VENUE OPENED——————-May 1941.
Meaning other sports may have taken place prior to the arrival of Greyhound Racing.
FIRST MEETING—————————–May 24th 1941. (Although temporary meetings were staged on an adjoining site during 1939 and 1940.
Greyhound Racing only.
LICENSED OR INDEPENDENT———-Mainly Independent but had a spell under NGRC during the 1980's.
All venues covered would have to be licensed with the government, licensed suggested in this section would refer to tracks operating under NGRC Rules.
INSIDE OR OUTSIDE HARE TYPE——Inside Sumner.
Please note that the Electric Hare suggested is only a guidance, and would have been in operation for a certain amount of time at this venue. Although it is not necessarily guaranteed that it was operational all the time, as other types of lure may have been used and updated as time progressed.
DISTANCES———————————–285, 500 and 700 yards.
Please note that most racing venues distances had become varied throughout the years, the ones given above were at once point set and offers only a guidance to the track size.
CIRCUMFERENCE—————————Calculated guess of 415 yards.
Please note that alterations at most racing venues throughout its existence would see that the circumference of the track would vary, the one shown above offers only a guidance to the track size.
BIG RACE NAMES—————————Chesterfield Derby.
STADIUM SHARED WITH——————Nothing known of.
LAST MEETING——————————-November 30th 2000.
Greyhound Racing only.
STADIUM CLOSURE DATE—————-November 2000.
Meaning other sports may have taken place after Greyhound Racing had ceased.
STADIUM DEMOLITION——————-The stadium lingered derelict for years not sure when it was totally demolished.
BUILT ON SITE——————————-Not sure but some construction has taken place.
In some cases, structure's that originally covered the venue after the stadium had been demolished, may have been themselves demolished too, so the one described is more likely to be the one which now presently covers the site.
EVIDENCE LEFT TODAY——————-Nothing known of.
FURTHER COMMENTS———————None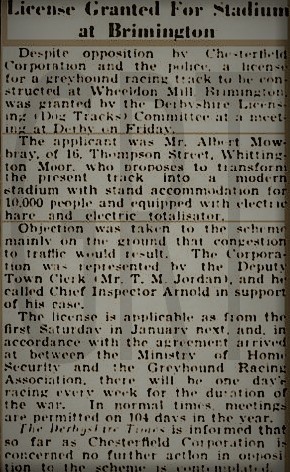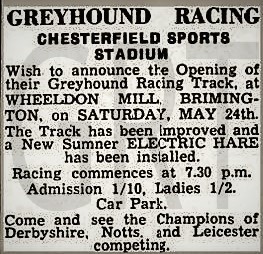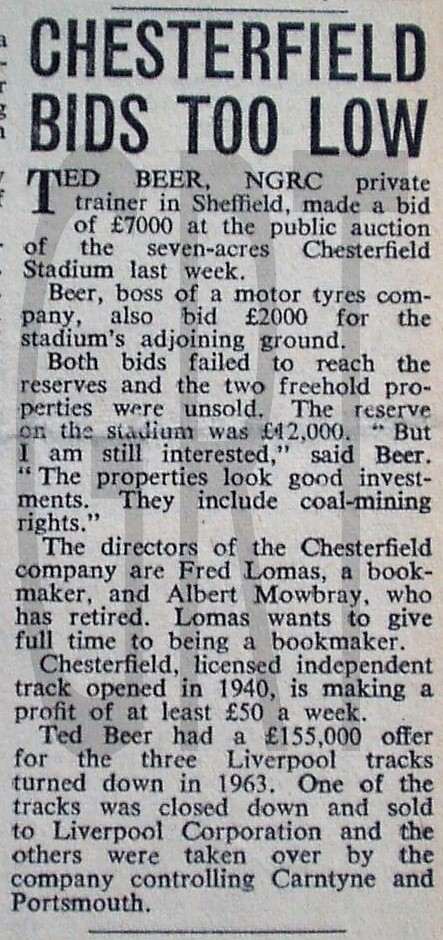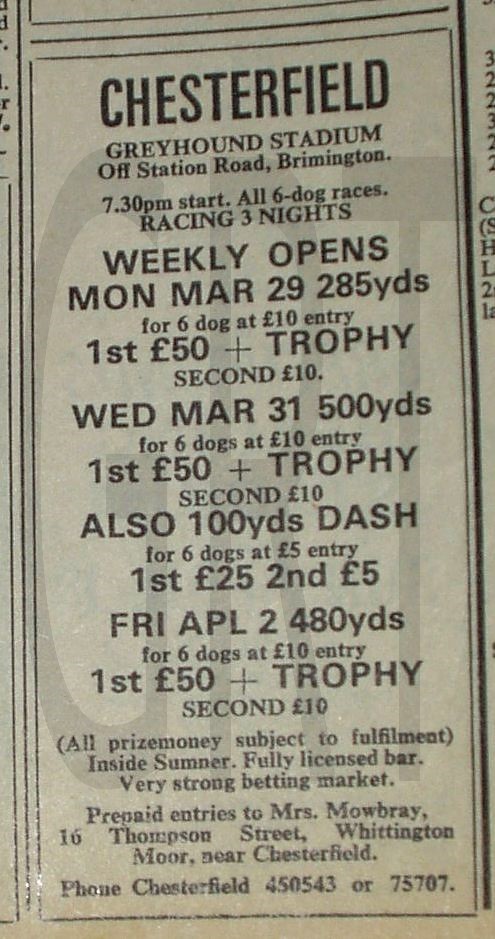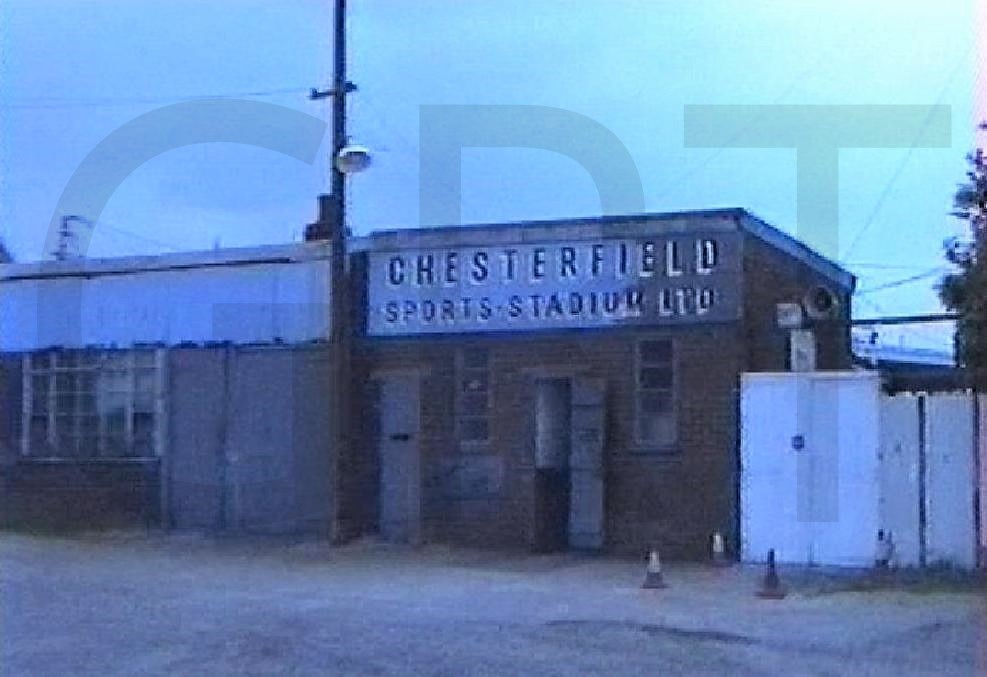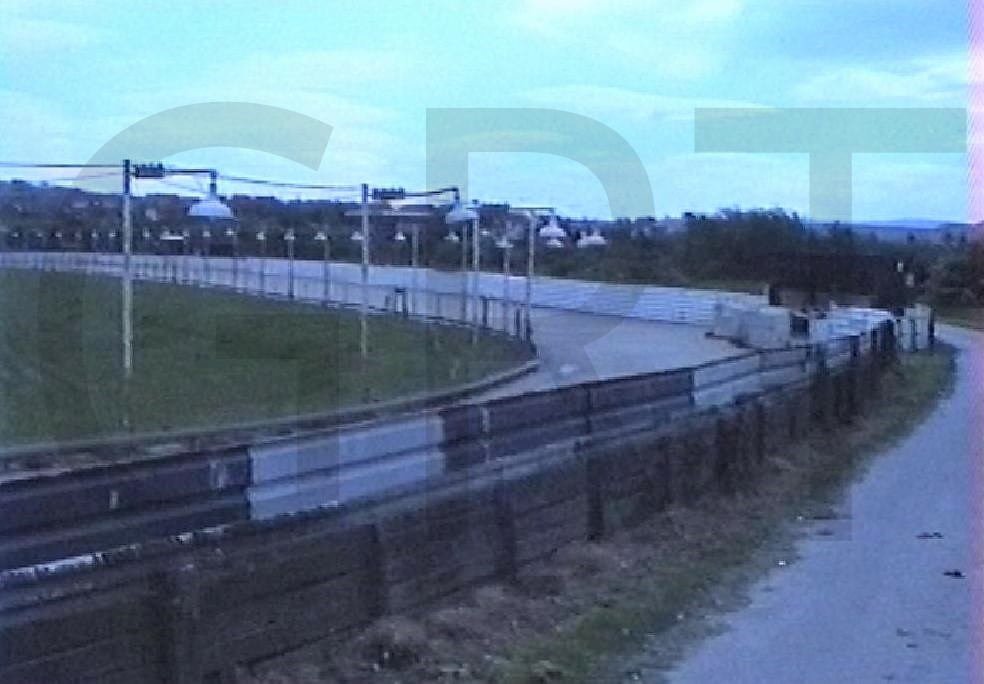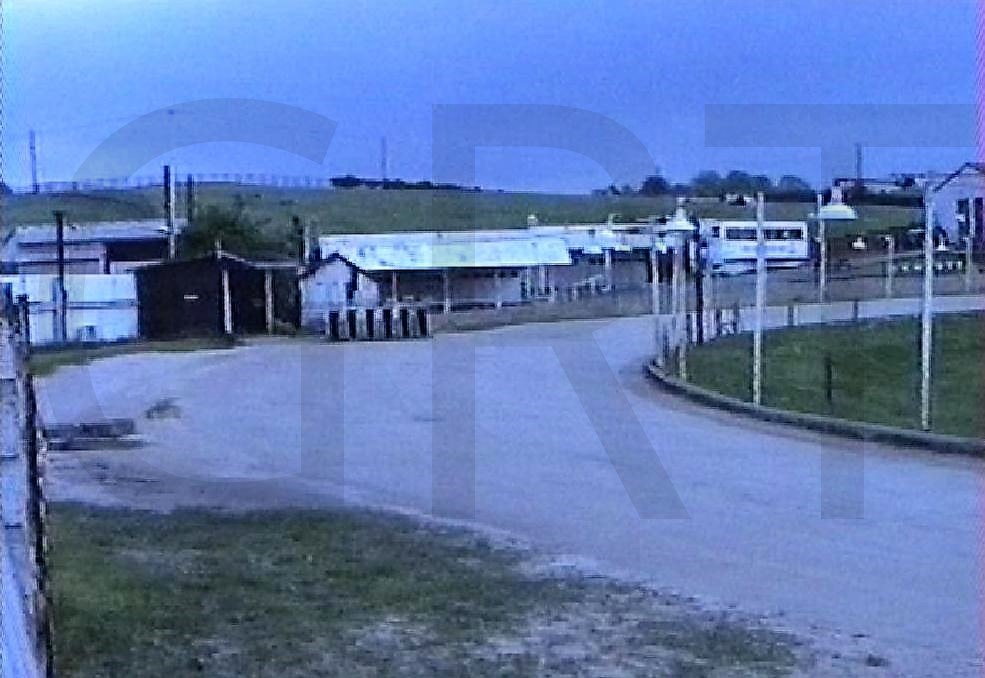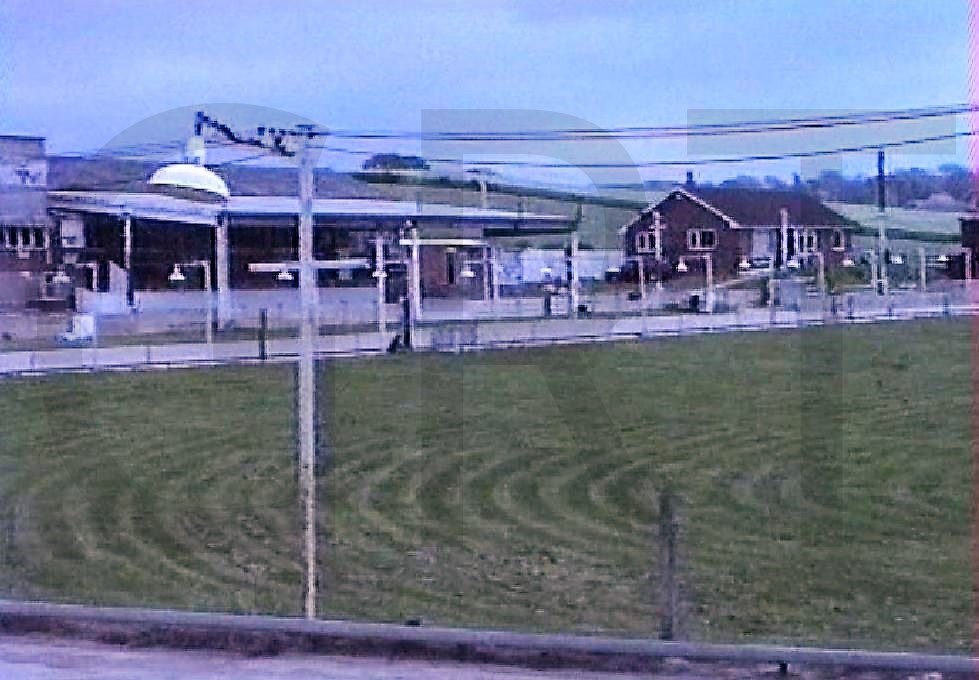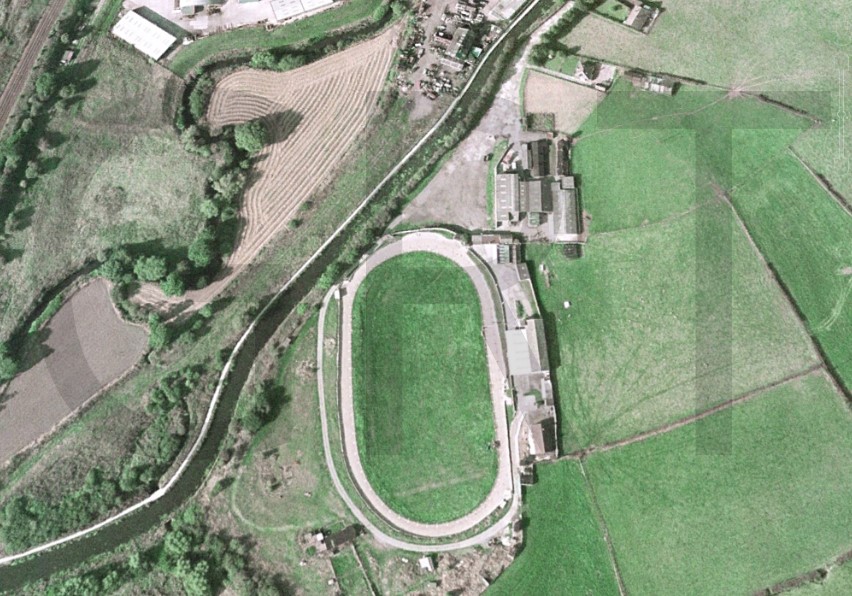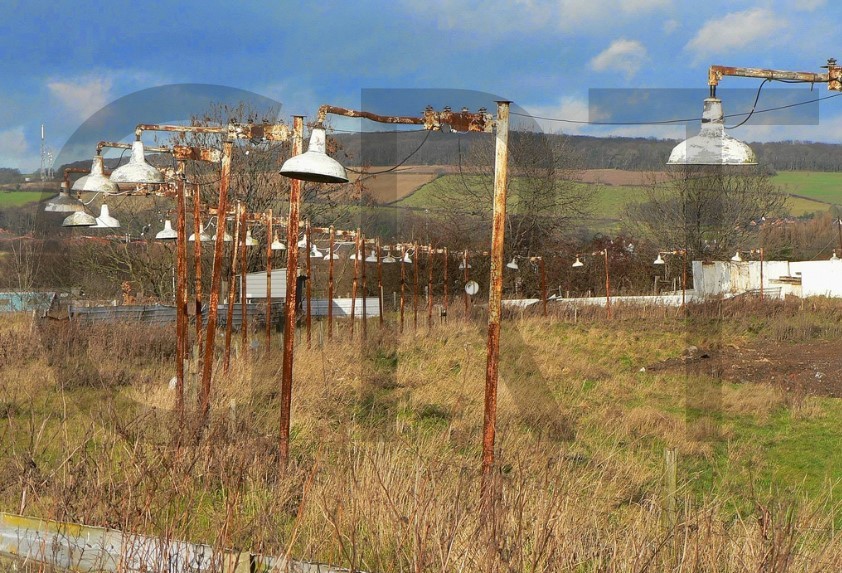 Chesterfield Greyhound Stadium happened to be located in a district known as Brimington, a small parish located roughly two and a half miles north of Chesterfield town centre. The original site of the stadium, had been nothing more than a meadow, situated next to the Chesterfield Canal on land owned by the nearby Wheeldon Mill Colliery. It was during 1938 that the seven acre section of land fell in to the hands of a Greyhound Racing enthusiast, who by 1939 had obtained a license to promote eight meetings per year on an oval grass circuit constructed within the meadow. The venue at the time was known as the Great Central Hotel Greyhound Track, due to its close proximity to a nearby public house. But after operating two years on a temporary license, the proprietor applied for the more recognised betting license, and by October 1940 the Derby district council had granted his wishes. Construction of a more permanent greyhound stadium began almost immediately, even the poor availability and increased costs of building materials during the Second World War, failed to hinder its development. Yet by the early months of 1941, the stadium was now beginning to take shape, having seen a permanent grass surface being laid, along with a new kennel block, a perimeter fence, and also covered standings areas. The new venue was named the Chesterfield Sports Stadium, an independent track that could now accommodate 5,000 racegoers. Chesterfield's first meeting came on the 24th of May 1941, with events consisting of six greyhounds contesting over distances of 300, 480 and 680 yards, with the hounds chasing an inside Sumner type hare. Success of the sport continued during the following decades, but unlike other stadiums, the Chesterfield venue remained solely as a Greyhound Racing venue, although Whippet Racing gatherings did take place occasionally. After the stadium's original owner had retired in 1965, the venue was put up for auction, and even with the track making a profit of £50 per week at the time, the twelve thousand pound asking price was never reached. By the mid 1960's, the stadium had changed little, although racing distances had altered slightly, mainly due to the relaying of the track, as the greyhounds now were competing over the distance of 285, 500 and 700 yards, but still chased the same inside Sumner hare. Another attempt to sell the track came during the early 1980's, but this time contracts did change hands, as the venue had been purchased by an enthusiast who happened to have just won the football pools. By September 1999 the future of Chesterfield Sports Stadium looked in doubt as the venue was put up for sale by the family run business. It soon became common knowledge that a number of parties were showing interest, with the odd one having hopes of continuing Greyhound Racing, yet most seemed to be more interested in redeveloping the site. Unfortunately, only one came up with the cash, which happened to be a property developer, who may have had visions of making a quick profit, knowing that the site would become a possible target for Chesterfield Football Club's new stadium. But that was never going to be the case, as the football club had already made approaches regarding another site, and had rejected the former Greyhound Racing site because of its problems with drainage and its history of occasional flooding, possibly due to its close proximity to the Chesterfield Canal. After its final meeting during November 2000, the stadium gates were locked leaving the site abandoned and nature to take its course. But in April 2002, rumours surfaced that an interested party was ready to reopen the venue for greyhound racing once more, but hopes soon faded after realising that the cost of a return would be too much. Over the years, some of the outbuildings became demolished, and the track itself soon became overwhelmed with weeds and shrubs. My last visit to the site was about ten years or so ago but access to it was forbidden, as an electric gate that happens to be an entrance to some luxurious property, stretched across its access road. For a good number of years after its closure the stadium ghostly lingered on, but it is only in recent times that the site has been redeveloped.
Memorabilia for this track is required for this page, if you can help please contact me.