Berwick Rangers Football Club, Shielfield Park, Tweedmouth, Berwick, Northumberland.
POSTCODE———————————-TD15 2EF
LOCATED————————————In the district of Tweedmouth, nine mile south west of Berwick town centre.
ORIGINAL SITE—————————–Built on recreational grounds owned by Mr William Shield Dodds.
DATE CONSTRUCTED——————–Between 1951 and 1954.
DATE VENUE OPENED——————-September 1954 for football, a friendly fixture between Berwick Rangers v Aston Villa. Although a motor cycle stunt team performed previously.
Meaning other sports may have taken place prior to the arrival of Greyhound Racing.
FIRST MEETING—————————–May 29th 1992.
Greyhound Racing only.
LICENSED OR INDEPENDENT———-Independent
All venues covered would have to be licensed with the government, licensed suggested in this section would refer to tracks operating under NGRC Rules.
INSIDE OR OUTSIDE HARE TYPE——Inside Sumner.
Please note that the Electric Hare suggested is only a guidance and would have been in operation for a certain amount of time at this venue. Although it is not necessarily guaranteed that it was operational all the time, as other types of lure may have been used and updated as time progressed.
DISTANCES———————————–300, 480, 525 and 700 yards.
Please note that most racing venues distances had become varied throughout the years, the ones given above were at once point set and offers only a guidance to the track size.
CIRCUMFERENCE—————————Don't know.
Please note that alterations at most racing venues throughout its existence would see that the circumference of the track would vary, the one shown above offers only a guidance to the track size.
BIG RACE NAMES—————————Nothing known of.
STADIUM SHARED WITH——————Berwick Rangers Football Club. Speedway featured at the stadium but that was before and after Greyhound Racing took place.
LAST MEETING——————————-August 25th 1995.
Greyhound Racing only.
STADIUM CLOSURE DATE—————-Still used for professional football and Speedway.
Meaning other sports may have taken place after Greyhound Racing had ceased.
STADIUM DEMOLITION——————-N/A
BUILT ON SITE——————————-N/A
In some cases, structure's that originally covered the venue after the stadium had been demolished, may have been themselves demolished too, so the one described is more likely to be the one which now presently covers the site.
EVIDENCE LEFT TODAY——————-Nothing from Greyhound Racing, the track was replaced by a Speedway track.
FURTHER COMMENTS——————–The greyhound Company held the lease from the council and for a period the football club operated as tenants.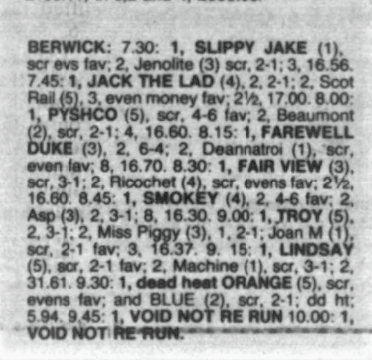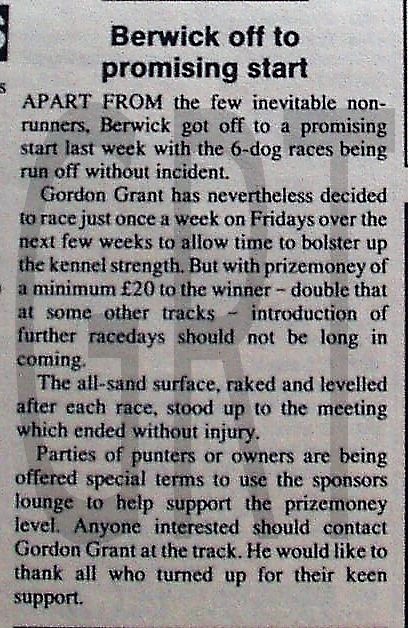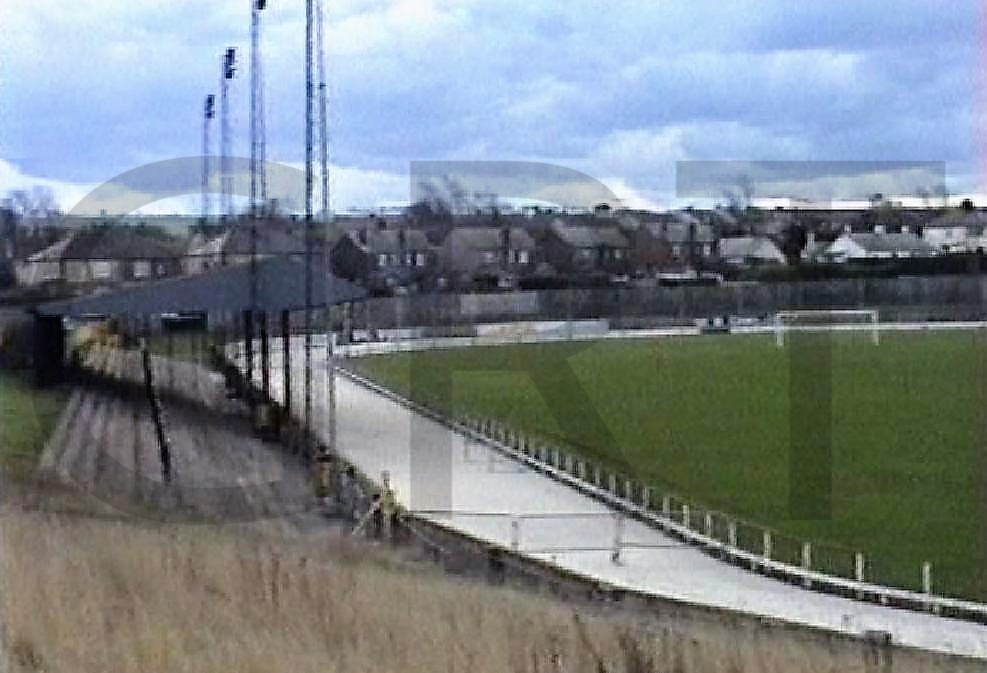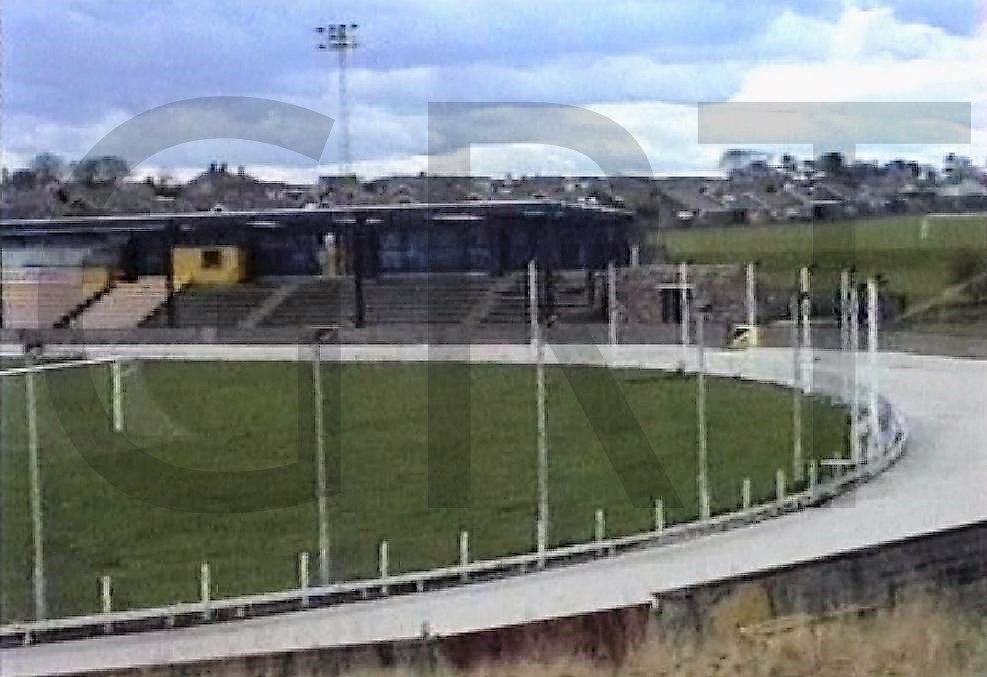 You could say that Berwick's Shielfield Park's remains unique in its own way, as it is the only football stadium found south of the border that hosts regular Scottish League Football. Today, this once multi-purpose sports venue is situated three miles south of the Scottish border in a district known as Tweedmouth, one mile south west of Berwick Upon Tweeds town centre.
Shielfield Park's arrival came due to Berwick Ranger's earlier venue not being up to standard to host Scottish League Football, after they had applied to join the Scottish Football League in 1951. They had been admitted to the newly formed division "C" league, with the majority of the league made up of reserve teams, but with the reorganisation of reducing it to two leagues on the horizon, improvements would have to be made. It was during this period that volunteers began to construct a new stadium on land next door to the old venue which happened to be owned by William Shield Dodds, hence the name Shielfield Park. The ground soon became enclosed, and would develop around a main stand that had been purchased from Bradford City's Valley Parade. Yet it would take almost three years before the stadium was ready to stage its opening fixture, with a friendly match against Aston Villa in September 1954, although a motor cycle stunt team had blessed the stadium prior to this date. A further twelve months would pass by before the venue could host its first league encounter, with a match against East Stirling in September 1955.
It was in 1968 that Shielfield Park became classed as a multi-purpose sports venue, when a shale Speedway track was laid around the football pitch, allowing the Berwick Bandits to become tenants for the next twelve years. By 1985 the football club had accumulated a growing number of debts, and found themselves having to sell their stadium to the council for £95,000 just to continue operating. League football continued but at a struggle, right up until 1991, as media reports began to suggest that the football clubs financial affairs had escalated beyond bounds again. But an approach by a group of Greyhound Racing enthusiasts, offered to ease the financial burdens by bringing Greyhound Racing to Berwick.
After agreeing a tenancy, a silicon based sand greyhound track was laid on top of the disused Speedway track that still at the time, surrounded the football pitch. Although the greyhound track was up and running for trials, racing at the track still required a betting license, but the main stumbling block was that the main stand had no roof on it, and that the football club could not afford to upgrade the ground to the regulations required by council officials. It was at this point that the council evicted the football club, forcing them to play at other Scottish venues to complete the 1991-92 season. The lease was signed over to the greyhound company who by now were in a position to upgrade the stadium as required.
Opening up as a flapping track, racing at Shielfield Park commenced on the 29th of May 1992. Six dog race events were contested over distances of 300, 480, 525 and 700 yards, with the hounds chasing an inside Sumner type hare. After spending a number of months in exile, Berwick Rangers returned back to Sheilfield Park in August 1992, but this time as tenants with an agreement with the greyhound company that they would operate on a match by match basis. But the following two years saw the tables turn, as attendances dwindled considerably at greyhound meetings mainly due to lack of entries, and it soon became clear that the greyhound company was in financial trouble too.
Sadly, Shielfield Park staged its final greyhound meeting on August 25th 1995, a period which would see the football club take control of the lease once more. The following year witnessed the return of Speedway Racing, which would see an old partnership renewed, a partnership that would see an unbroken spell between the football and The Bandits right up until the present time.
A programme, photograph or even memorabilia for this track is required for this page, if you can help please contact me.