Carnock Road, Milesmark, Nr Dunfermline, Fifeshire.
POSTCODE———————————-KY12 9PD
LOCATED————————————About one mile north west of Dunfermline town centre just north of Carnock Road.
ORIGINAL SITE—————————–Land belonging to an old disused quarry.
DATE CONSTRUCTED——————–1940
DATE VENUE OPENED——————-March 1940.
Meaning other sports may have taken place prior to the arrival of Greyhound Racing.
FIRST MEETING—————————–March 23rd 1940.
Greyhound Racing only.
LICENSED OR INDEPENDENT———-Independent
All venues covered would have to be licensed with the government, licensed suggested in this section would refer to tracks operating under NGRC Rules.
INSIDE OR OUTSIDE HARE TYPE——-Inside
Please note that the Electric Hare suggested is only a guidance and would have been in operation for a certain amount of time at this venue. Although it is not necessarily guaranteed that it was operational all the time, as other types of lure may have been used and updated as time progressed.
DISTANCES———————————–370 yard handicap races and 380 level breaks.
Please note that most racing venues distances had become varied throughout the years, the ones given above were at once point set and offers only a guidance to the track size.
CIRCUMFERENCE—————————Don't know.
Please note that alterations at most racing venues throughout its existence would see that the circumference of the track would vary, the one shown above offers only a guidance to the track size.
BIG RACE NAMES—————————Nothing known of.
STADIUM SHARED WITH——————Nothing found.
LAST MEETING——————————-Late 1950's.
Greyhound Racing only.
STADIUM CLOSURE DATE—————-Late 1950's.
Meaning other sports may have taken place after Greyhound Racing had ceased.
STADIUM DEMOLITION——————-Late 50 early 1960's.
BUILT ON SITE——————————-Houses on Milesmark Close.
In some cases, structure's that originally covered the venue after the stadium had been demolished, may have been themselves demolished too, so the one described is more likely to be the one which now presently covers the site.
EVIDENCE LEFT TODAY——————–Nothing known of.
FURTHER COMMENTS———————It is likely the proprietors of this track built another one on the opposite side of the A907 Carnock Road.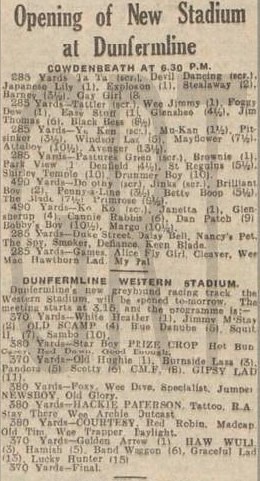 Some confusion remains on how many greyhound tracks operated on the outskirts of Dunfermline under the name of The Western track. No doubt the name had been inherited due to its location, situated on the west side of Dunfermline in response to the greyhound track that operated on the other side of town known as East End Park.
What throws up confusion are the earlier tracks. 1936 newspapers suggest that there was a track called Western located in the district of Backmuir, just off Carnock Road and the two known Western tracks located in the district of Milesmark. With the district of Backmuir being located a further two miles west of Milesmark it is that venue that throws some confusion in this paragraph.
Yet with the information available, it is clear that the first track at Milesmark closed and was replaced with a new venue situated on the opposite of the A904. But it is the track at Backmuir which a newspaper cutting reveals that it opened in June 1936 calls itself The Western track also, making me think that the western track opened in 1940 was not the first.
This section describes Milesmark's first Western track, situated just one mile west of Dunfermline town centre. It had been constructed on land next door to a disused quarry just north of the A907 Carnock Road. The proprietors were the West Fife Stadiums Limited who opened it up as an independent track, with its first meeting coming on the 23rd of March 1940. It ran six dog races over a 370 yard handicapped trip, and also a 380 yard level break trip, with the hounds chasing an inside hare.
Its closure came around the late 1950's after the site had been sold to developers to build houses. The money received in the sale gave the Proprietors an opportunity to construct a new track on the opposite of the Carnock Road, and again another Western track was born. Houses on Milesmark Close now cover the site on were the first Milesmark track once lay.
A programme, photograph or even memorabilia for this track is required for this page, if you can help please contact me.