Carnock Road, Milesmark, Nr Dunfermline, Fifeshire.
POSTCODE———————————KY12 9PD
LOCATED————————————One mile north west of Dunfermline town centre just south of the A907 Carnock Road.
ORIGINAL SITE—————————–Wooded area possibly ex quarry land.
DATE CONSTRUCTED——————-Late 1950's early 1960's.
DATE VENUE OPENED——————Not known
Meaning other sports may have taken place prior to the arrival of Greyhound Racing.
FIRST MEETING—————————-Not known
Greyhound Racing only.
LICENSED OR INDEPENDENT———-Independent
All venues covered would have to be be licensed with the government, licensed suggested in this section would refere to tracks operating under NGRC Rules.
INSIDE OR OUTSIDE HARE TYPE——Inside Sumner.
Please note that the Electric Hare suggested is only a guidance and would have been in operation for a certain amount of time at this venue. Although it is not necessarily guaranteed that it was operational all the time, as other types of lure may have been used and updated as time progressed.
DISTANCES———————————–380 yards.
Please note that most racing venues distances had become varied throughout the years, the ones given above were at once point set and offers only a guidance to the track size.
CIRCUMFERENCE—————————Not known
Please note that alterations at most racing venues throughout its existence would see that the circumference of the track would vary, the one shown above offers only a guidance to the track size.
BIG RACE NAMES—————————None found
STADIUM SHARED WITH——————Nothing found.
LAST MEETING——————————-Around 1969-70.
Greyhound Racing only.
STADIUM CLOSURE DATE—————-Don't know
Meaning other sports may have taken place after Greyhound Racing had ceased.
STADIUM DEMOLITION——————–Possibly early 1970's.
BUILT ON SITE——————————-New housing has only been recently built on the site. The dwellings lie on Target Road and North Urquhart Place.
In some cases Buildings that were constructed over the venue after the stadium had been demolished may have been themselves demolished too, so the one described, is more likely to be the one which now presently covers the site.
EVIDENCE LEFT TODAY——————–It is only recently that a collection of rusty corrogated sheeting that used to act as its perimeter fence have been removed after remaining there for years.
FURTHER COMMENTS———————Possibly same management team from an earlier track known as The Western track that closed nearby.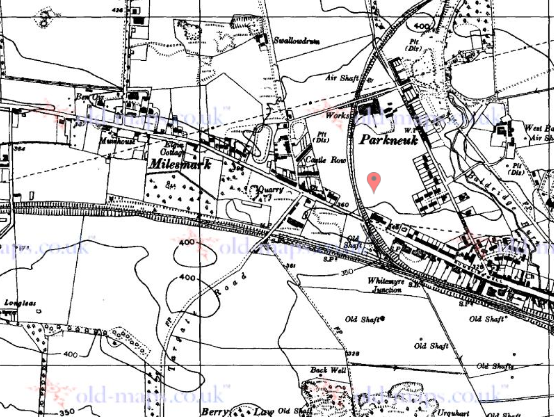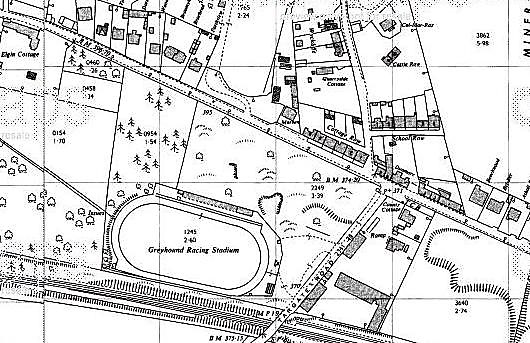 The Fifeshire town of Dunfermline may have been blessed with more than one greyhound track, but the one described in this section developed due to the closure of another. It was known as the Western Greyhound Stadium, inheriting the name of the track it replaced, after that had been sold for the development of new housing.
The new track was constructed 200 yards south of the old one, on the opposite side of the A907 Carnock Road, and roughly one mile west of Dunfermline town centre in the district of Milesmark. It was constructed on land that lay next to a quarry, which originally had been a densely wooded area that had been cleared to make way for the new track.
It opened as an independent track around 1960, by the same company who had sold the earlier Western track to developers. It ran six dog racing over distances of 380 yards, with the hounds chasing an inside hare. Little is known how it operated but it closed around 1969, before the land was sold for redevelopment.
An MFI Store then covered part of the site, but in modern times the building served a purpose as a car sales showroom. The rest of the site remained undeveloped, and eventually became submerged under a mass of shrubbery. The only evidence left behind by its existence, was a cluster of rusty corrugated sheeting that once acted as the tracks boundary fence.
Only recently has the site been redeveloped with new housing on Target Road and North Urquhart Place now covering the site.
A programme, photograph or even memorabilia for this track is required for this page, if you can help please contact me.