Back Lane, Wheatley Hill, County Durham.
POSTCODE———————————-DH6 3JN
LOCATED————————————The village of Wheatley Hill lies eight miles south east of the City of Durham.
ORIGINAL SITE—————————–Farm grazing land situated next to a Quarry.
DATE CONSTRUCTED——————–Possibly Late 1940's for actual stadium.
DATE VENUE OPENED——————-Possibly late 1940's.
Meaning other sports may have taken place prior to the arrival of Greyhound Racing.
FIRST MEETING—————————–Not sure regarding Inaugural meeting, but Whippet Racing was evident during in 1935 or earlier, yet a 1940 date is more accurate regarding Greyhound Racing.
Greyhound Racing only.
LICENSED OR INDEPENDENT———-Independent
All venues covered would have to be licensed with the government, licensed suggested in this section would refer to tracks operating under NGRC Rules.
INSIDE OR OUTSIDE HARE TYPE——Outside Fannon McKee.
Please note that the Electric Hare suggested is only a guidance and would have been in operation for a certain amount of time at this venue. Although it is not necessarily guaranteed that it was operational all the time, as other types of lure may have been used and updated as time progressed.
DISTANCES———————————–260, 440, 580 and 800 metres.
Please note that most racing venues distances had become varied throughout the years, the ones given above were at once point set and offers only a guidance to the track size.
CIRCUMFERENCE—————————Don't know
Please note that alterations at most racing venues throughout its existence would see that the circumference of the track would vary, the one shown above offers only a guidance to the track size.
BIG RACE NAMES—————————Wheatley Hill Derby.
STADIUM SHARED WITH——————The occasional Whippet Racing gatherings.
LAST MEETING——————————-October 18th 2019.
Greyhound Racing only.
STADIUM CLOSURE DATE—————-Fire during November 2019.
Meaning other sports may have taken place after Greyhound Racing had ceased.
STADIUM DEMOLITION——————-N/A
BUILT ON SITE——————————-N/A
In some cases, structure's that originally covered the venue after the stadium had been demolished, may have been themselves demolished too, so the one described is more likely to be the one which now presently covers the site.
EVIDENCE LEFT TODAY——————-N/A
FURTHER COMMENTS——————–None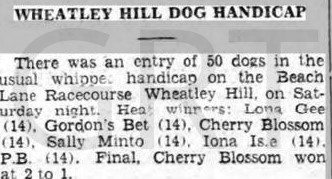 Eight miles south east of the City of Durham is the ex-coal mining village of Wheatley Hill. The Wheatley Hill Greyhound Stadium is found roughly half a mile east of the villages centre. First signs of any sporting activities began in 1935, with Whippet Racing becoming a weekly gathering for the local mining community, contested in a field adjacent to Black Lane.
It is thought the introduction of Greyhound Racing did not feature until the years leading up to the outbreak of the Second World War, operating from its pioneering days as a flapping track. The site originally had been nothing more than an open meadow next door to a disused quarry, and slowly developed into a more recognised greyhound track by the late 1940's.
More substantial changes came in 1965, when enthusiast Norman Fannon purchased the stadium, a greyhound man through and through who was dedicated and prepared enough to invest heavily in the sport. His first project was to shape and re-lay a new safer running surface, but it wasn't until 1984 that his most successful innovation came when he removed the old Mckee type outside hare system. After coming across some rusty angle iron in a local scrap yard, he came up with a plan to design his own hare system. The angle iron happened to be bedsteads from an old army camp, hence naming his new product the McFannon Bedstead Hare system, and replaced a system that had been the only type used on any of the north eastern tracks. He promoted attractive race events such as the Durham Mid Distance Championship and the Durham Stayers Championship along with the Derby plus many others.
Norman Fannon had made a name for himself in the northeast regarding Greyhound Racing, but his death in 2005 became a great loss to the sport. Sadly, he died of a heart attack, with his death possibly triggered by a serious fire that happened two days previous, which had gutted the kennels, the electrics and a car that drove the roller round the track. Arson was first suspected, but the culprits happened to be young boys who had been mischievously messing around.
Wheatley Hill Greyhound Stadium became the final flapping track to operate in the northeast once nearby Easington had closed during October 2017 and continued to offer six dog racing over distances of 260, 440, 580 and 800 metres, with the hounds chasing the unique outside McFannon type hare.
During 2019, the limited availability of greyhounds had seen the management fail to put on regular meetings during the summer, only to see its final one being staged on the 18th of October. The following month brought further bad news as a serious blaze badly damaged some of the trackside buildings, which in turn contributed to ending all hopes of further racing. Evidence of the current state of the track can be seen by the photos attached above.
Memorabilia for this track is required for this page, if you can help please contact me.